We may earn money or products from the companies mentioned in this post. And as an Amazon Associate I earn from qualifying purchases.
Christmas is the most memorable time for us, and we celebrate it following our family traditions passed from generation to generation. Usually, we gather with extended family; sometimes, it exceeds a hundred people, but recently we adopted this tradition to take a luxury trip and relish new experiences. And last year, it was Gaylord Opryland Resort in Nashville. This time, we chose Ritz Carlton Orlando, Grande Lakes, and the stay was beyond all expectations. Here is our Ritz Carlton Orlando Review.
It is located at 4040 Central Florida Pkwy, Orlando, FL 32837.
It is a palace nestled in 500 acres of stunning natural landscape with lake and golf courses. This property includes a Ritz Carlton and JW Marriot Grande Lakes. Altogether, they offer three spacious swimming pools, including a relaxing slow-moving lazy river where our kids spent many hours enjoying the warm water. Our kids grew gills there; I am sure your kids would love it too.
How to get to Ritz Carlton Orlando, Grande Lakes.
If you fly, the closest airport would be the Orlando International Airport.
You can rent a car or take an Uber from the airport or get transportation from/to the airport provided by the Resort. Call them in advance for details.
If you drive, follow these directions:
From Interstate 4 East or West
Take exit 72 onto 528 East
Exit 3A
Take right onto John Young Parkway 
Turn right onto Central Florida Parkway
Entrance to Grande Lakes Orlando will be on the left
From South Florida Via Florida's Turnpike
Take Florida's Turnpike North to exit 254
Follow signs to 528 West
Exit 3
At bottom of exit, turn left onto John Young Parkway 
Turn right onto Central Florida Parkway
Grande Lakes Orlando will be on the left
We arrived in our own car. The valet parking fee is 40 dollars per day, but here is a life hack for you.
Our room at Ritz would accommodate comfortably only four people, so instead of getting the larger suite, we booked a room at Marriot vacation club which is 15 minutes walk from Ritz and comes with free parking. Besides that benefit, it offers a list of family-friendly activities each day, such as dances, games, competitions, bingos, movie nights. We met many families with the same age kids there and had a delightful time, so it was a great addition to our Ritz stay.
Ritz Carlton Orlando, Review
They decorated the Hallway with stunning Christmas Trees, ornaments, and sparkling garnish. We were in awe when we found a ten-foot-tall eatable gingerbread house. That was amazing!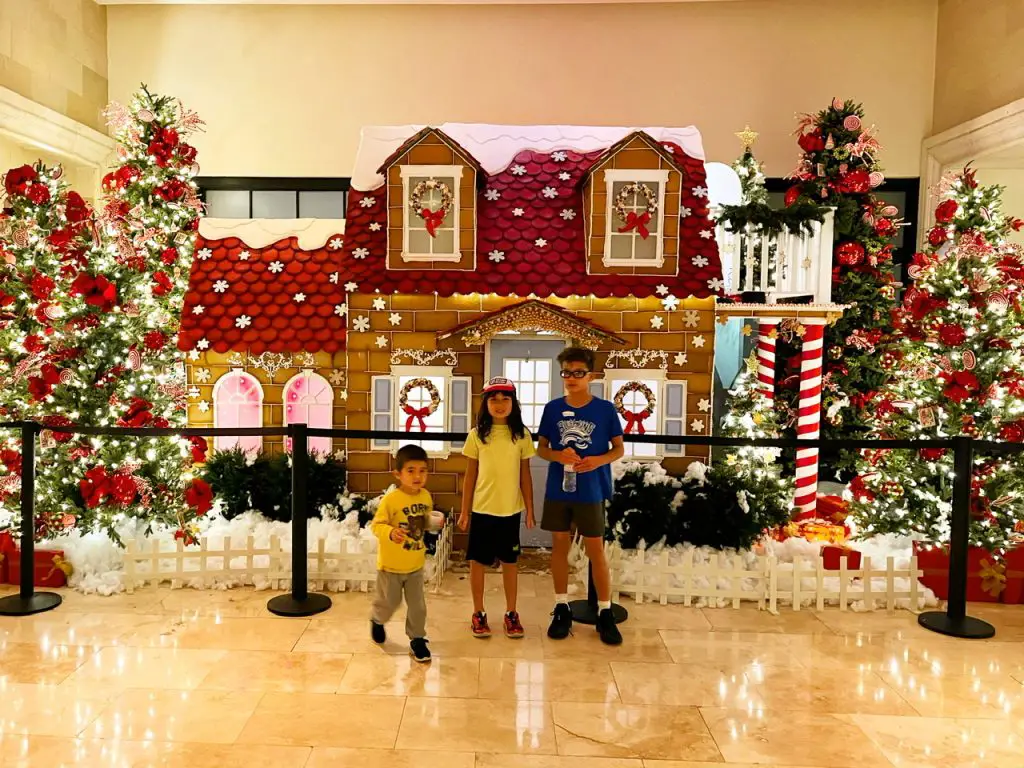 Check-in time at Ritz is 4 pm, but we arrived around 9:30 am, left our luggage at the front desk, and went to explore the property.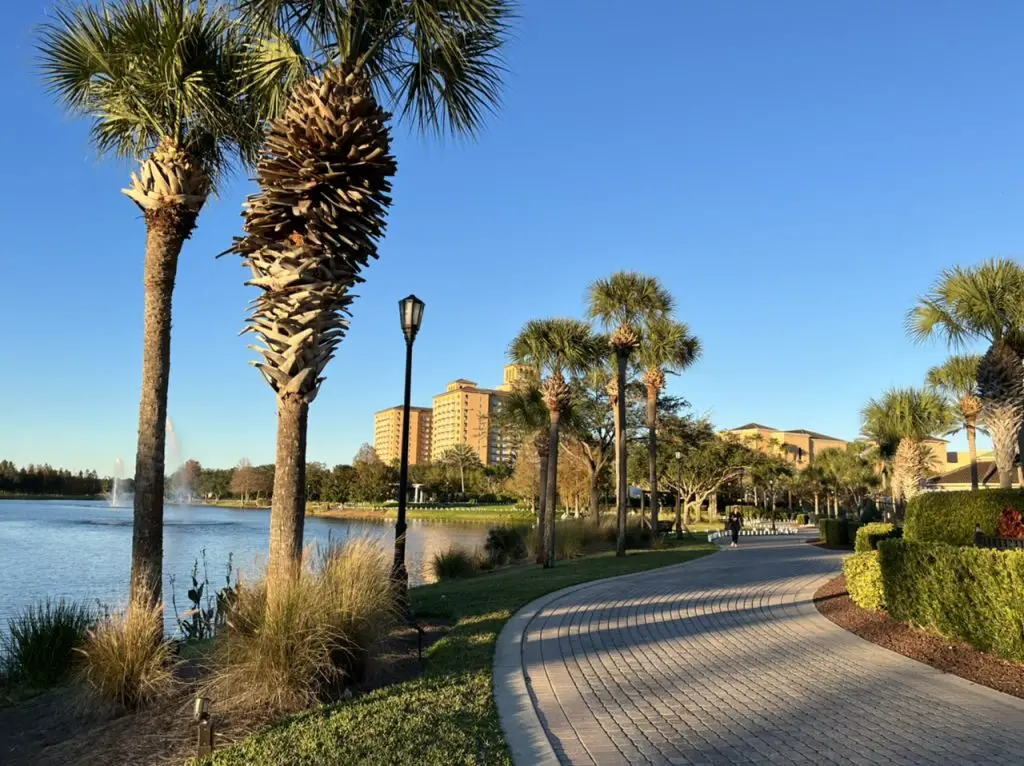 The lake is captivating and full of wildlife; we saw birds, butterflies, and fishes. After a long drive, a stroller walk on the path through the peaceful landscapes was just what we needed. Kids were collecting acorns and rocks; I was taking pictures. I thought life was so good at Ritz!
Ritz-Kids. Ritz Carlton Orlando Review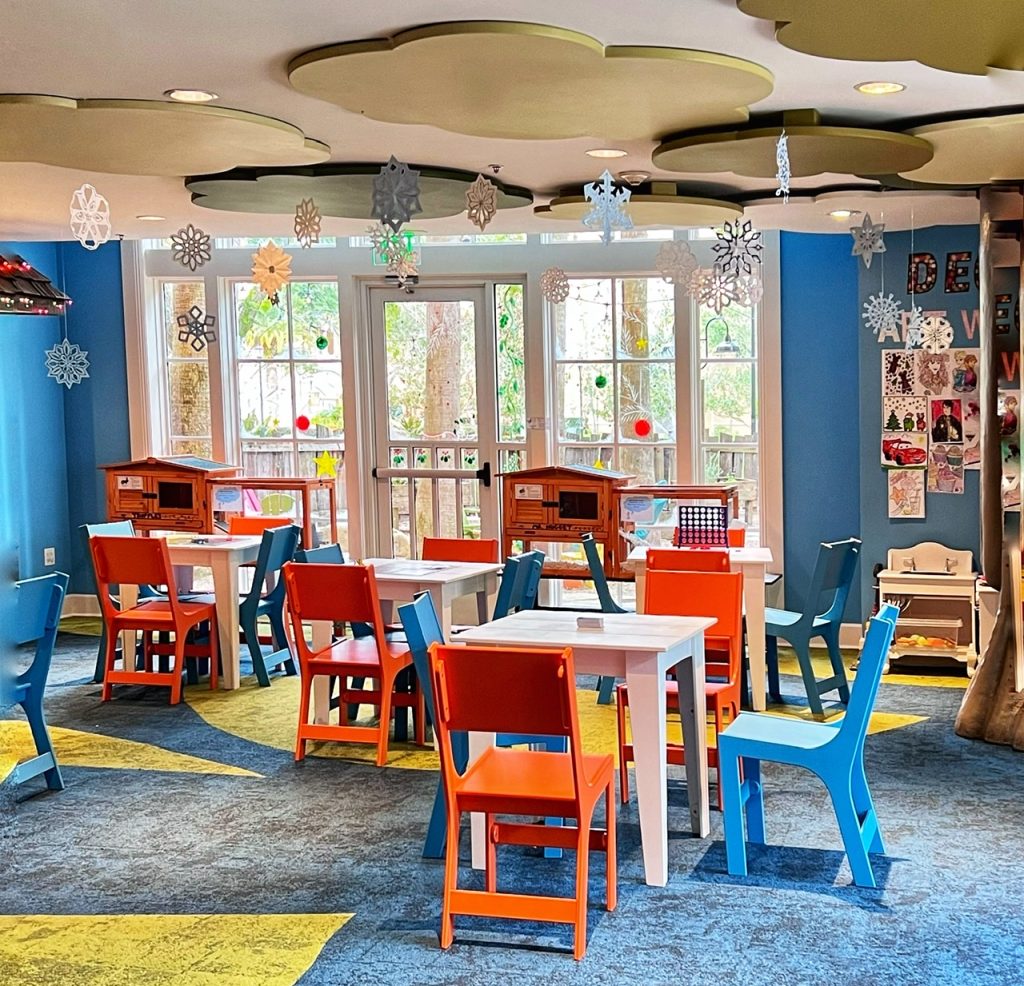 Make a reservation in advance, and Christmas time is always busy. So we could book a spot for one of our children, and another was on a waiting list. Luckily, someone canceled, and Michael and Maria both got in.
The ritz-kids club is complimentary for two children per family between ages 4 to 12 and costs 100 dollars for an additional child. It worked for us perfectly. Although we have three children, our youngest is only three years old and naps between 1 to 3 pm. So if you stay at JW Marriot, you can also bring your children 100 dollars per child per day.

Kids went there every day with excitement because they offer a variety of activities, from crafts to petting bunnies. Of course, our kids played video games there and watched some movies. They would do it the whole day, but three hours at Ritz-kids are pretty structured, and supervisors play board games with children, educate them on the pets they have. This location had pet bunnies, a tiny alligator, and turtles. Besides these animals, we saw a squirrel that believed she was a pet and would play hide and seek with kids.
Another perfect activity to release kids' energy is a splash area with a playground.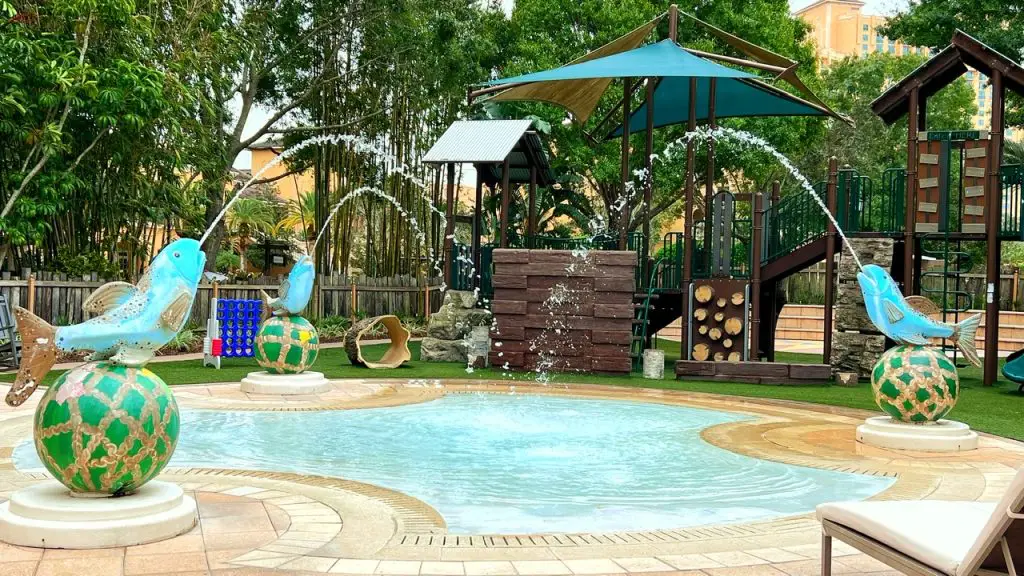 Ritz also owns two hawks that live on the property, and when it is sunny, a guy that takes care of the birds takes them to a restaurant "to work". Hawk's work is to scare wild birds away from the outdoor tables. He sits on a worker's hand, and birds do not dare to approach.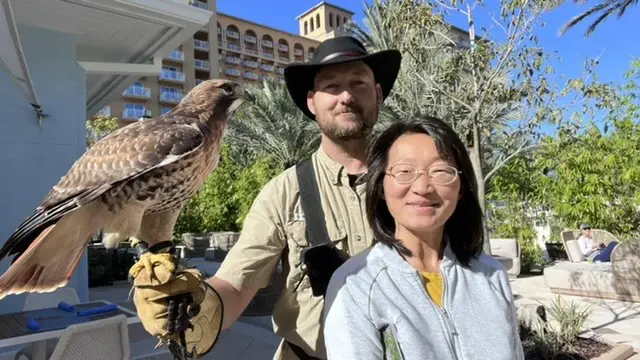 Ritz Carlton Orlando Restaurants.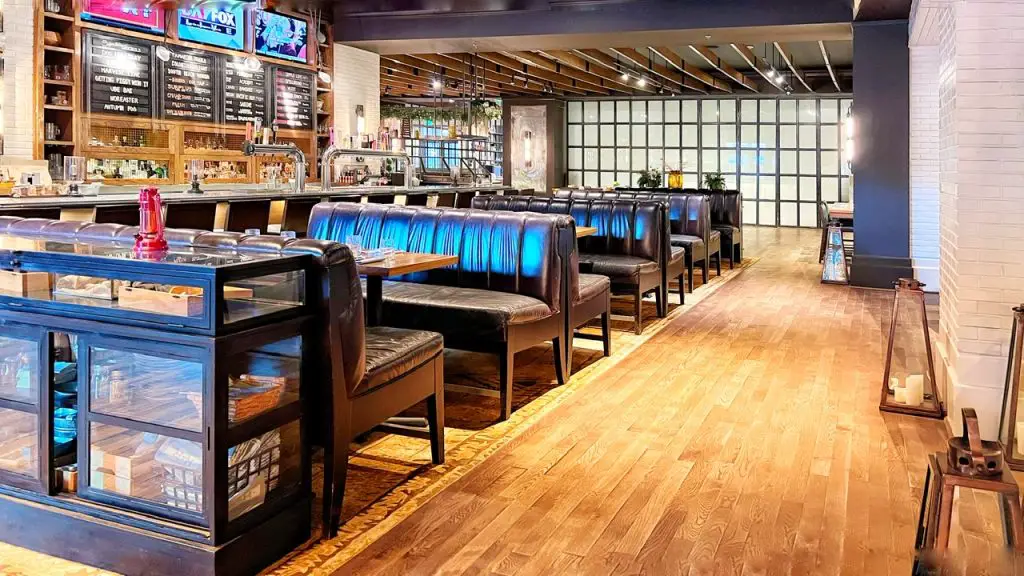 While kids are occupied, Kevin and I have three whole hours to ourselves.
Highball&Harvest
This restaurant pays legacy to its namesake, both the cocktail and how trains transported Florida's harvests. The menu features ingredients from local farms and the resort's own garden.
Kevin and I got food from a regular menu, he got a cute hamburger that looked like a mushroom, and my choice fell on market fish (that day it was cod) with squash. I like my food was low on sodium. I added more salt to make it taste salty rather than salty. We enjoyed a long noninterrupted lunch and had a romantic walk around the lake.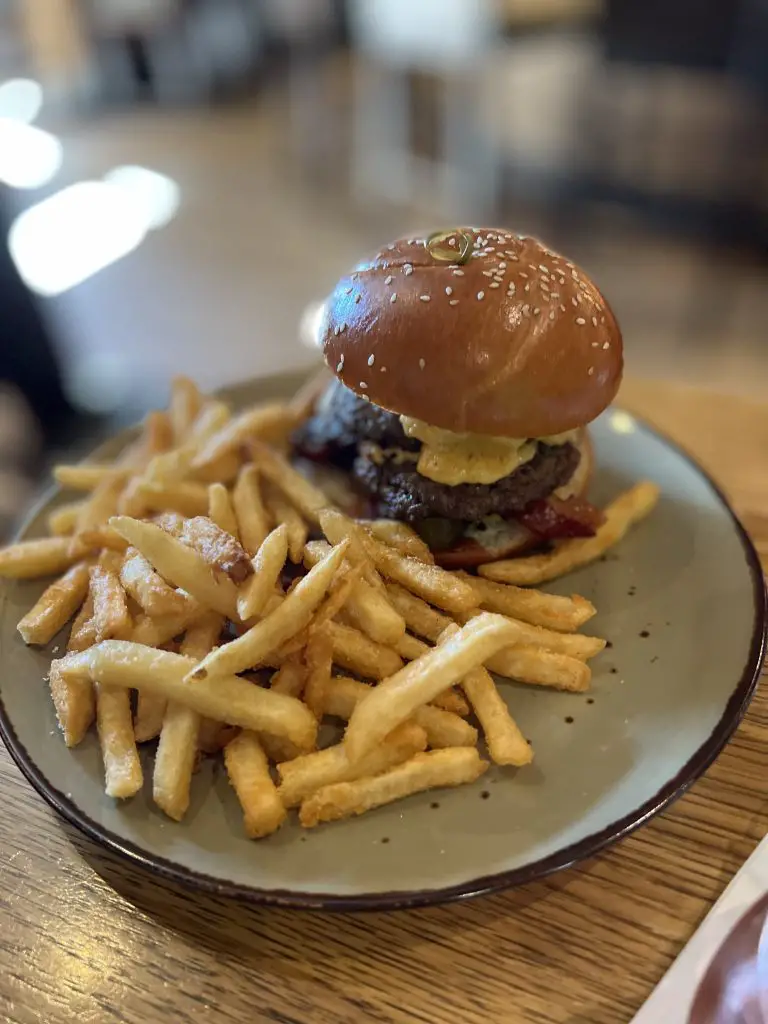 Our kids ate lunch at the kids club. You can order food there or bring it from other restaurants.
Ritz Carlton Golf Course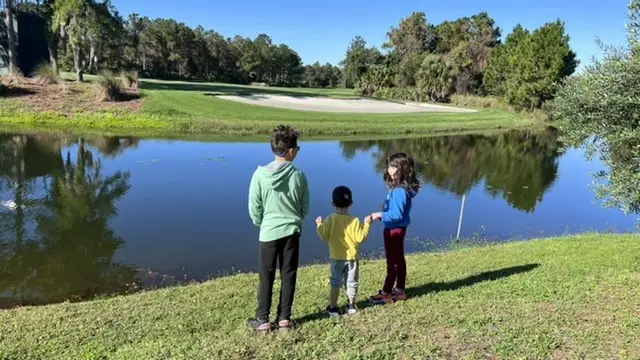 It is the one where the PNC Championship took place. You really can not find a better place to host a grand event like this. The location is vast and beautiful, and the weather is just right, even in December.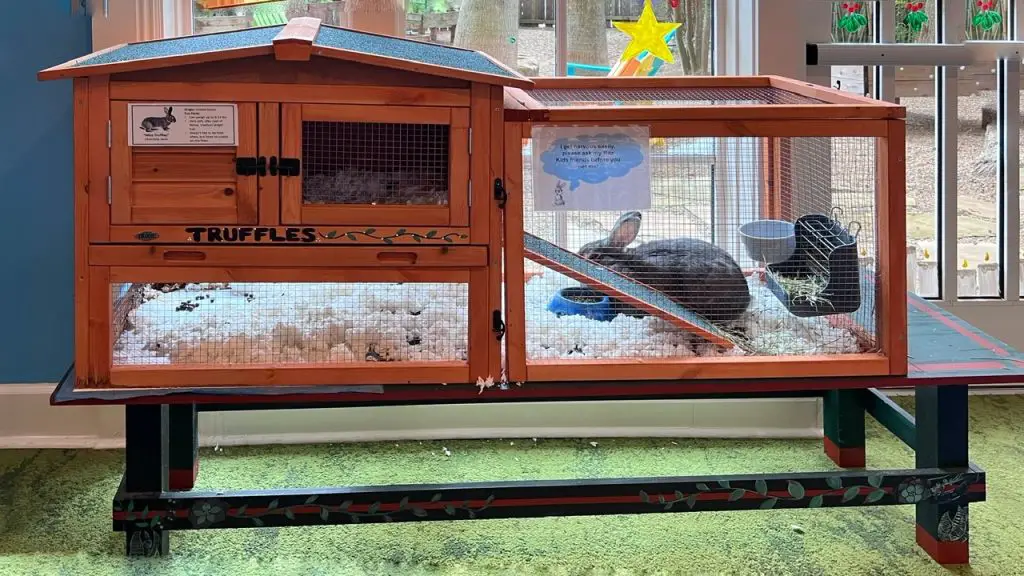 OK! We had already spent several hours on the property and still didn't see our room. Once it came available, we ran upstairs to see what it looked like. It is my third Ritz-Carlton, and I can tell that all their rooms are the same good. Four hundred square feet suite with two queen-sized beds and a spacious white and sparkling marble bathroom, all smelling nothing but fresh and clean, makes me feel comfortable. I like that each room has a cute private balcony. Finally, I can lay on the bed and relax. Ah! The bed is so cozy! I always sleep well on Ritz's thick mattresses.
Here is the Ritz-Carlton Orlando room 431:
Ritz-Carlton SPA and Fitness Center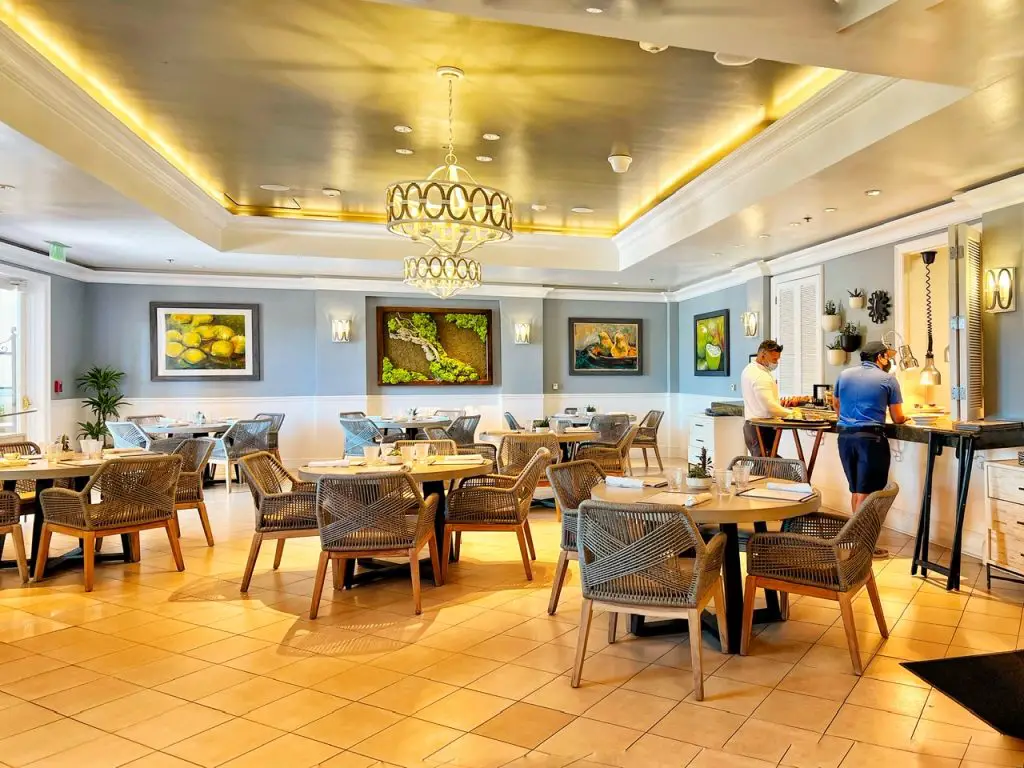 The 40,000-square-foot spa is located in a separate building right in the middle of the property between Ritz-Carlton and JW Marriott and comes with a swimming pool. Enjoy the fitness center, swimming, or dining in between, before or after treatments. Ah! What a Christmas treat for a hard-working body and mind.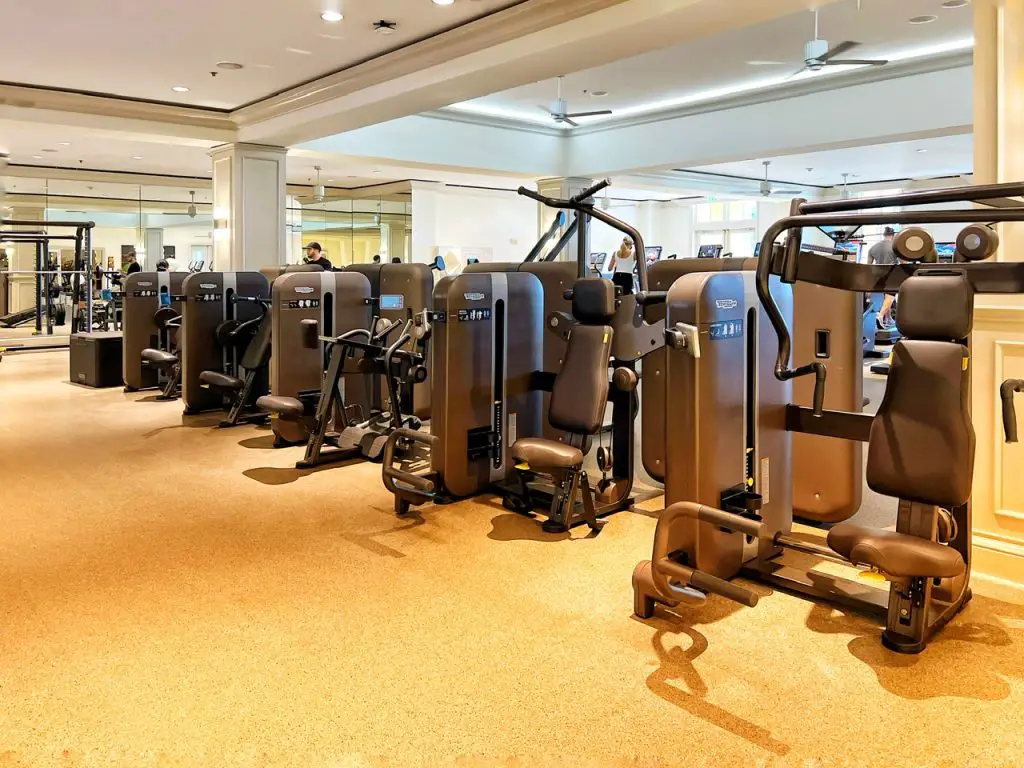 Christmas at Ritz-Carlton Orlando, Grande Lakes. Day two.
Since we had two properties to stay, we split, and Kevin with two older kids stayed at Marriott Vacation Club, and I stayed at Ritz with the younger child.
Tip. Even if you stay at Marriott Vacation Club, you can still enjoy Ritz and JW Marriott Hotel pools.
Our Super Dad made breakfast, and Johny and I joined them. Good thing we have a kitchen!
The forecast says it will be 80 F, so we have our swim suites ready and heading to the JW Lazy River! What entertainment! The river is long and slow, so kids did it three times in a row and wanted more. I like that the water is warm. It is hot, and we can swim even on a chilly morning and never need a hot tub.
After a morning swim, kids play in the sand on a volleyball field. Of course, this boost of activities makes them hungry, a good thing daddy packed some healthy snacks.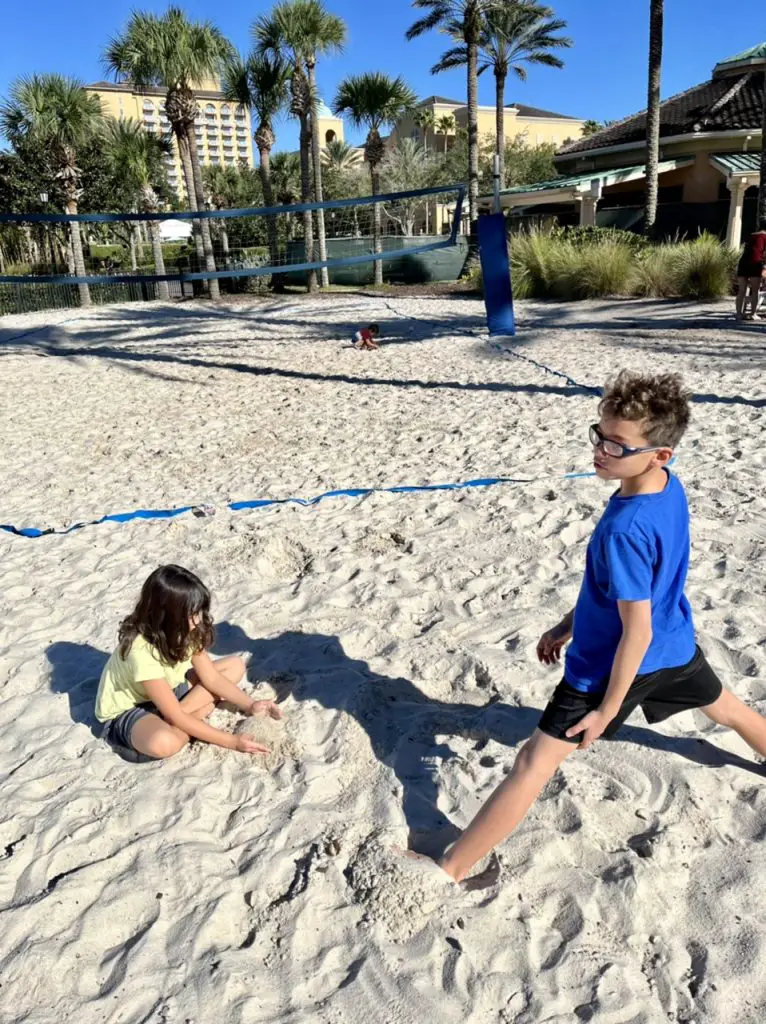 Ritz Carlton Orlando restaurants.
For the second day, we ate lunch at Blue Cafe.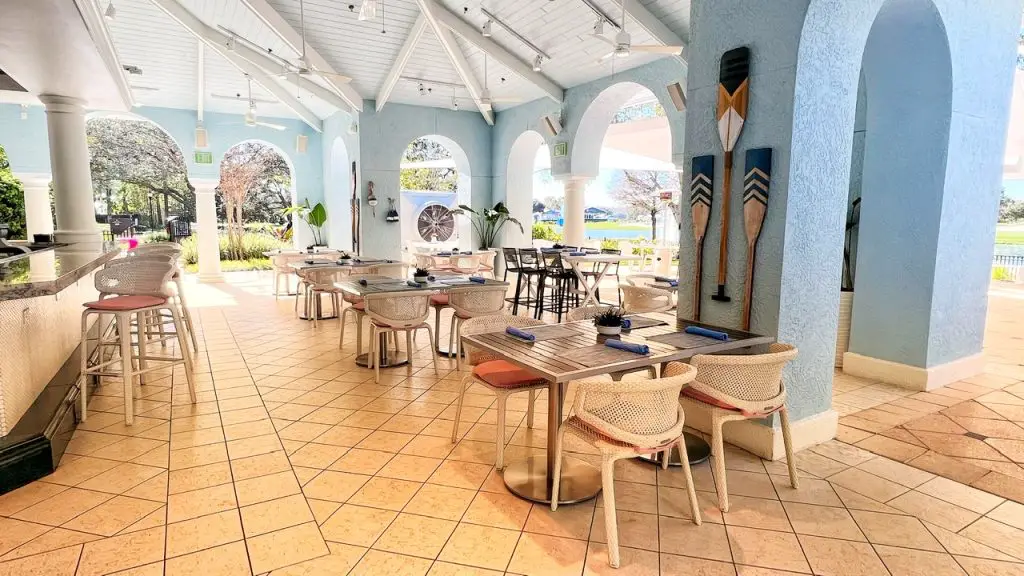 We went to Bleu. It's an outdoor pool cafe that offers seafood, salads, and burgers. I got delectable fish tacos. Oh! They were so good; I am still salivating recalling their taste, and Kevin got a fish sandwich with fruits, which was just perfect addition. The sandwich was on a smaller side, so I shared one of my fish tacos, and both of us had an ideal amount of food.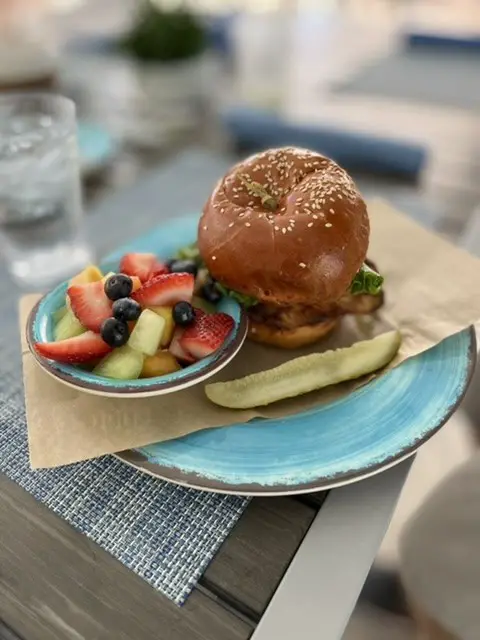 There is a Gelato stand right next to the swimming pool. I had never tried the ice cream before, but it felt like New Year was calling me to try something unexplored, so after talking to a seller, I picked the "White Chocolate" one. It was creamy with milk chocolate souffle inside and crunchy white chocolate outwards. It seemed a bit too sweet to my taste, but now I am on the mission to try them all.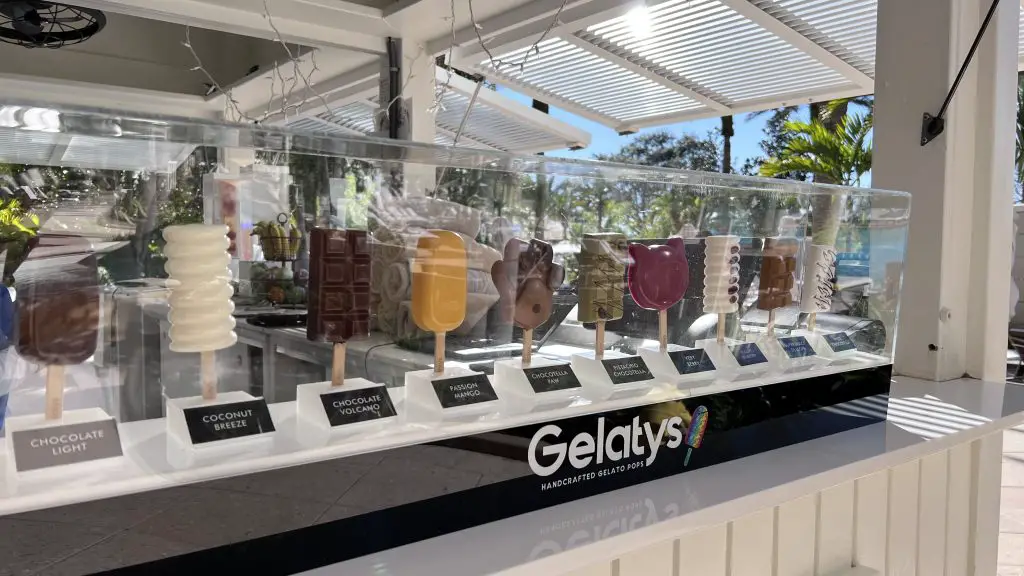 Kevin had a "Chocolate Paw" made out of milk chocolate ice cream, and he was satisfied with the taste.
Resort Fee
Ritz Carlton charges 40 dollars daily resort fee and here is what it covers:
High Speed Internet
Mountain Bike Rental at Grande Lakes Sports (two bikes, one hour/day/room)
Driving Range Privileges
Two Pool Floats at the JW Marriott® Lazy River Pool
 Shuttle Transportation to SeaWorld®, Walt Disney World® and Universal® Orlando (24-hour advance reservations required)
Fitness Center Class for two guests (one class per day, per room)
Tennis Court access for two guests (one hour per day, per room)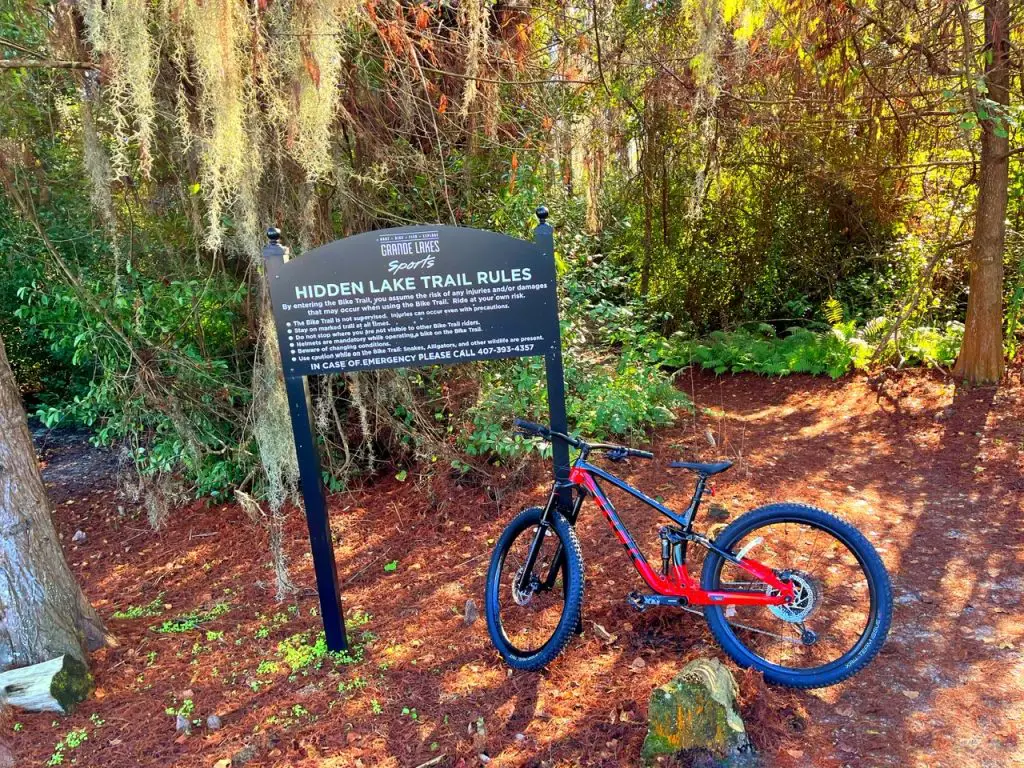 After lunch, we decided to spend the rest of the day at Marriott Vacation Club swimming pool. It added a good amount of fun. Kids tossed balls competing against each other. Danced, played tag, putt-putt, ran around the playground. In short, all three kids had a total blast.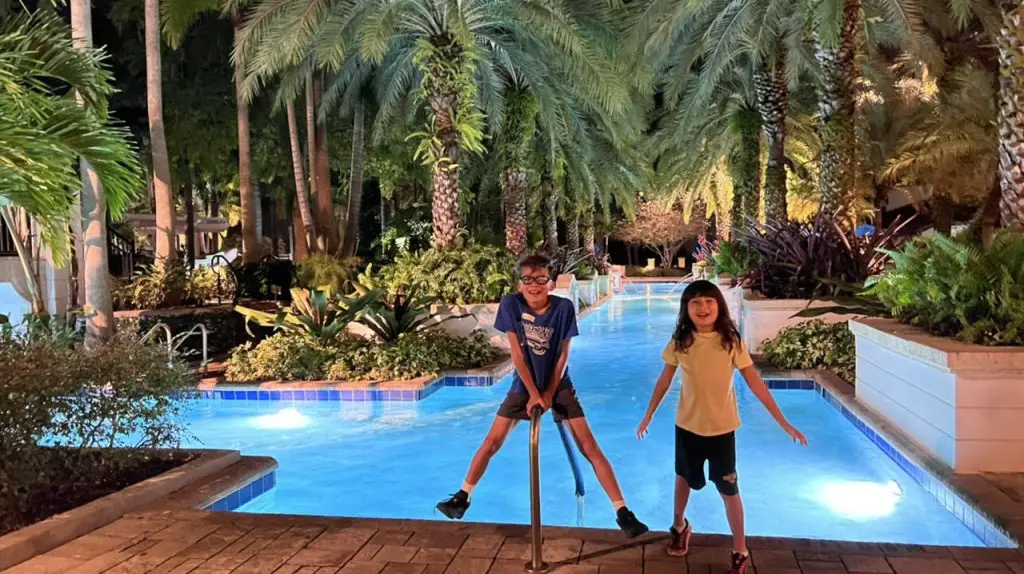 So if you are looking for something new to do for Christmas, consider adding this location. It provides an impressive luxury experience with great family activities.
This place has 11 restaurants, and for Christmas, they offer a wide variety of activities such as Santa Visit, Christmas Craft, Holiday Carols, Santa's Teddy Bear Tea, Christmas Movie Night, and much more. I wish we could eat at all those 11 locations and feature all activities, but I think we will save this for the next visit. I hope you liked the Ritz Carlton Orlando Review and will pin it for future references.

I wish all of you a Merry Christmas!
Share this post with friends so you can go together.
Here are more posts you might be interested in What to do at The Ritz-Carlton, Half Moon Bay Resort?