We may earn money or products from the companies mentioned in this post. And as an Amazon Associate I earn from qualifying purchases.
I am finally writing about this juicy part of our trip to San Francisco, the Ritz-Carlton, Half Moon Bay Resort. Half Moon Bay breakfast at Ritz Carlton is one of my favorite but the whole place is pretty amazing.
I got to San Francisco to visit my friend, she was expecting her first child, and I wanted us to stay at a luxury resort. So my choice falls on this fantastic place.
And here is what we got!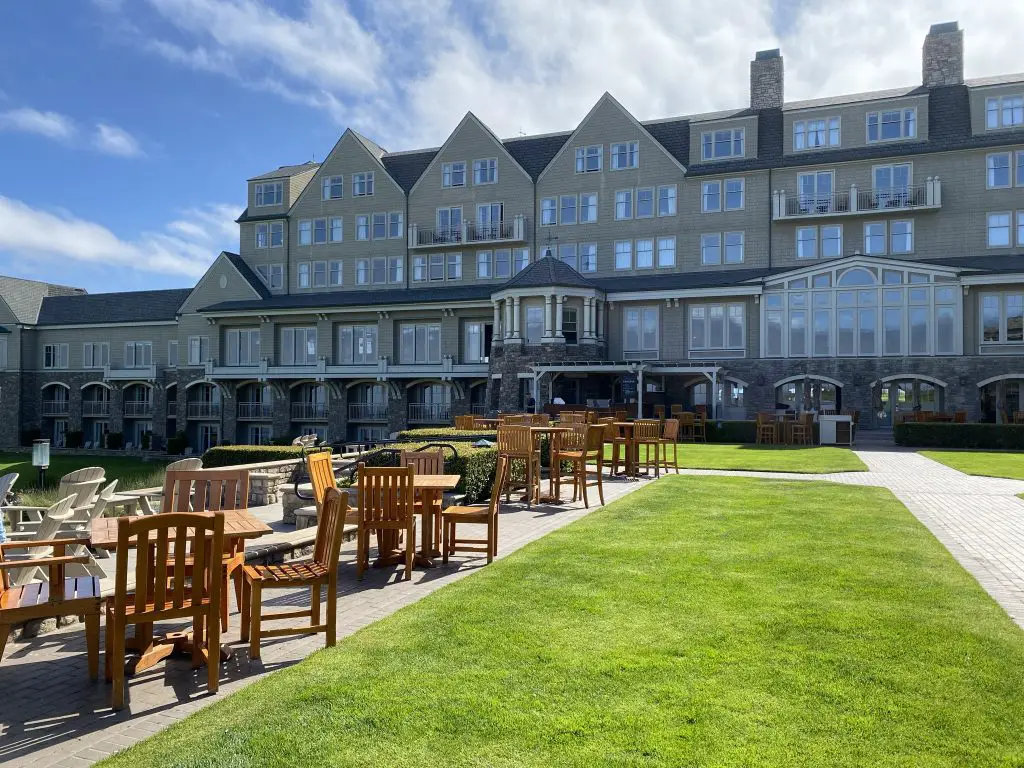 I will tell you everything in order.
How to get to the Ritz-Carlton, Half Moon Bay Resort
The closest Airport would be SFO (San Francisco International Airport). You can take a bus from San Francisco (SFO) to The Ritz-Carlton, Half Moon Bay via Daly City, Daly City BART-Bay 4, Linda Mar Park N Ride, and Hwy 1 & Redondo Beach Rd in around three h 37m.
Location of Ritz-Carlton Half Moon Bay.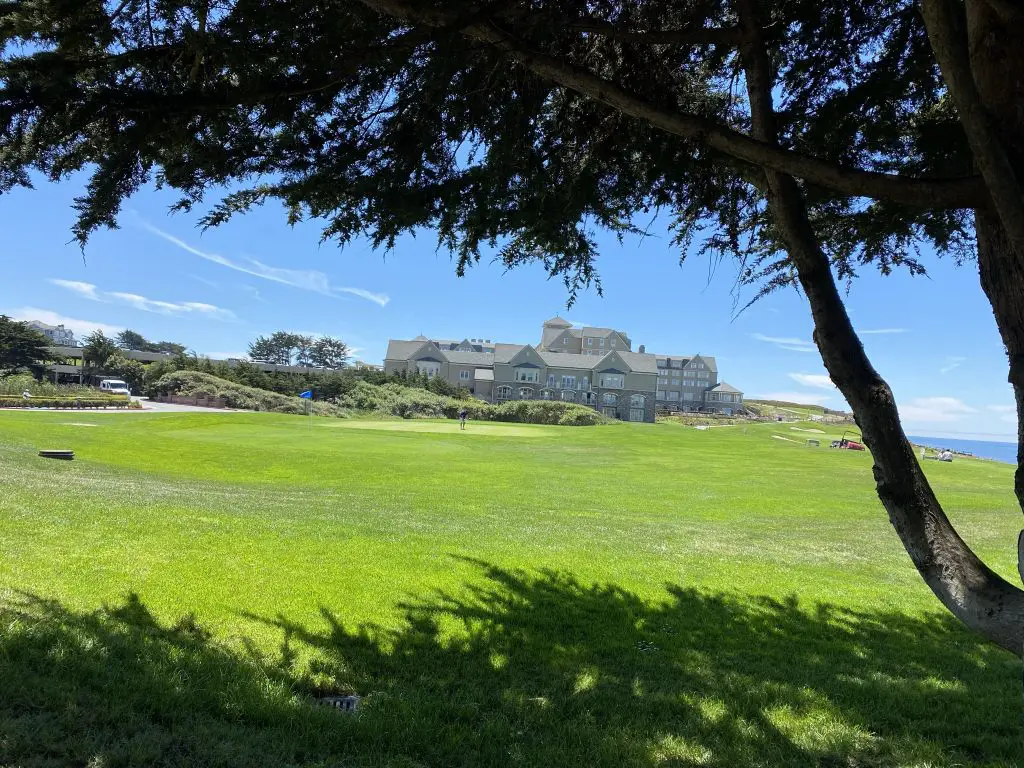 What Ritz does the best is choosing a location. They find a lot that gives you the best views and places their properties there.
This resort sits right on the cliff! Yes. Its backyard ends up with a scary and beautiful cliff at the same time. No worries. There is a fence along the ridge, so you can not fall off accidentally. Its golf courses surround the resort all around, making it unforgettable.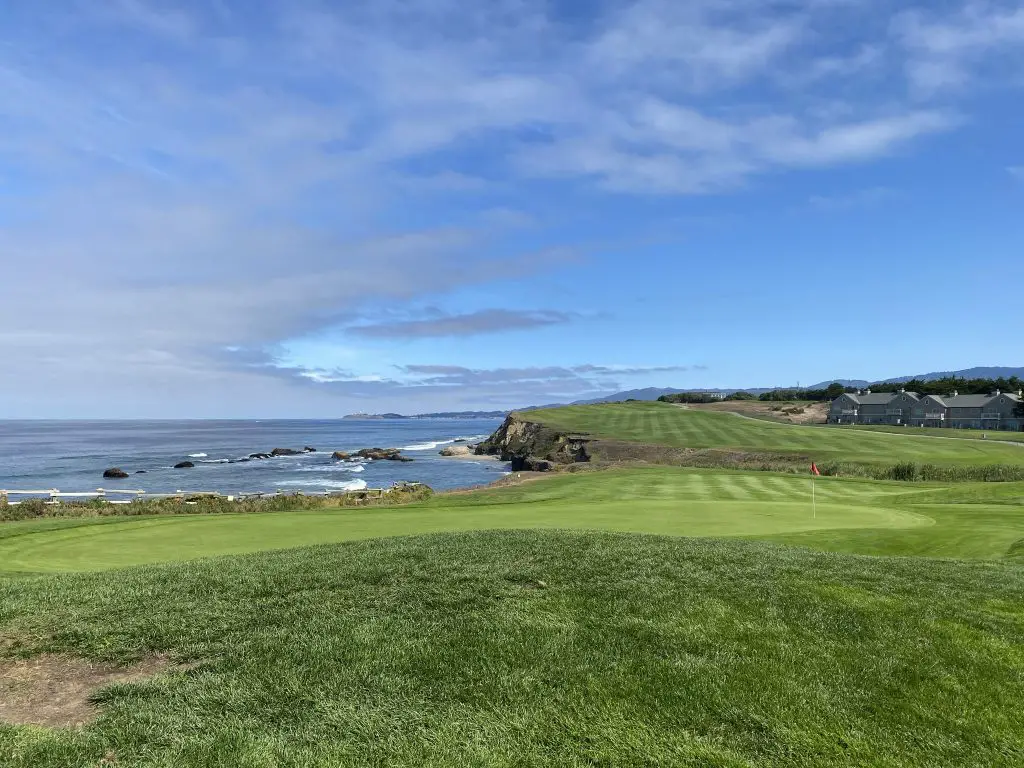 Thanks to the landscape, you get the best views whether you dine, walk, bike, swim or play tennis.
Ritz-Carlton, Half Moon Bay Resort what to expect
Ritz will greet you with a valet to park your car in the garage around the corner if you drive a car. Porter will bring your luggage to your room. We just went to the front desk to get our keys. There is an option to use your phone as a key. Ask about it at the front desk.
The hall is spacious and bright, with a high ceiling and beautiful chandeliers. I love that everything is white and sparkling clean.
We got a room with Ocean View, and it was MAGICAL! Once you open your eyes in the morning, you see OCEAN! So that makes me excited and curious about what else I can see or experience today.
All rooms are 450 sq ft; they upgraded our room to the ocean view. It also was handicapped accessible, which means the bathroom had rails. It sleeps four people and has enough space for a pack&play so the total would be 5. Suits are much bigger and would work for larger families.
Ritz-Carlton, Half Moon Bay first day
Once we checked in and were situated, we got hungry and went downstairs to check for food. There are three dining options Navio, The Ocean Terrace, and The Conservatory. Unfortunately, only the Conservatory was available for the weekend, so we dined in exclusively there.
Half Moon Bay Restaurants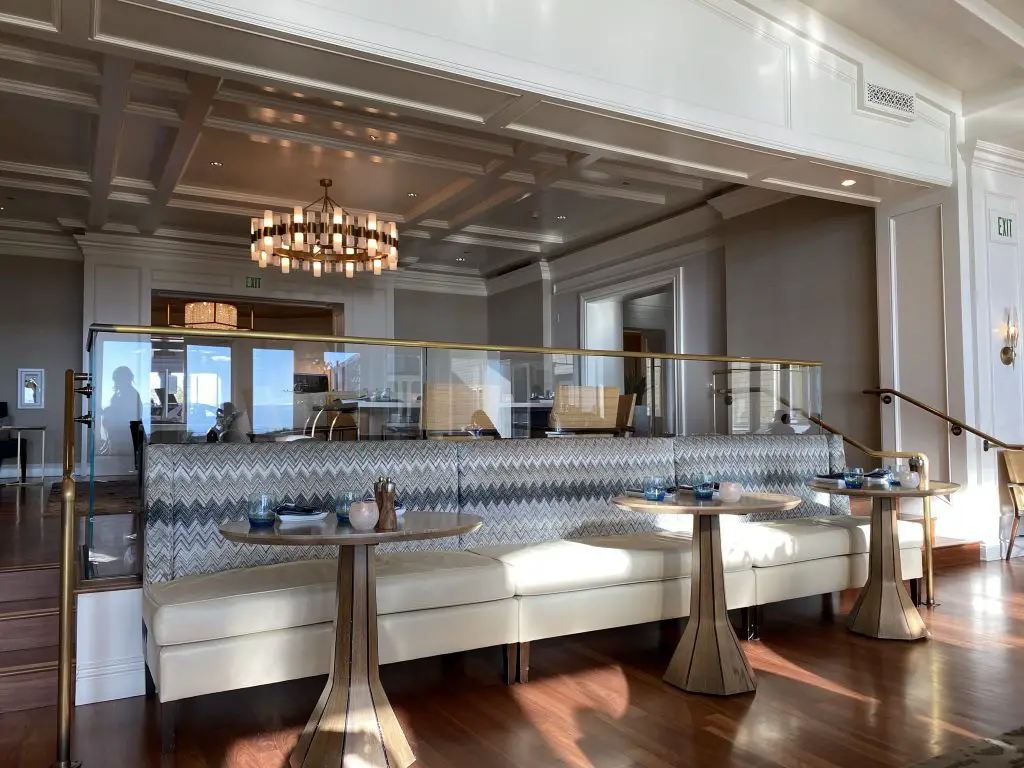 The restaurant has huge windows that face the ocean, and you can enjoy your meal or the view, or both. Mesmerizing!
I got seafood soup. Oh boy! It was a pot filled up with mussels, shrimps and loaded with crab meat. It was a good thing to try, and I enjoyed every bit. My son got spaghetti and fruits. He ate everything.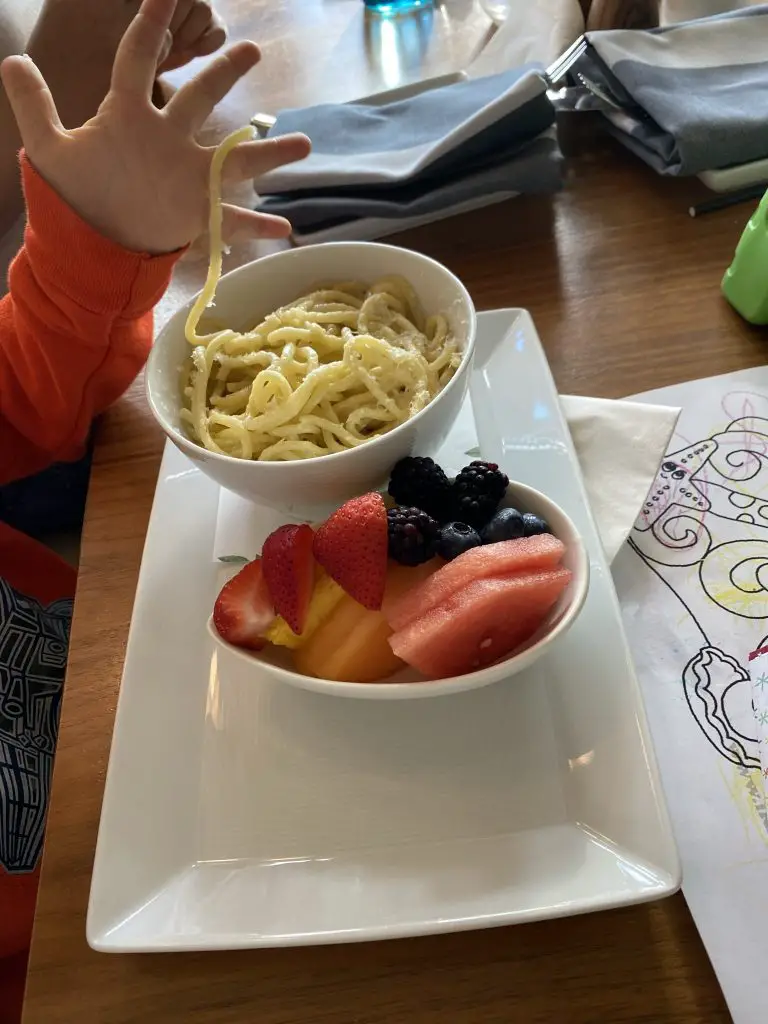 After supper, we went to the backyard. The evening is a lovely time to be outside. It is hard to call it "yard" because it borders the ocean, and its open ends stretch as far as you can see. But the way Ritz designed the resort makes me feel like I am at some club, where people gather together to socialize. We would sit together at a pit fire, and some people were roasting marshmallows, talking, laughing, and you would feel like you were part of the group.
Others were walking around drinking wine or simply standing and looking at the sunset. Since it was getting dark, we didn't risk leaving the backyard and hanging out there taking pictures, enjoying the ocean air, and sharing highlights of the day. Mine was the supper at the Conservatory.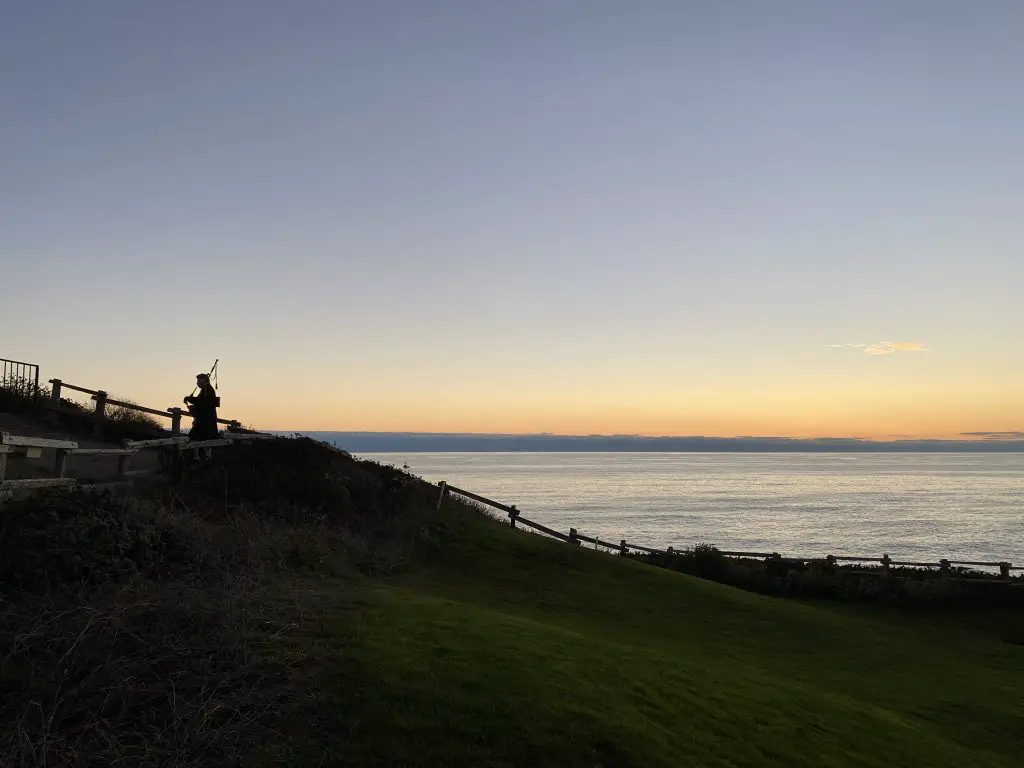 Around 8 pm, we heard a bagpipe. Yes. A real bagpipe! A man dressed up in a Scottish national dress was playing it the whole evening. He was playing a melody from the "Outlander" show. Ah! It made me want to visit Scottland.
Here is a short video on how that backyard looks like.
We slept tight, and I woke up hungry!
Ritz-Carlton, Half Moon Bay Day Two
Half Moon Bay breakfast at Ritz Carlton
My friend is still sleeping, but my son and I are at a different time and wake up at 5 am. Ha! Ha! First time in my life, I woke up early and slept in. I should move to San Francisco, or even better to the Ritz-Carlton.
We were the first in the restaurant. Very hungry because we waited for two hours before they opened! My son was constantly repeating, "Give me food!" "Eat! Eat!"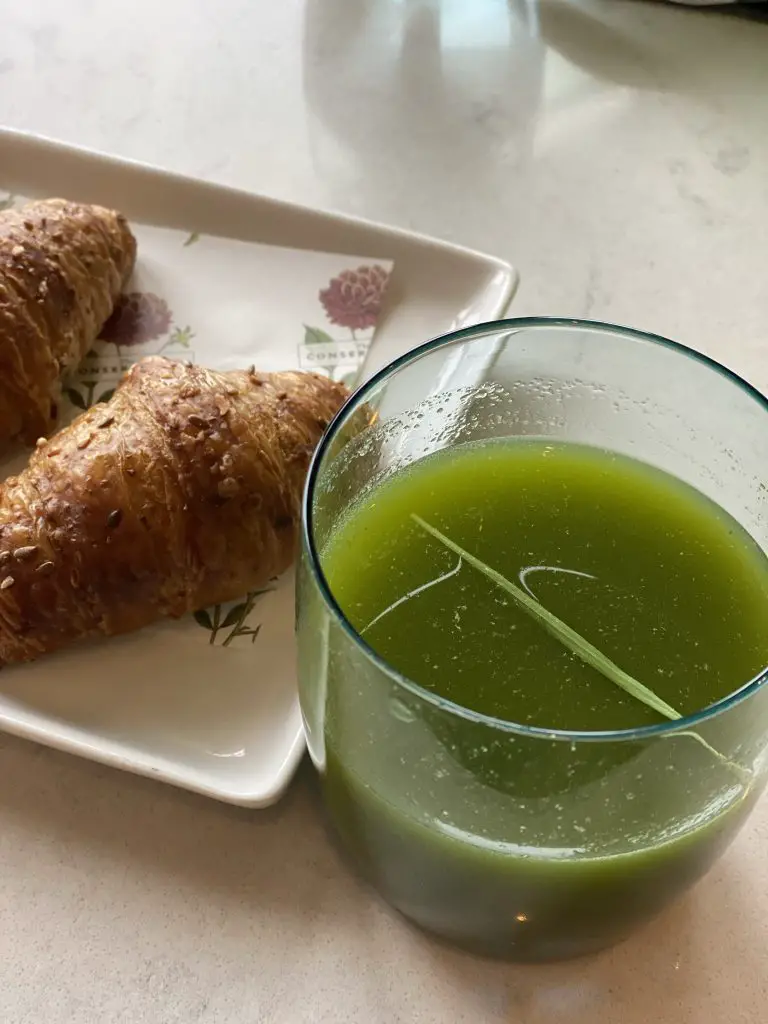 I tried to convince him to enjoy the morning ocean view, but he was not interested. Before we placed our order, the waiter brought us a little treat, a croissant with a "green drink." My son grabbed the bun, and I looked suspiciously at the green liquid doubting to take a sip.
I smelled it, and it seemed like mint, but it looked like pond water, plus there was a piece of actual grass floating on the surface… Ok. I thought I was at Ritz-Carlton; they wouldn't give me pond water; it at least would be an ocean one;). So I dared and… OMG! It was soooooo good. Indeed it's a mixture of pineapple juice with mint and something else. I didn't care what else was in that drink and asked if a waiter could bring me a full glass of that green liquid. He did, and I drank it ALL.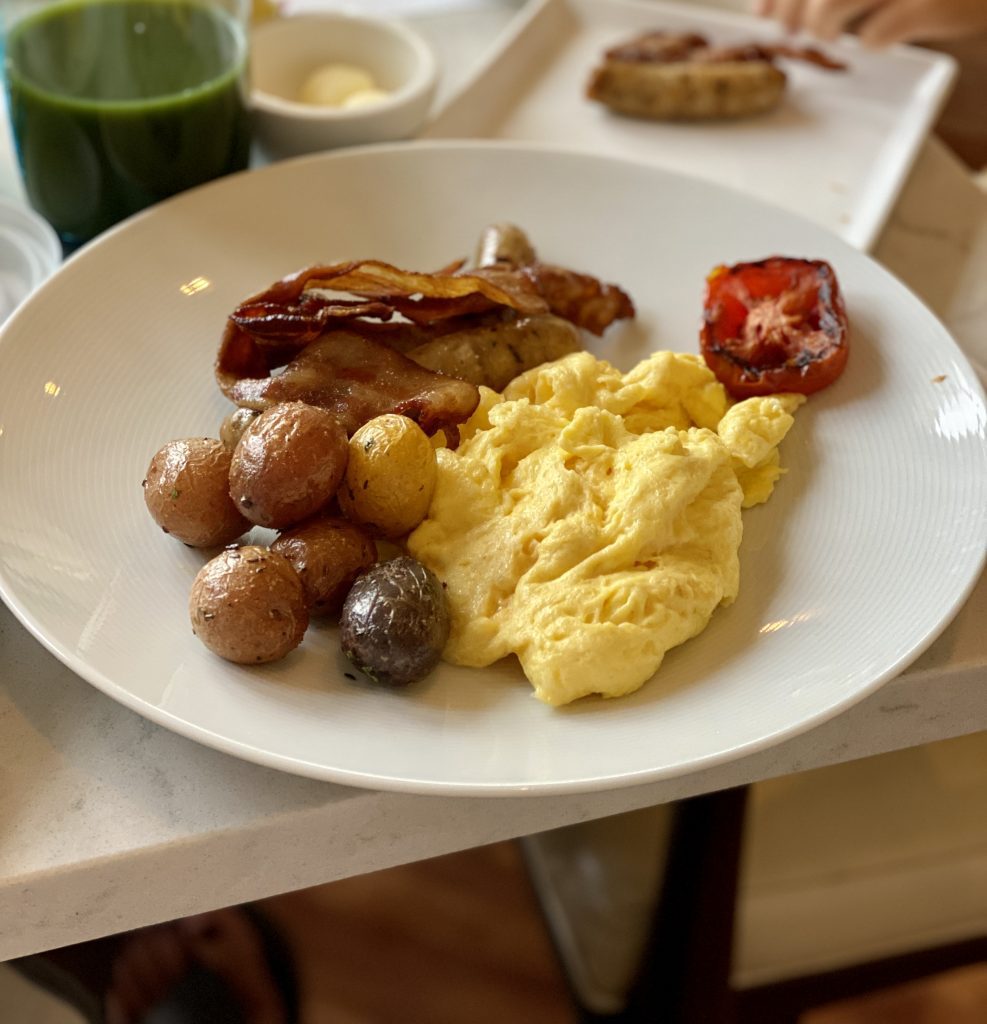 I ordered two eggs and bacon with hash brown and sausages. Just regular eggs and bacon, but the price was irregular – 42 dollars. Yep. To let you know, everything on the breakfast menu that had proteins was 42 dollars. If you are ok with an oatmeal porridge made with water, and avocado sandwich, or Belgium waffles, it would cost you 20 dollars.
My friend woke up and joined us by the end of the feast. Since I was hosting her, I paid for all the meals. She didn't look at the menu; she just looked at my plate and said she wanted the same food… She didn't know:).
Ritz-Carlton swimming pool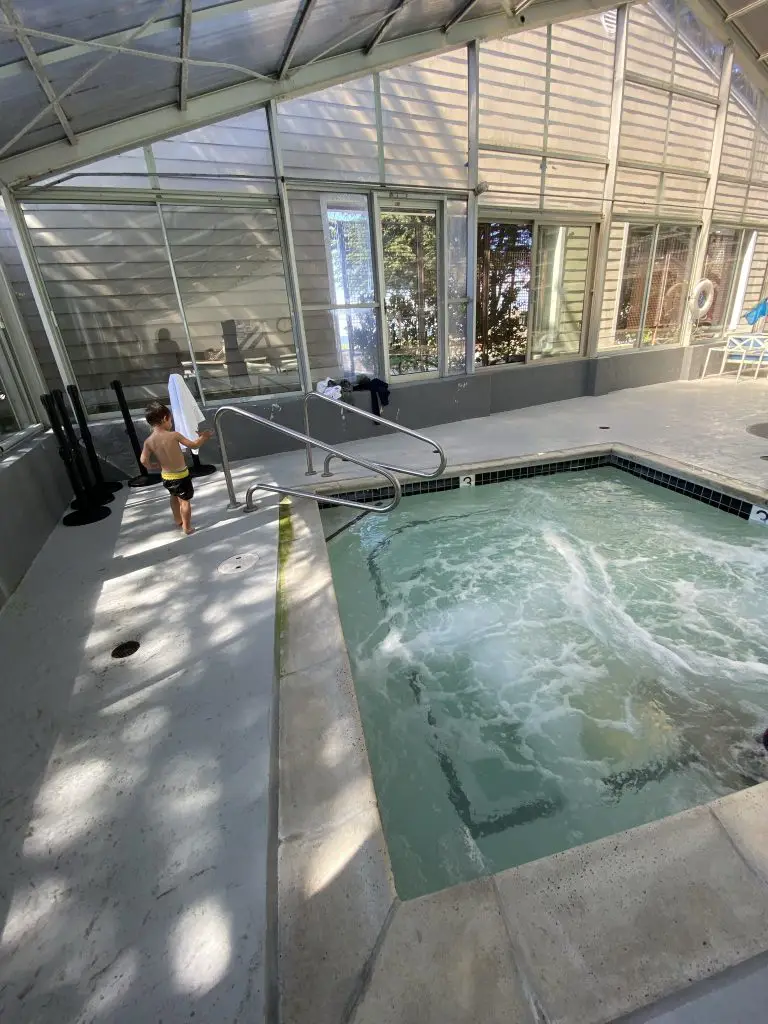 After a good breakfast, we were determined to exercise and headed straight to the pool. The pool in Ritz-Carlton is indoor, but it is not in the hotel building. Instead, it is located in an impressive glass building behind golf courses. So it's not that long a walk, just enough for you to enjoy the sun and the weather. Maybe 10 minutes long.
When we got there, it was not crowded. The pool was enormous, and the water was incredible. Good thing there are two hot tubs where we spent half of the time. I am not a big fan of cool water, but my two-year-old son is fishy. He jumped in and out about 300 times, and I even got a little dizzy watching him. This place was a stop for families with kids. I didn't see any severe swimmers for the whole time we were there.
We quickly splashed there between the pool and the hot tub until lunchtime. After that, my son got a bit overstimulated and tired. He had a meltdown and fell asleep as soon as we went outside. He just crashed.
Lunch Half Moon Bay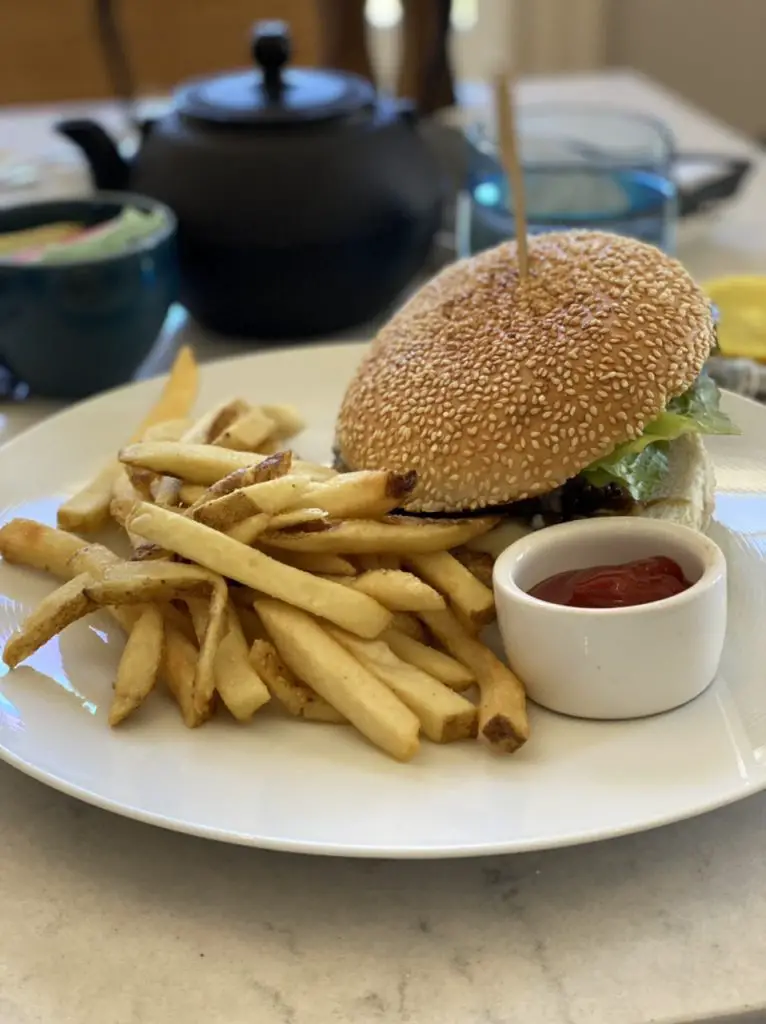 My friend and I headed straight to the Conservatory, where we both had the best Hamburgers in the world and the best dessert we ever tried. We both voted 10 out of 10. The food was delectable! Seriously, the meat was tender and juicy. All the hamburgers I ever tried had relatively dry and chewy meat, even if it claimed to be made of steak, but this one was flavorful and juicy and yet fully cooked.
The hamburger was filled up with stewed mushrooms that were crunchy and flavorful. Oh! I would give a lot to know how to make it. The hamburger was also giant! It would feed two adults easily. Unfortunately, none of us could eat it all. We took leftovers hoping to find a way to store them. If you noticed on the room tour video, there is no refrigerator, but guess what? You can request one, and they will bring it. That's what we did. It's a tiny cute refrigerator just enough to store your leftovers from one or two meals.
The next best piece was dessert. OMG! It's a chocolate cake with waffle crumbs. It has three layers, and each one has its density and flavor. Yum! And all three together give you an unforgettable taste. Its sweetness level is just perfect! It is made in the kitchen from scratch, so this resort is the only place on earth where you can try this masterpiece.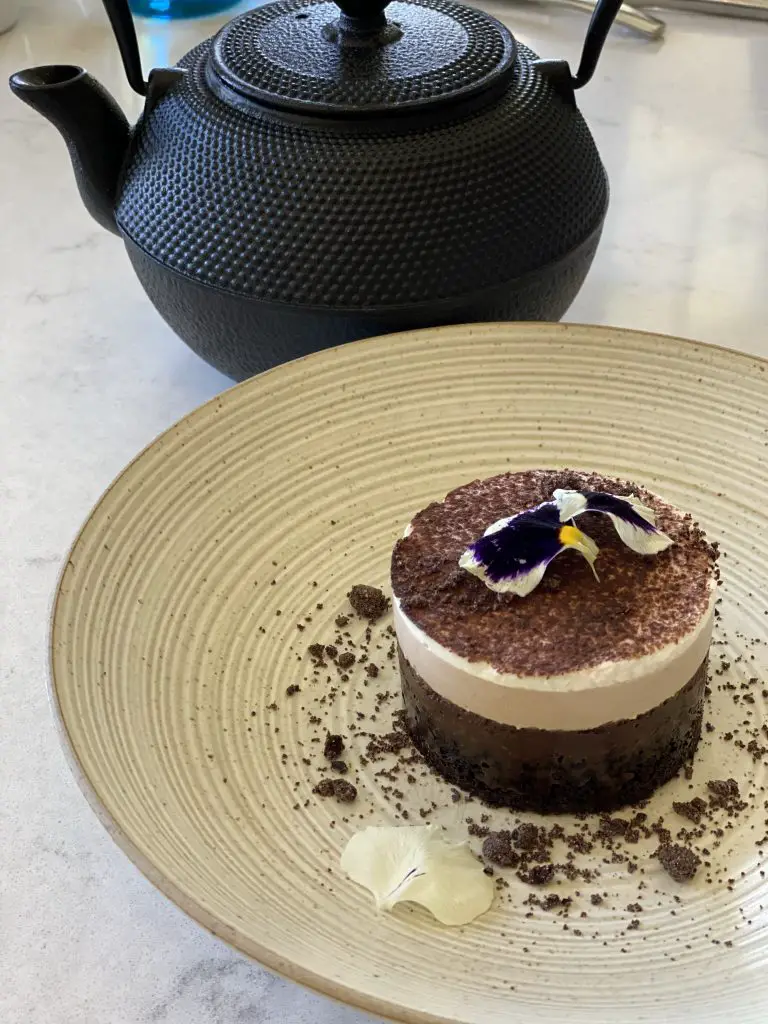 Ritz-Carlton, Half Moon Bay Resort Beach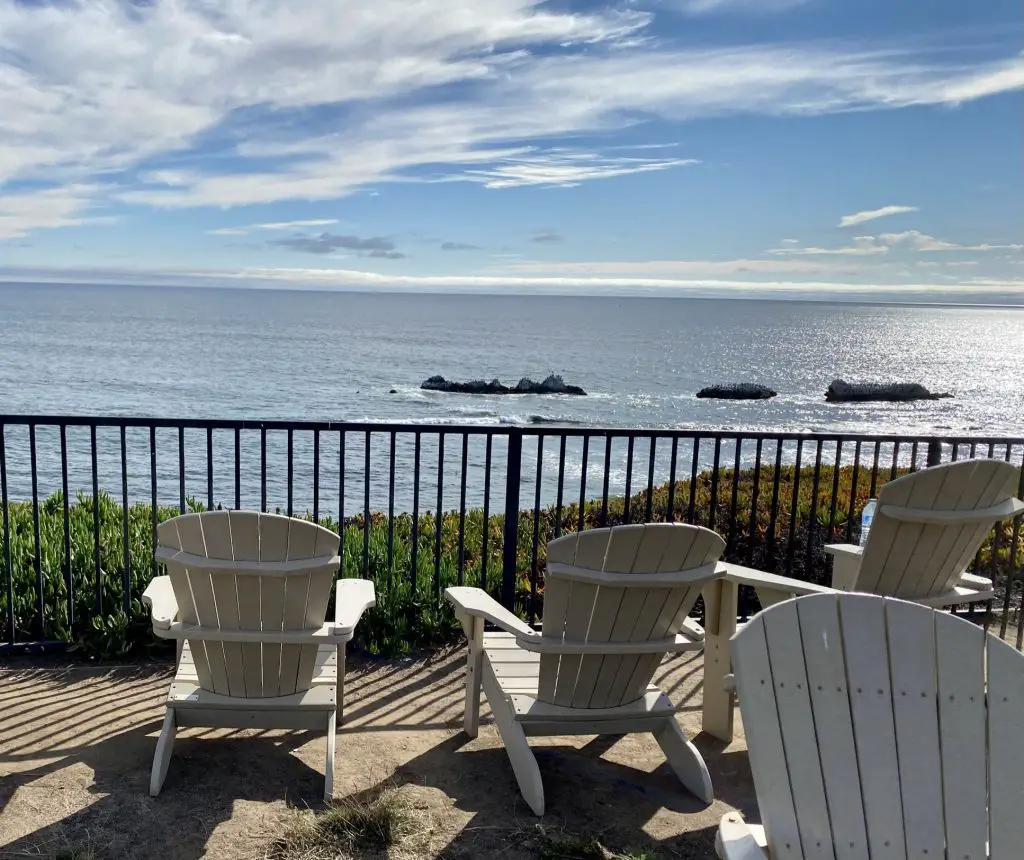 After lunch, my friend went to rest, but my son and I went on a pleasant promenade. It took us about 15-20 minutes of walking along the cliff to reach the stairs down to the beach. The views were breathtaking. The resort puts some chairs along the fence on the way to the beach so you can rest comfortably, enjoying the sounds of the ocean.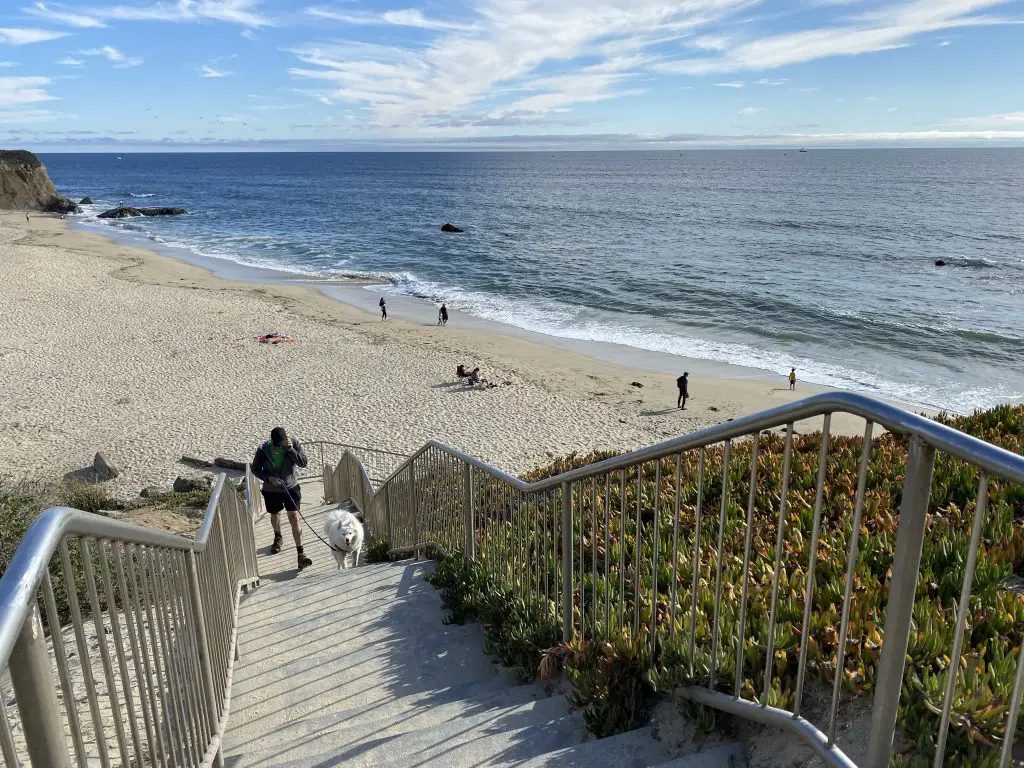 The beach is public and doesn't belong to the resort. We saw a few other families with kids digging the sand and taking pictures. Since the water was cold, we didn't dare to dive into the ocean, but I saw people and even some kids swimming. Probably locals…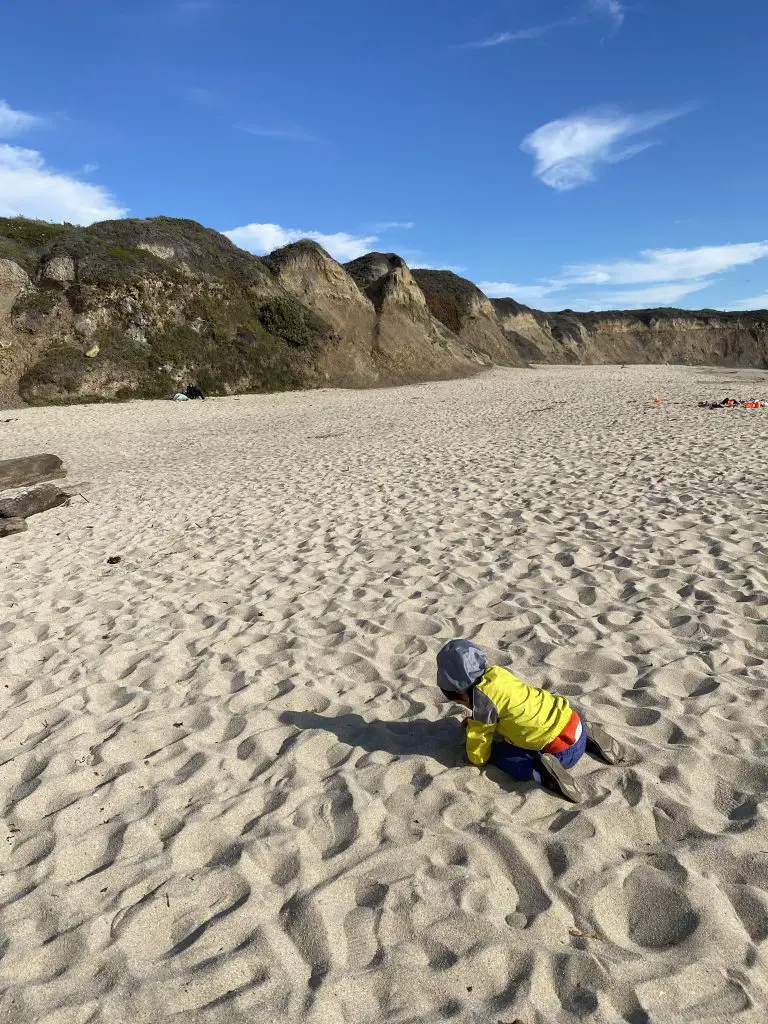 It is not only cold but also windy and humid. This combination makes cold piercing, so make sure you wear a rain jacket or something to protect you from the wind.
Once we got back and my friend woke up, we had our fantastic hamburger leftovers and went out to hang out at the fire pit and found some guests with pets. So I have great news for those who travel with their furry family members!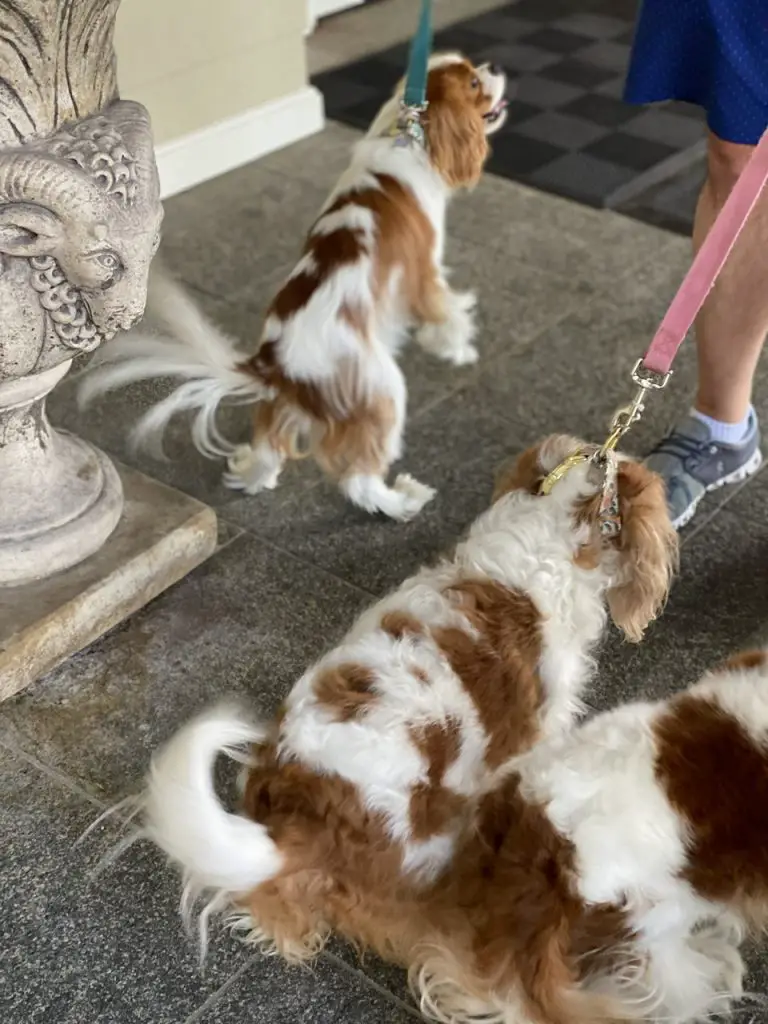 The Ritz-Carlton Half Moon Bay Resort is pet-friendly!
Ritz-Carlton, Half Moon Bay Resort Day three.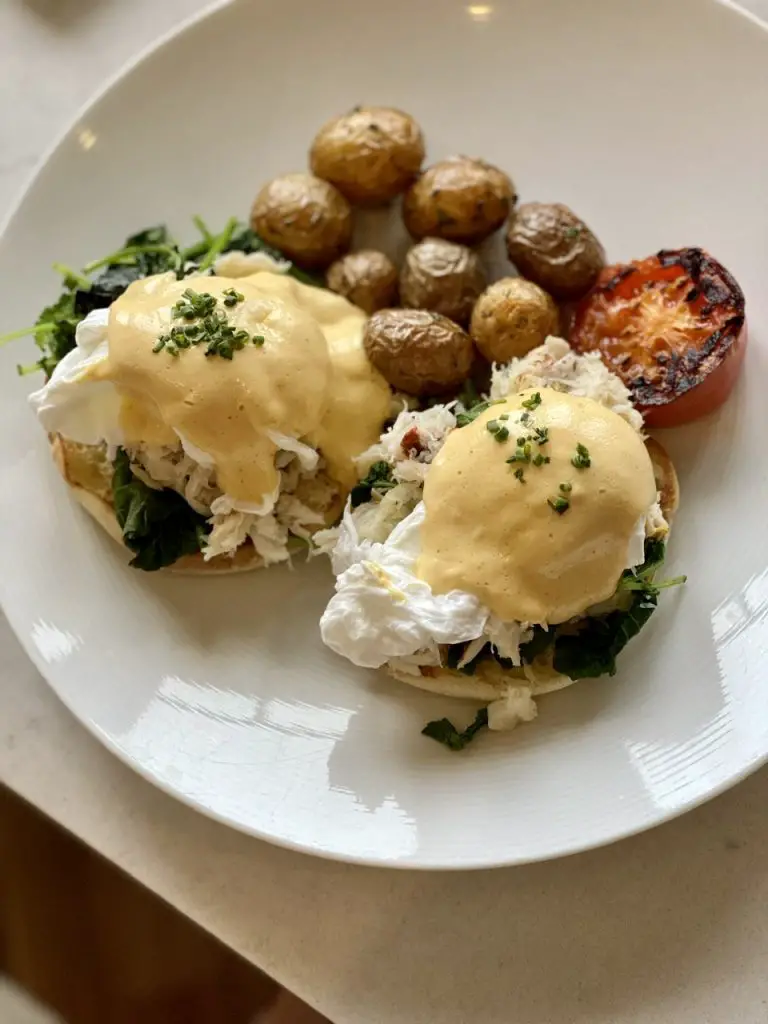 If you are looking for the best restaurants in Half Moon Bay. You found it!
Breakfast was uneventful despite the thing that I got pouched eggs on an English muffin loaded with crab meat, and when I tried it, it gave me a bitter aftertaste, so I replaced it with Belgium Waffles. After the first bite, I realized that it was just me; everything tasted a little bitter that day. Nothing serious, just some days it happens. If I could choose again, I would get the English muffins again. The dish had a nice texture and flavor.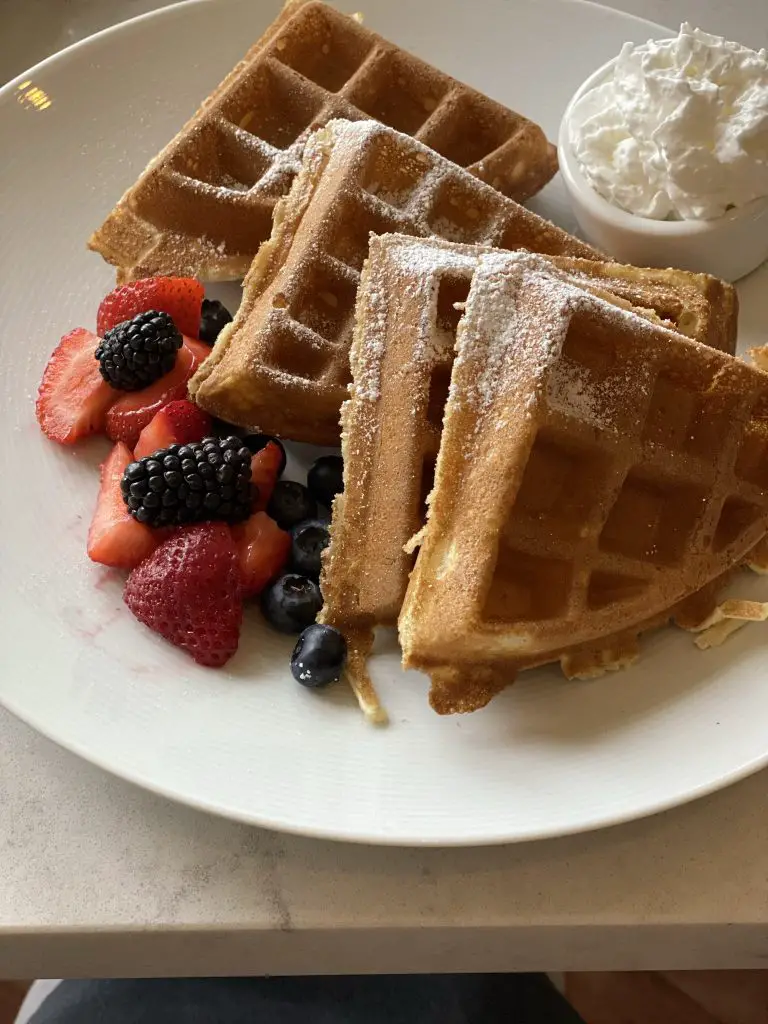 My son got oatmeal. He is used to oatmeal made with milk, but they make it only with water and couldn't make it differently in the kitchen. So I added milk to the porridge myself, and my son ate a few scoops. But he didn't like it.
My friend, on the other hand, found it very tummy soothing.
Check-out is at 11 am, but we could extend it to 1 pm with my Gold Status. It gave us plenty of time to eat, pack and relax. As a pregnant girl and mom with a toddler, there were activities that we found a bit challenging to do, but I think anyone with older kids would enjoy them much.
Bike riding.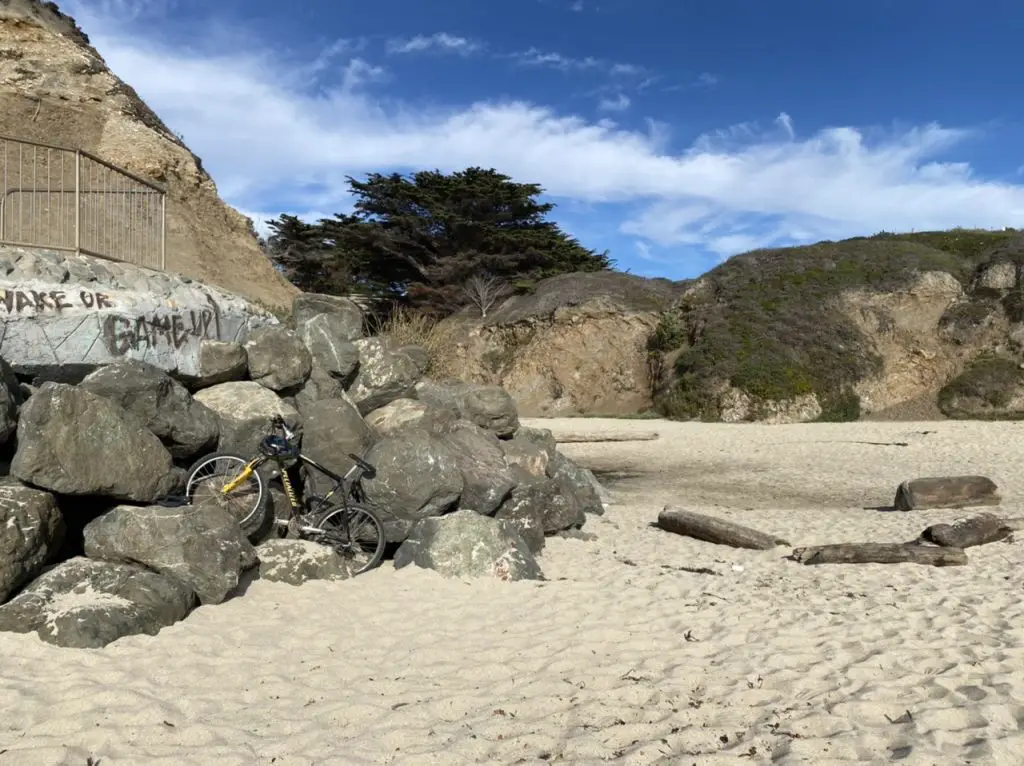 There are lots of trails for biking and hiking, and I bet it's a pure joy to ride your bike along the cliff.
Tennis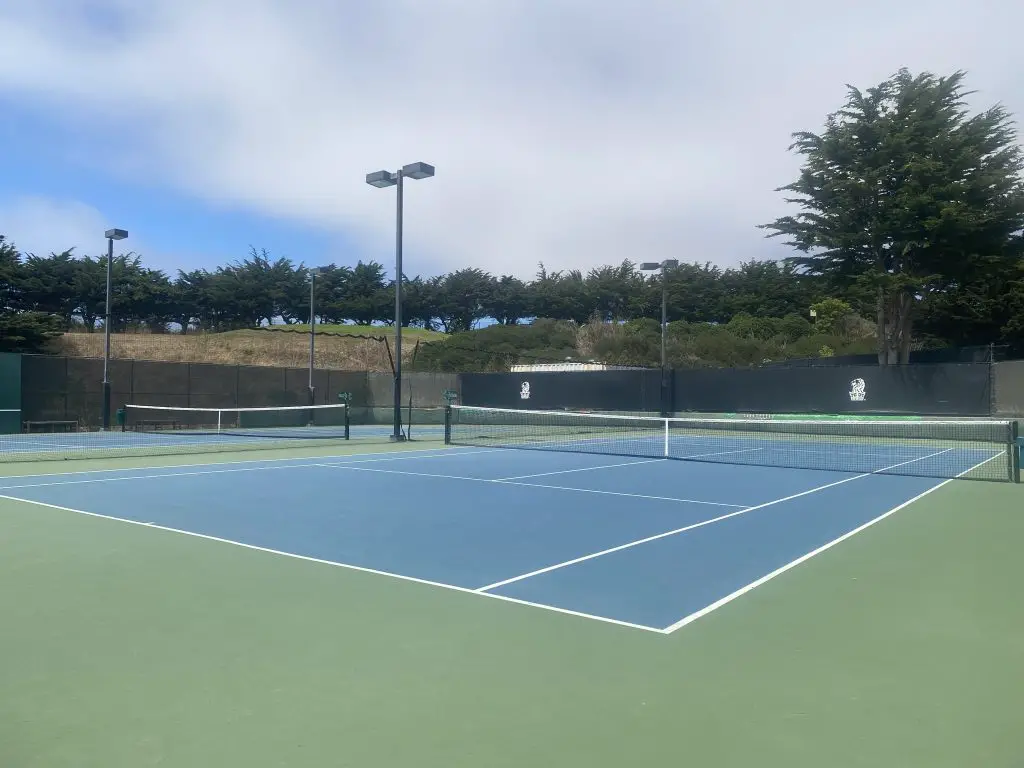 Love tennis? I play only when the weather is perfect. It has to be sunny but cool. Well, San Francisco's weather is ideal for tennis!
Surfing
The ocean is always moving here. I bet with the right gear, you can practice and enjoy being in the water.
Golfing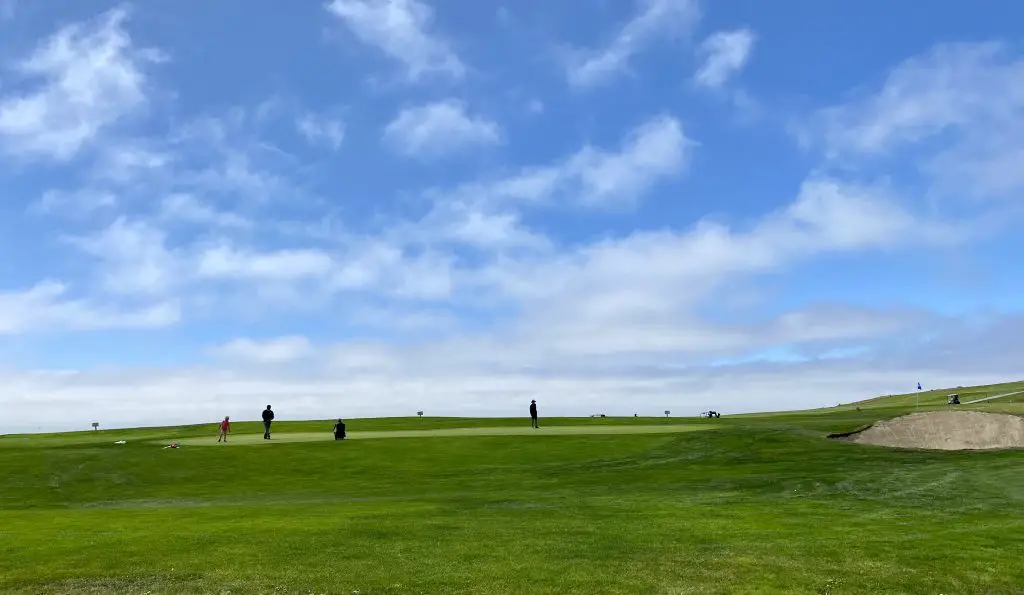 I know my husband would love to spend a day or two playing at Half Moon Bay golf course.
Expenses that you should expect
Resort fee – 50 dollars/day
Parking fee – 45 dollars/night. Daily parking is 20 dollars but if it was just a drop off don't park in the garage and you won't be charged.
Dining in – 20-70 dollars per meal/person
The Ritz-Carlton, Half Moon Bay Resort is one of those places with it all. It is family-friendly, romantic, and fully equipped for business meetings or conferences. So if you need a reason, pick any and book the room!
You might like these posts:
Marco Island. Luxury Family Travel
Christmas Fun at Gaylord Opryland Resort in Nashville, TN
Subscribe to our blog to get more information like this.