We may earn money or products from the companies mentioned in this post. And as an Amazon Associate I earn from qualifying purchases.
The following day we headed to Marco Island, Florida, for another luxury family travel to put on my lifestyle blog. It was a nice 3 hours road trip with one stop for supper.

Spectacular Mexican Restaurant in Sarasota
If you are ever driving through Sarasota, stop by at this tiny, super cute family-owned Mexican restaurant called Mr. Tequila. I would visit just for the interior. All those bright colors brought back my childhood memories and made me smile. A server said that they ordered all the interior pieces from Mexico.
We ordered a seafood soup with crab legs, shrimps, squid, mussels, and octopuses. It had a strong taste that I couldn't identify and was not a big fan of, but I liked the seafood content a lot. Kids got cheese quesadillas, and another entrée was beef enchilada. Your kids will love it! We ate everything!
Once we reached Marco Island, we checked in into this great Mariotte Vacation Club, and for the next five days, this enormous three-bedroom suite became our home! It is always nice to have a spacious suite when you travel with three kids. It was so big that kids could spend the day playing tag and race each other, and we didn't care.
Another significant thing about Marriott Resort is its quietness. The walls are thick, and you can't hear your neighbors from anywhere, sides, or top. It is one of the most important requirements for me.
We need good sleep to handle our kids after the whole day of activities. We had a splendid ocean view from our oversized balcony, where I could sit and work on my family travel and lifestyle blog. I love absolutely everything about the resort.
Marco Island Restaurant

It wouldn't be me if I didn't write about food. We explored the first day and found a little clean and cozy restaurant right next to the pool. We tried it, and OMG! The food there was so good! We ordered shrimp scampi and fried code served with white rice. Oooooh! You should try it! So good! I am coming back just for the food.
Marco Island Beach
Marco Island beach deserves particular attention. The sand is fine and white, and on this side of Florida, there are lots of shells, so they are pretty much everywhere and mixed up with sand.
The sunset is magical and romantic. But, oh! I would look at it forever! Same sun, same place, but different sunset. E-V-E-R-Y D-A-Y.
I love collecting seashells, so do my kids. So it was our every night activity to go to the beach at low tide and hunt for those rare ones. On the first day, we would take each one that was whole.
The second day, we got a bit pickier. We would collect only whole rare ones. By the end of the trip, we would collect only twirly ones. Oh! And I will tell you where you can get hundreds of them.
Marco Island Sunset
Things to do on Marco Island
I presume this place would be super popular during the usual time, but because of the pandemic, it was relatively empty. They have three heated pools; one of them is for kids and has a little slide.
The water was at a fantastic temperature. Warm. Not cool, but warm. Oh! The memories themselves make me relax while I am writing these words! Kids swam morning, afternoon, and evening and would stay there at night if we didn't let them. Your kids would love it too.

Marco Island Jet Ski Tour and a Boat Ride
I like to find unique things for my family travel and lifestyle blog. One of them is this trip.
There is a great place/tour called 10 000 islands. You can get there on a jet ski or by boat. We did both. The approximate traveling speed by scoters is 50 miles per hour, so it was a super exciting trip for my husband and nine-year-old son. Your kid would love it! They saw dolphins and manatees and went inside the mangrove jungles for research and adventure. Unforgettable!
We, the ladies and a 22 months old, preferred a boat. It was a nice breezy trip where we took lots of pictures and videos of dolphins and manatees.
The trip's ultimate destination was an island with thousands and thousands of seashells. It was a seashell paradise! It seems like I made the Island out of them. We had about 40 minutes to satisfy our thirst for shell hunting, and so we did!

And we had a super fantastic guide and a captain. They knew this place as their five fingers, and each time we stopped, we would see what they promised. Whether a pack of dolphins or a manatee.
On the way back, the tour guide gave us a little present. She had a dozen of seashells that were still in a pouch. She found them on the shore and then opened them up specifically for each kid and poured them into their hands.

Tip.
It's an Island with no trees, so hats, covered hands/shoulders, and reliable sunscreen are necessary. Also, bring some water with you. They have snacks and drinks on the boat, but it costs, you know… 3 times more.
Back to the resort for lunch!
When we stay in one place for a week or longer, we choose a hotel with a kitchen. It's adventurous and relaxing to eat out, but I can not survive without soups and homemade food for longer than three days. If it's a five-day stay, I will make soup every other day, so this week I cooked twice, the first time we ate chicken noodle soup, the second time we had beef and vegetable soup.

We also like to grill, so our Grill Man spoiled us with this super delicious meaty supper.

Another thing to do on Marco Island is Night Swimming.

The first time we tried night swimming. Exciting and fun! Your kids will love it too! It's a safe place to try it.
Pinchers Restaurant, Marco Island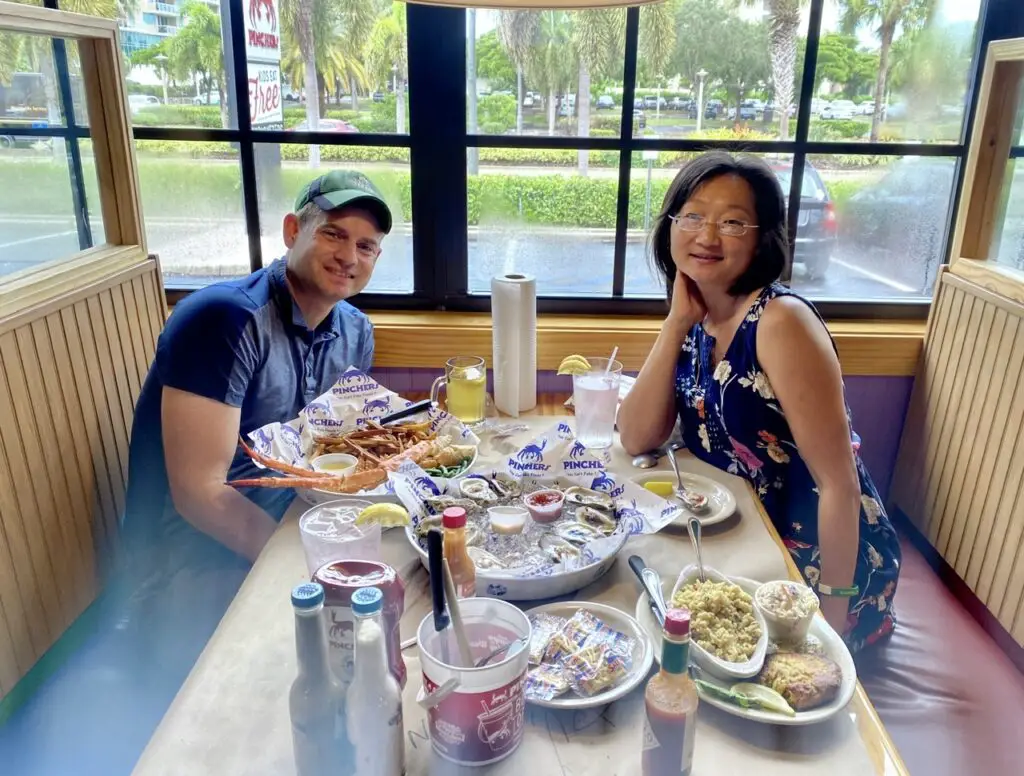 Kevin and I have a tradition. Every week, we go on a date: just him, me, and God.

We spotted this restaurant across the road from our hotel, called "Pinchers." It didn't look luxurious but had a great menu and high ratings. So we tried it, and we were not disappointed.
It's a family-friendly restaurant with all kinds of seafood, three kinds of crabs, raw or baked oysters, scallops, lobsters, shrimps, fried calamari, local fish. It's hard to imagine what they don't have. We went there twice. It worked great both for a romantic supper and a family lunch.

We got crab legs, a dozen raw oysters, clam chowder, and crab cake for the date. Everything was fresh and yummy. The crab cake had a few shells in it. Crunchy:))) All our servers were super nice. I would come back, and we did!
The next time we went there for lunch, the food was the same good. We were super hungry and asked for an appetizer. The waiter recommended a Hot Crab & Cheese Dip. It's the most famous item people drive for miles to try. We highly recommend it! Family orders included Famous Fish & Chips, and kids got Chicken Fingers. Everything was gone. No leftovers.

After lunch, we took off and headed home! We will miss you, Marco Island! See you soon!
Is there anything else we missed or should watch/do? Please, let me know in the comments.
Here are more luxury family travel posts you might like:
Ritz-Carlton, Half Moon Bay Resort. Review.