We may earn money or products from the companies mentioned in this post. And as an Amazon Associate I earn from qualifying purchases.
Hi friends, I shared The 12 Top Exciting things to do in Orlando with kids in the last post. In this post, I will share the best family restaurants that will double your fun while you are in Orlando, Florida. They all have a great interior, unique atmosphere, great food, and the best desserts in Orlando. Prices are above average (40 dollars and up for an entrée) but fair compared to food quality and ingredients. The restaurants are perfect for a special event or high-end craving food and want to spice your trip with a memorable meal. I also included some tips on how to make these visits more affordable.
Table of Contents
All these restaurants require reservations, and it took us about 2 hours to finish our meals, which was a pleasant break for tired legs and relief from masks on a hot day.
The Best Desserts in Orlando
When you visit Universal Parks in Orlando, stop by at this black-colored restaurant that looks like a factory. You will be surprised by what you see inside.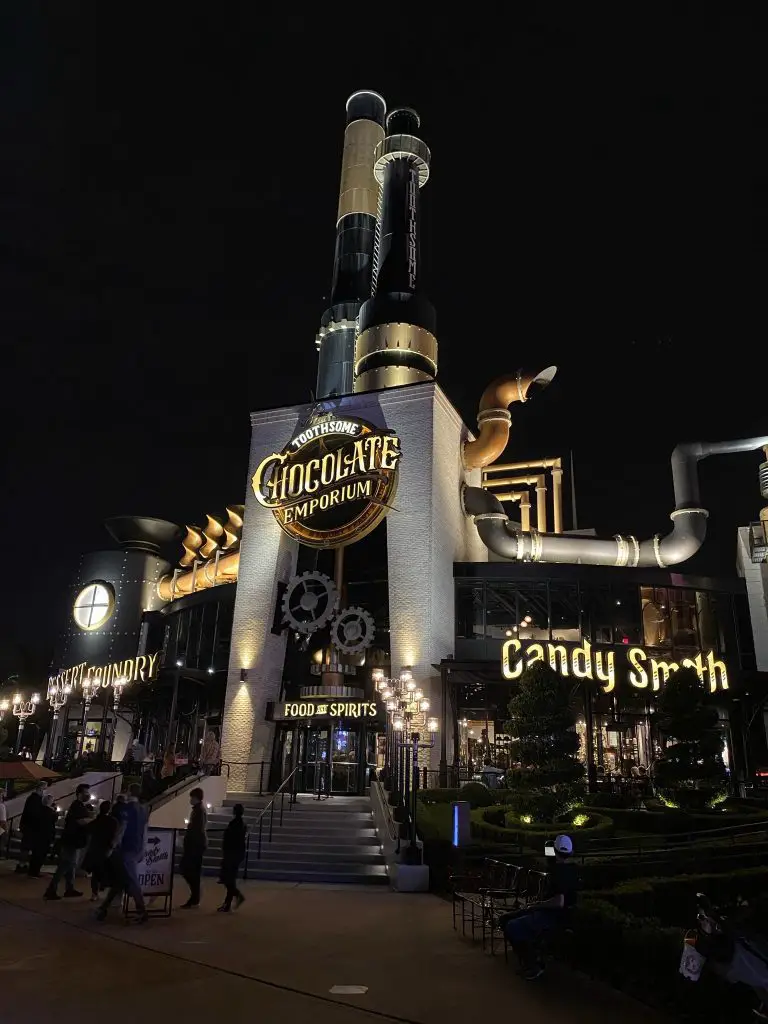 We were in awe of the great food choices and an impressive amount of desserts.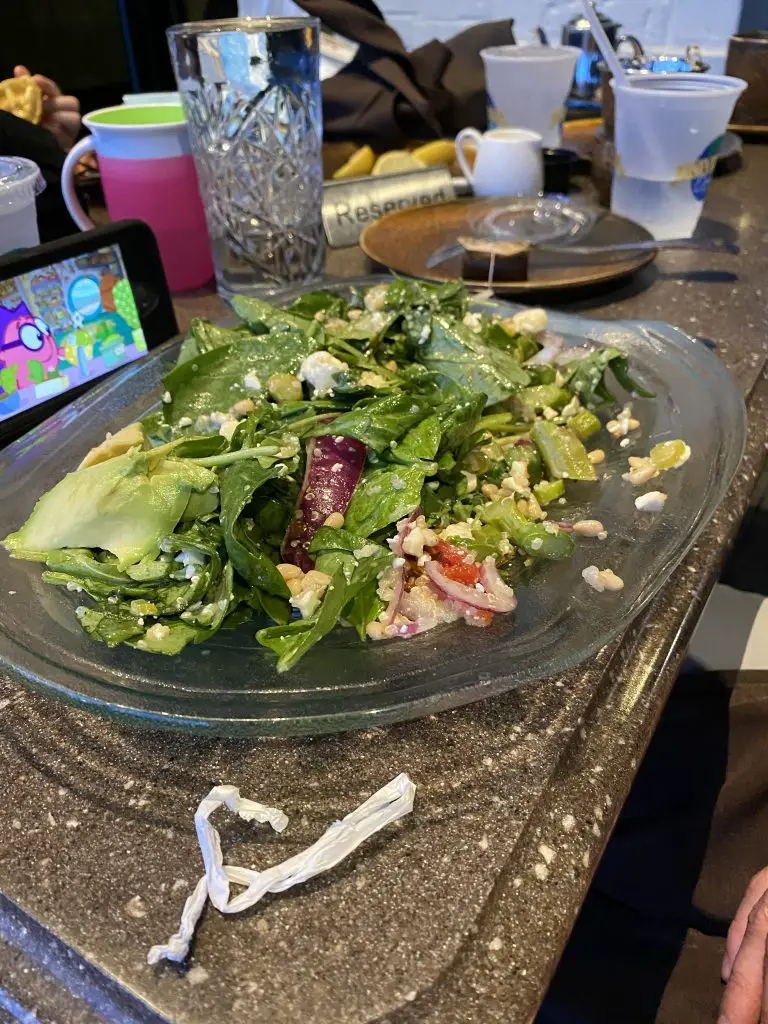 When you go to a place like that, you always expect they have something to surprise you with. This time the surprise was sweet. Chocolate Emporium is famous for its milkshakes. It's not only delectable, but it also comes in an immense size. Unfortunately, we made a mistake and ordered two desserts, and one would be enough for our crew of two adults and two kids under nine y.o. So we had to take another one to dessert for the next day for the entire family.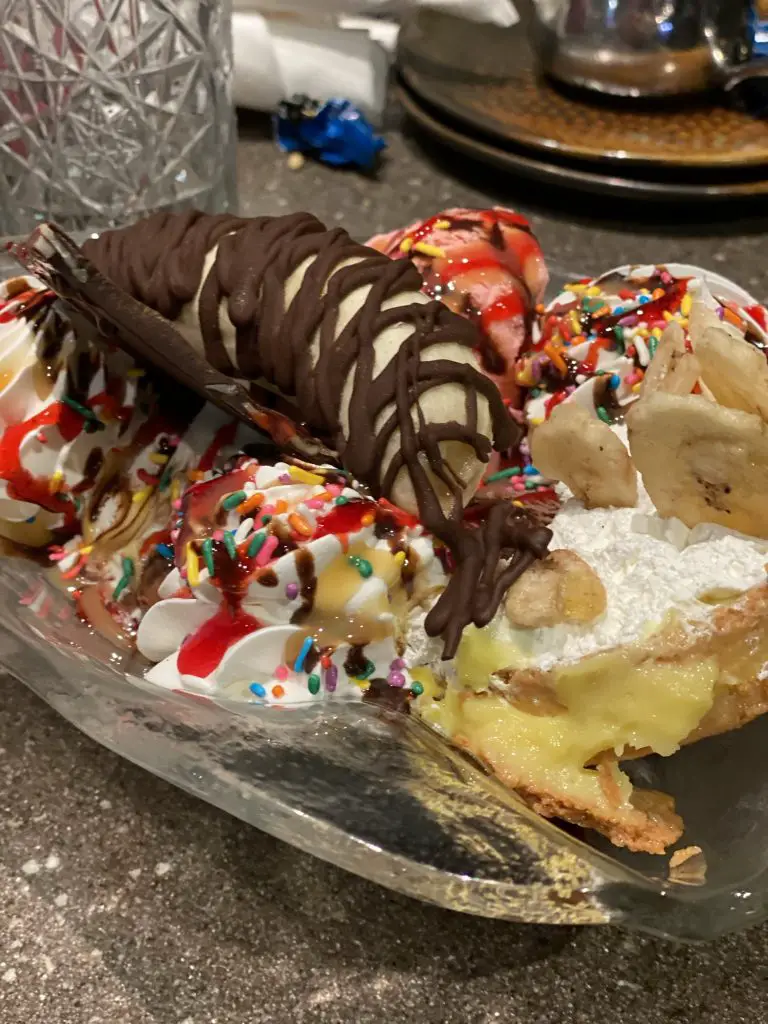 Tip for Universal Parks.
We figured it is worth it to get seasonal passes, which pay itself with two separate visits. One parent should contact the more expensive Preferred Membership for free parking and food/merchandise discounts, and everyone else gets a cheaper seasonal pass. So long as blackout dates are not an issue, this plan works great.
Tip.
Our Preferred Pass got us a discount at this restaurant.
It is at Disney Resort, but you can dine there even if not staying at the hotel. Just make a reservation. Parking is free.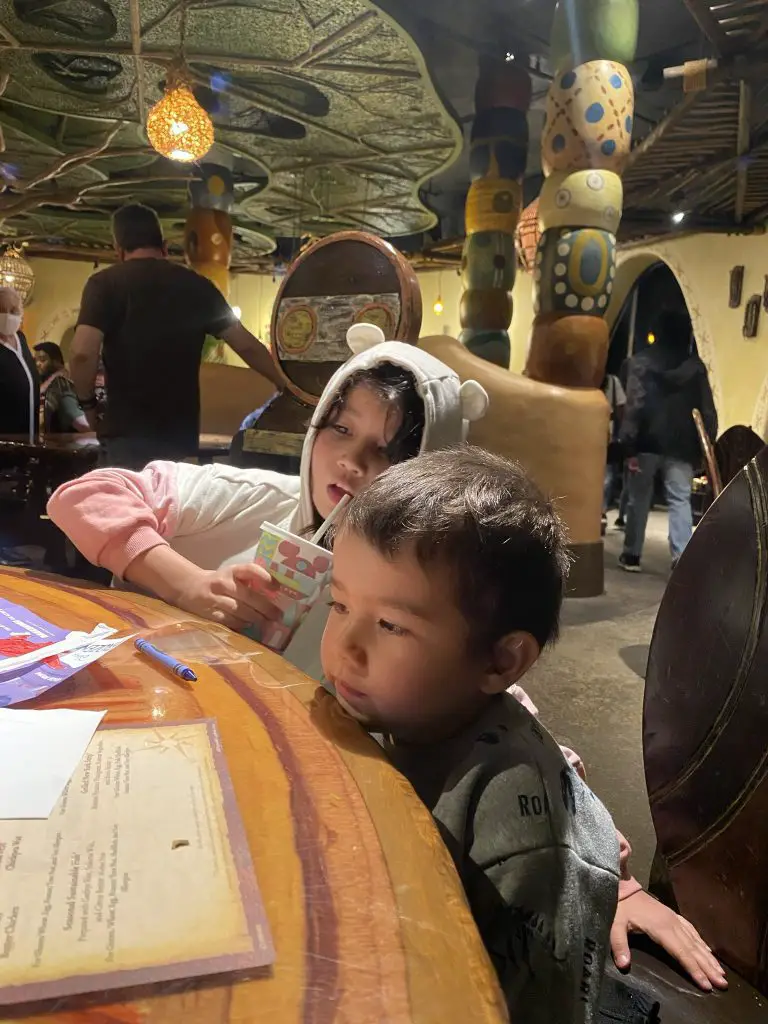 African restaurant with Indian food. I know it doesn't sound clear. To make it simple, I will add that the interior is all about Africa, but most items on the menu have curry. I am not a big fan of Indian food, but this restaurant is worth visiting at least once, and honestly, I plan to come back. The food is spicy and delicious. Although bread is not something, I would advertise but get their flatbread, please. It is so good. Freshly made, cooked especially for you, have different flavors, and comes with several dips. The dips' taste varies from sweet to spicy and everything in between. YUM!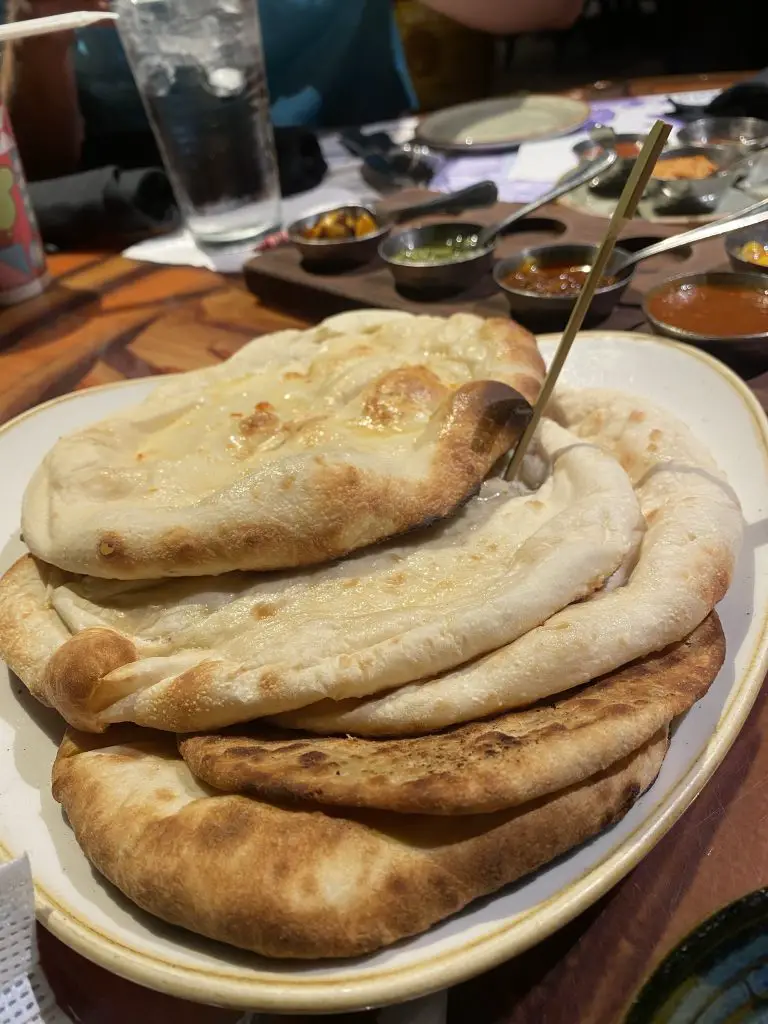 This restaurant is not only beautiful inside, but it also has an outstanding view of the Animal Kingdom Lodge savanna. You can watch gazelles, zebras, giraffes, kudu, ostriches, cranes, and more than you dine. Unfortunately, we came for supper, and it was dark outside, but I plan to visit during the day next time.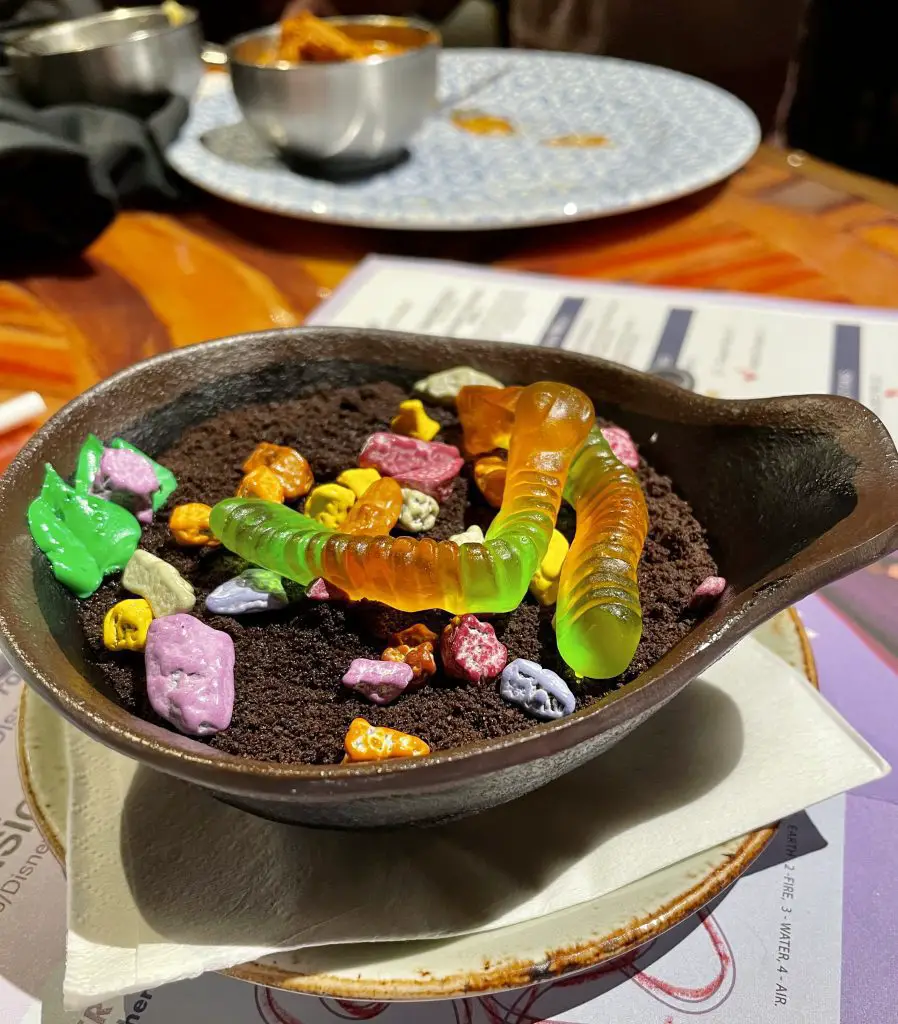 Are you an Italian food lover? Lasagna, spaghetti, calamari make you drool? Then visit this restaurant. It is at Disney Springs, and no Disney Parks ticket is required, and parking is free.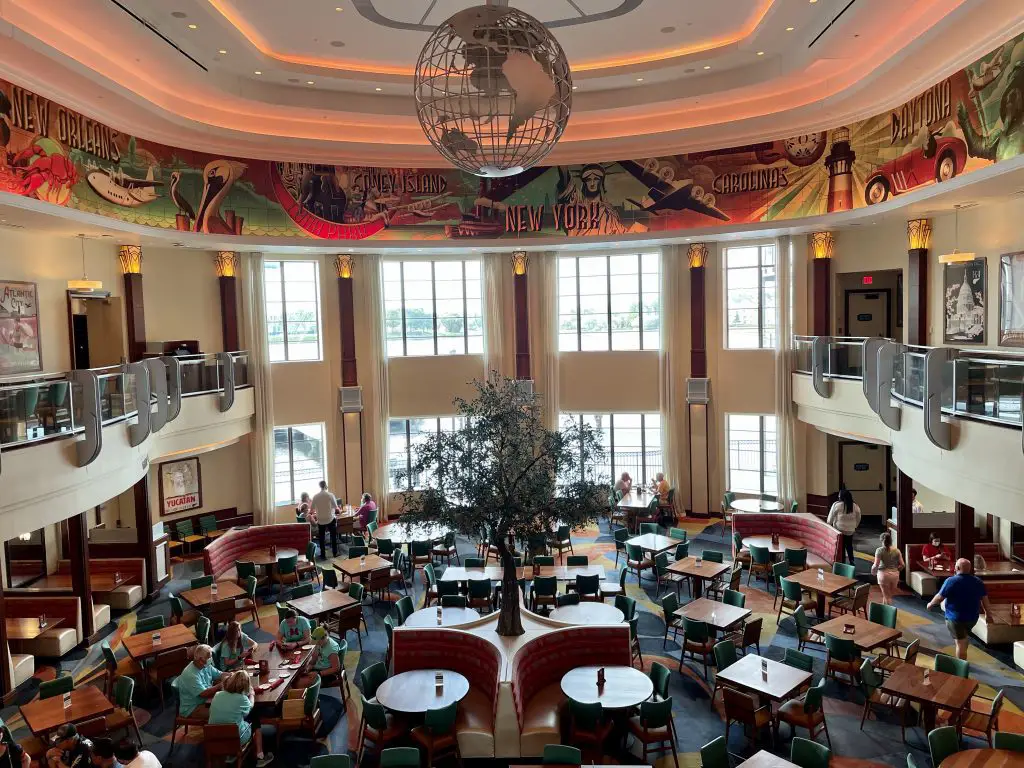 This restaurant and its back story melt my heart. It was named after Maria and Enzo, who fell in love at school and separated during a war. Enzo became a pilot, flew to America, and by coincidence found Maria there. This beautiful restaurant appeared due to their "lived happily ever after." The restaurant is themed as an airport gate. You get checked in by an administrator dressed up as an air hostess. She leads you to a gorgeous dining room decorated with travel-themed wall paintings. The restaurant is spacious with a high ceiling and a beautiful interior.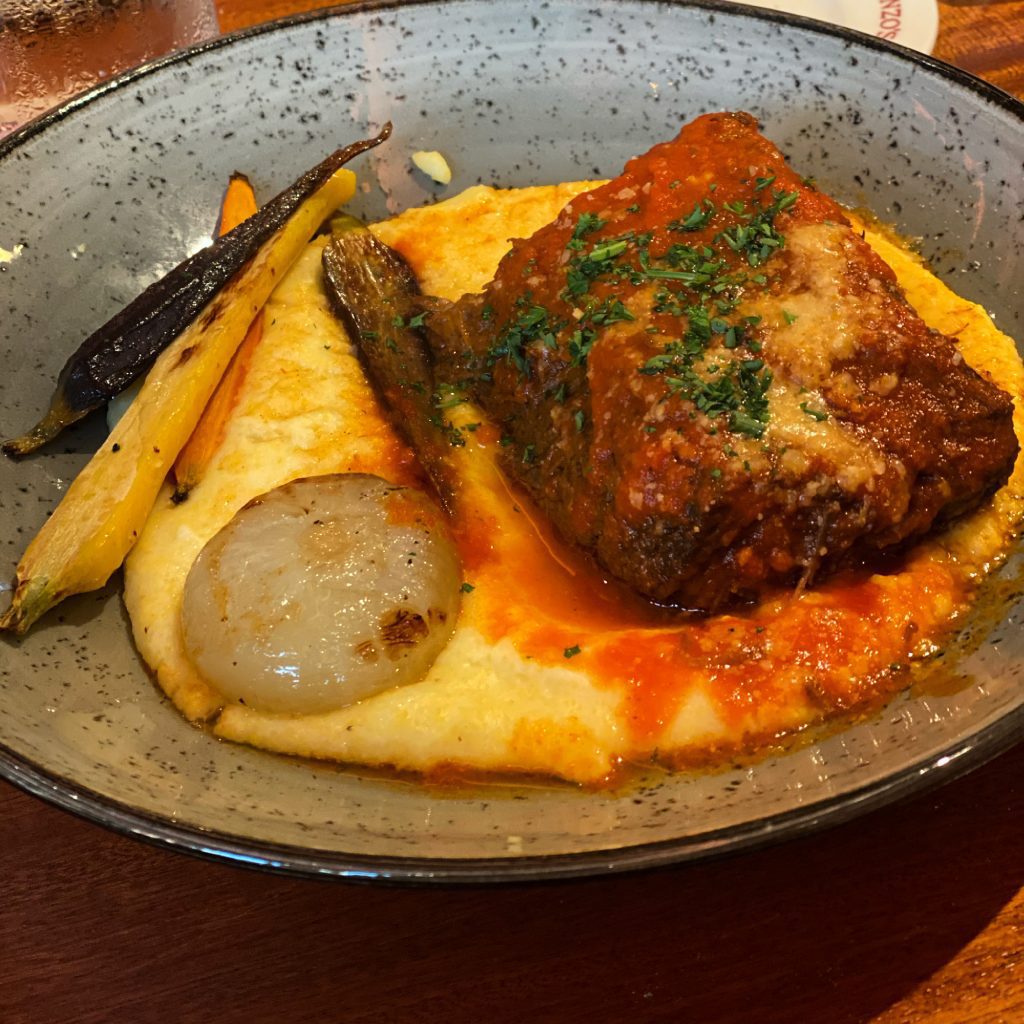 Food is the same great. Among other dishes, we got crispy calamari, which was the best item on the menu. Some places know how to make them; some don't. Maria and Enzo are experts in this area.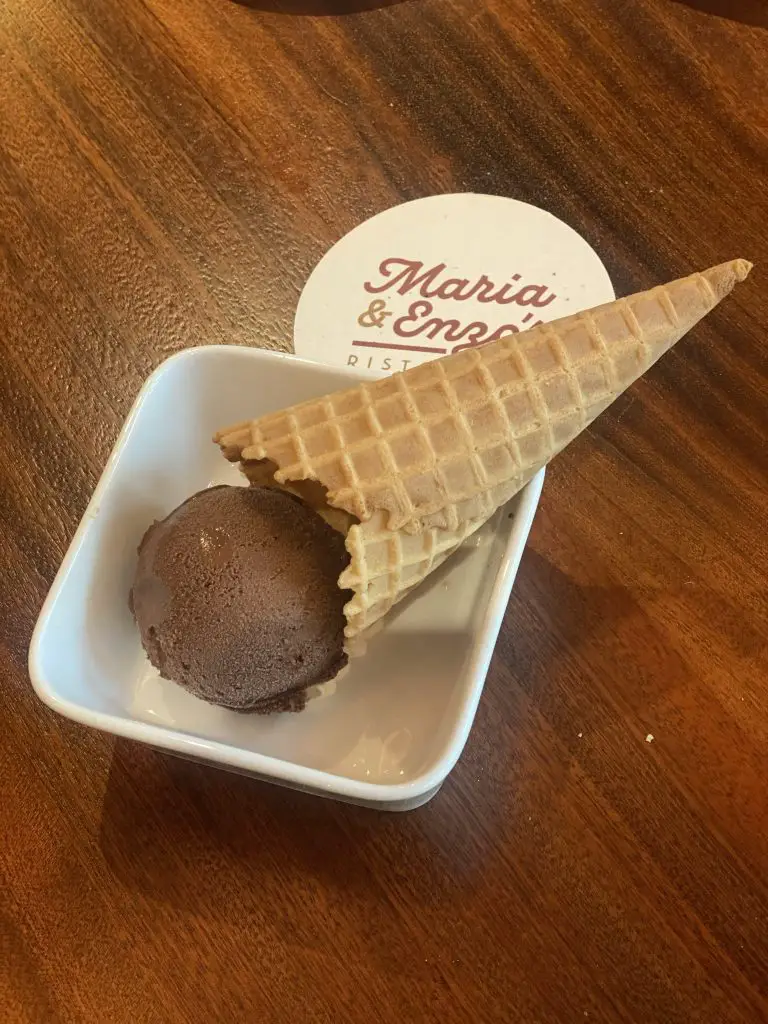 Kids got ice cream; I got cannoli. Chocolate ice cream is always good. Right? I couldn't figure out what they made it off; Cannoli had a thick cream that was not too sweet. If you like desserts that do not cause cavities, that would be your choice.
There are also other great things going on at Disney Springs. We were lucky to hear a cover band playing Lincoln Park music. It was a pleasant surprise. There are plenty of different shops and other restaurants at the place.
The place is spacious, and the interior is uncomplicated. Some marine-themed signs here and there, but I liked the aroma most. Once you enter the restaurant, you get wrapped up by this flavor of baked seafood with butter and garlic and something yummy that makes your tummy grumble. There are several Crab Shacks in Orlando. We were next to the Orlando Eye (a sky wheel) with free parking.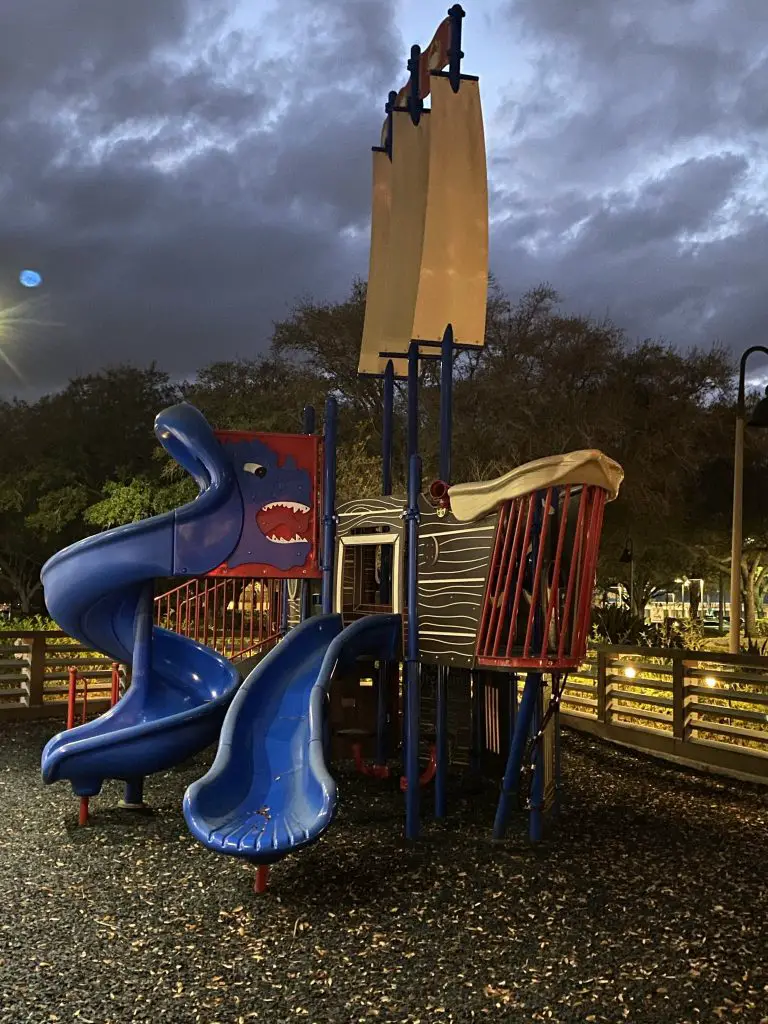 This is the most favorite seafood restaurant in Orlando for our family. It provided the same high-quality fresh-made food, excellent service every time we went there, and it was reasonably priced. Kids were begging us to go back, and we were glad to revisit. We liked it so much that we went there three times during our two-week trip. Kids loved crabs, it seemed like it always was not enough, but by the end of the third visit, they got more content.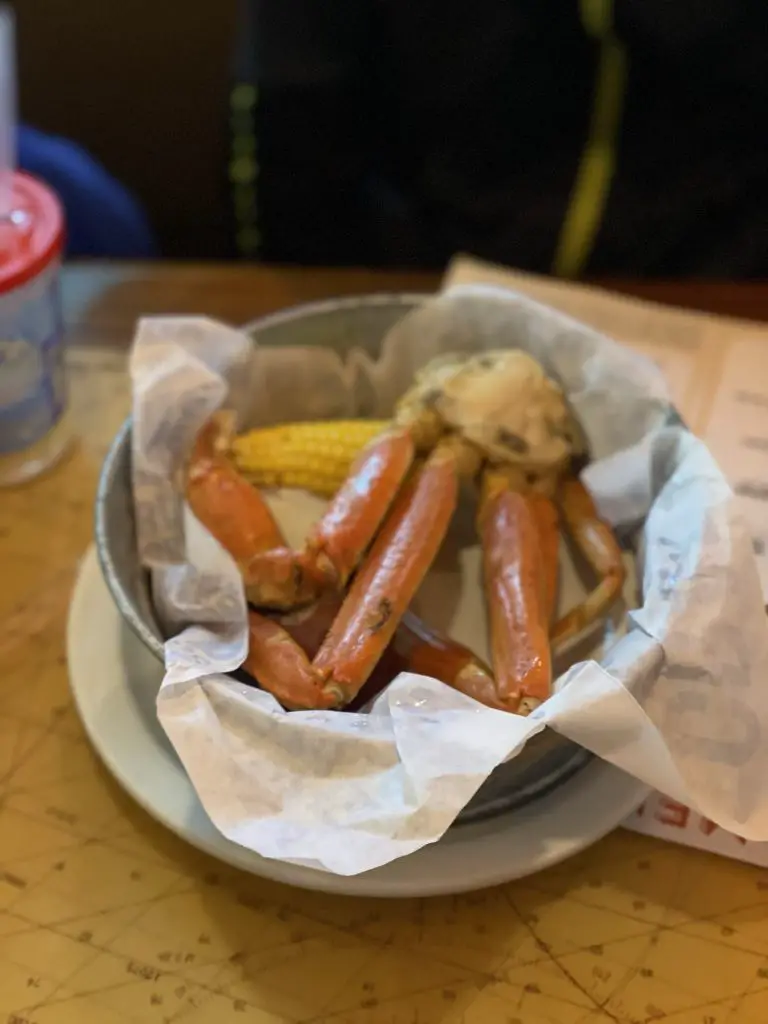 The big hit would be seafood pot. It provides a great variety and a generous amount of seafood for a reasonable price. We would get one per adult, and kids would order crab legs from the kids' menu. Everything would be gone; nothing would be left.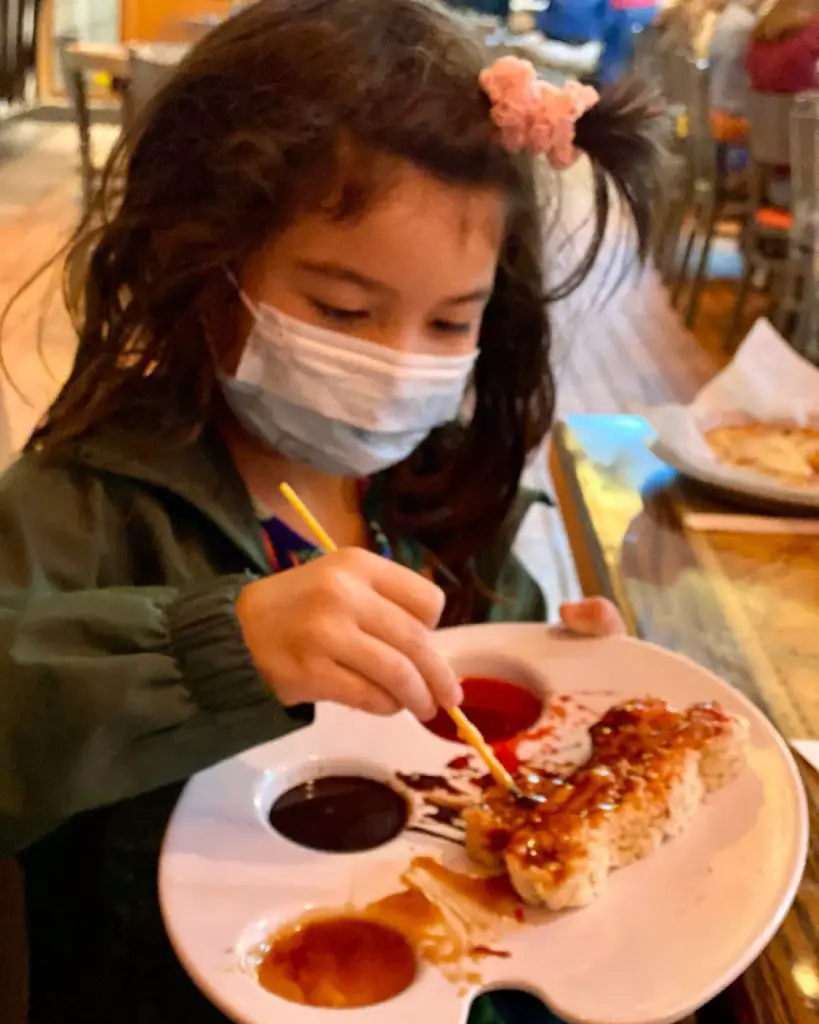 Desserts are super sweet, and you can get rice crispy treat crab or a sea star to paint. Adults enjoyed s'mores dessert. Boy, it was a lot of calories!
Tip.
It's a chain of Seafood restaurants owned by Landry's, Inc., the second-largest seafood dining chain after Red Lobster. If this information doesn't boost your appetite, it saves you money. I would highly recommend you sign up for a Landry Card and save 25 dollars on your next visit to any chain restaurant. This card gives 1 point for each dollar spent. Two hundred fifty points equal 25 dollars. It also helped us to get seated faster.
The place is popular and gets filled up quickly. Get there for early dining time around 4 – 4:30 pm to avoid crowds. It takes a while to get your food, so don't worry, you will get hungry when it arrives.
Tip.
The following four restaurants are on the territory of Disney Parks, so enjoy their fantastic food while you are visiting Disney. You will get a discount if you carry a seasonal pass or a Disney club membership card.
It is in Animal Kingdom Park, and there is no better place to put this Asian restaurant.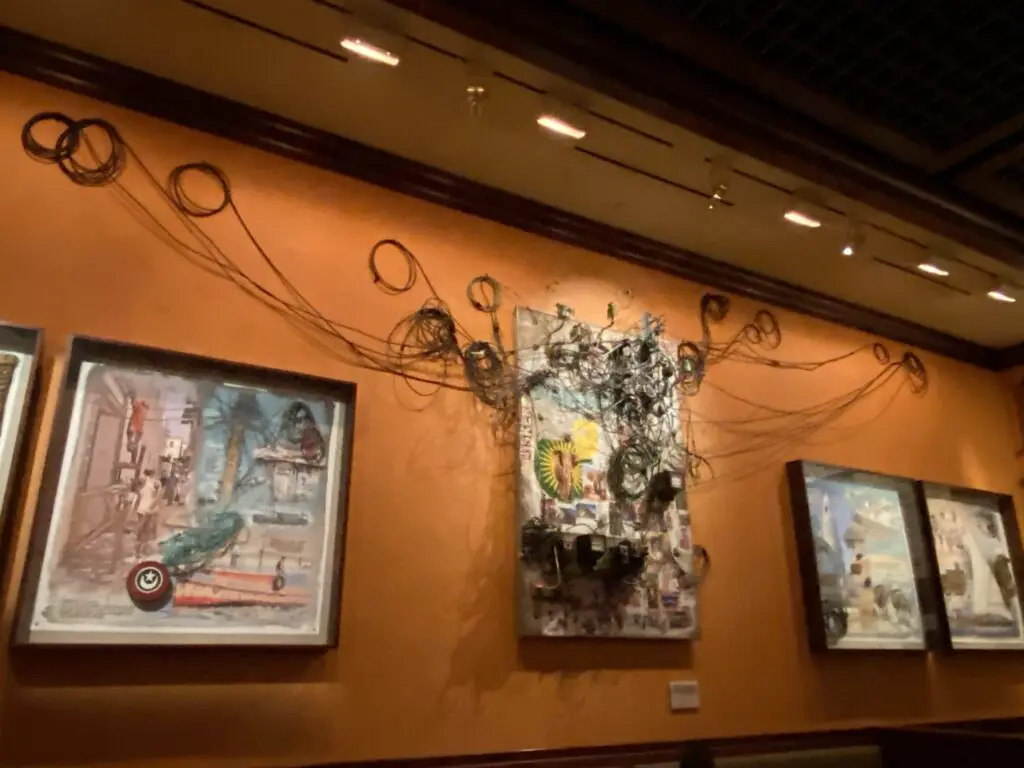 This is my husband's favorite family restaurant on the list. He liked it all over. His food was fantastic, and he was happy with the prices, service, and interior. I have a feeling we will go back. It has a beautiful interior decorated with all sorts of gorgeous pieces of art.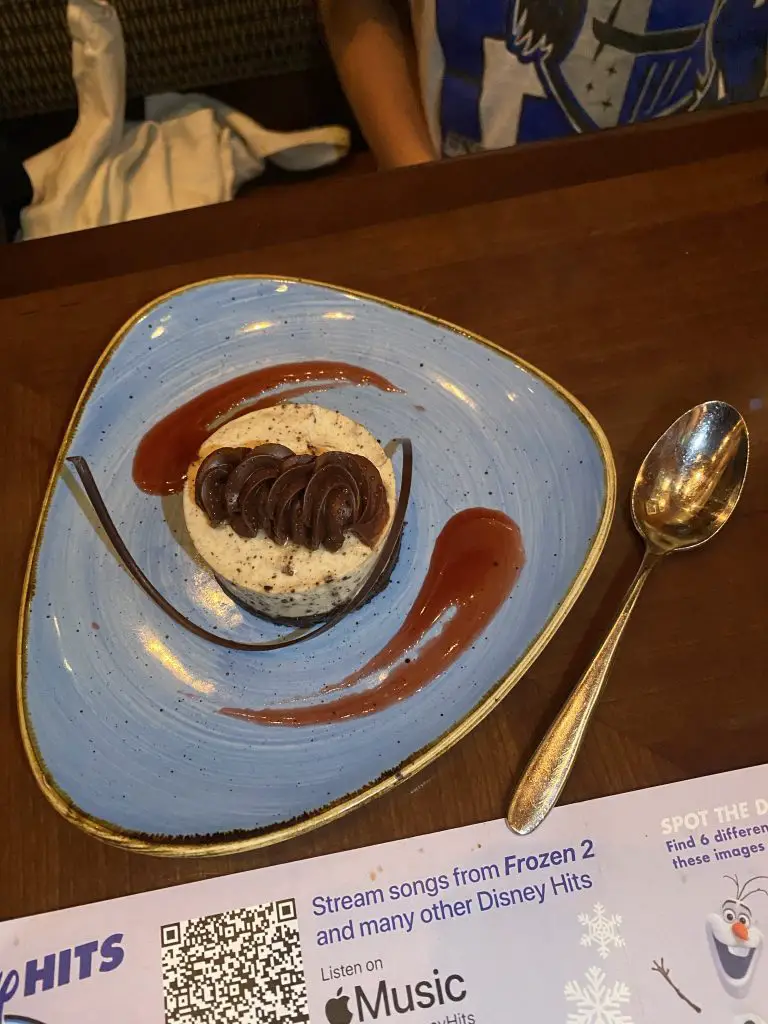 This restaurant had exotic dishes on the menu, and we all were curious about what we were going to get. The home run of the meal was a dessert, which is simply a culinary piece of art. Everything on the plate, including the words and image of Simba, is eatable. And this Lion King dessert was perfect. Usually, desserts taste too sweet for me, but this one was ideal. This melting in my mouth caramel mousse, Chocolate Brownie with Strawberry-Mango Sauce, takes well deserved first place on my desserts list.
Tip.
If you cancel Disney Dining reservations within 24 hours, they will charge you a fee; however, they will reverse the charge if you call the dining reservations line.
This restaurant is at Hollywood Studios.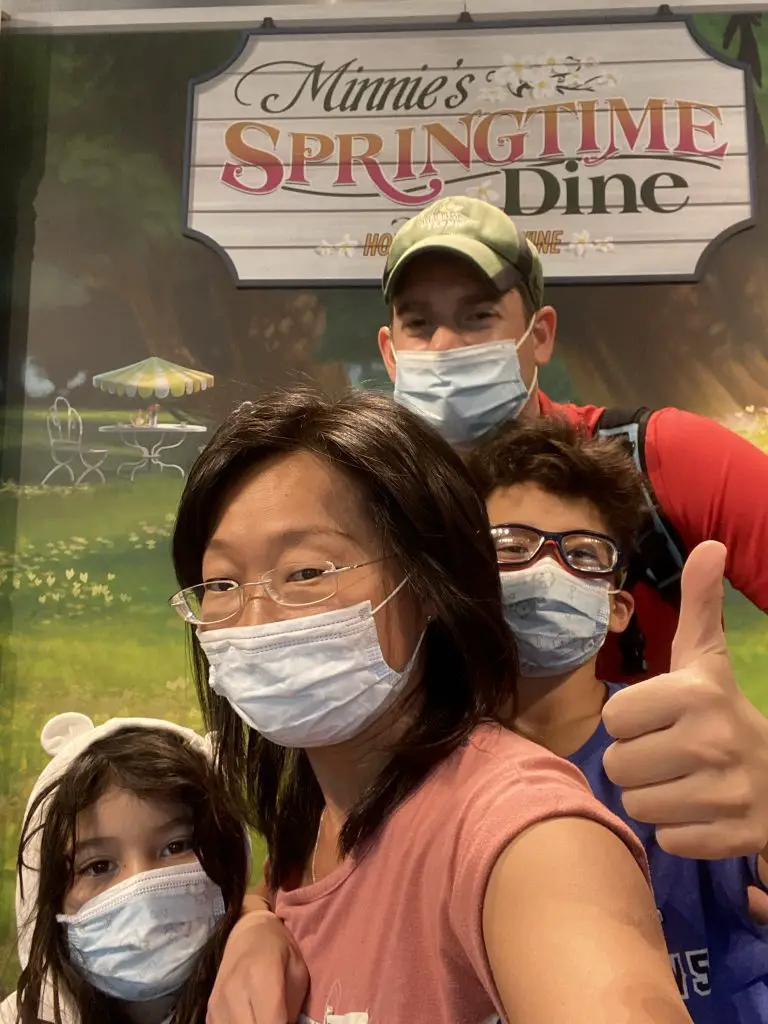 I think this would be my 2-year-old son's favorite family restaurant in Orlando because of the Disney Characters that would come out every 15 minutes and would wave to him and other guests. The interior was simple, but the food was good and very expensive. Attention: we paid 250 dollars for two adults and two kids' three-course meals. Each of us got a salad, entrée, and dessert.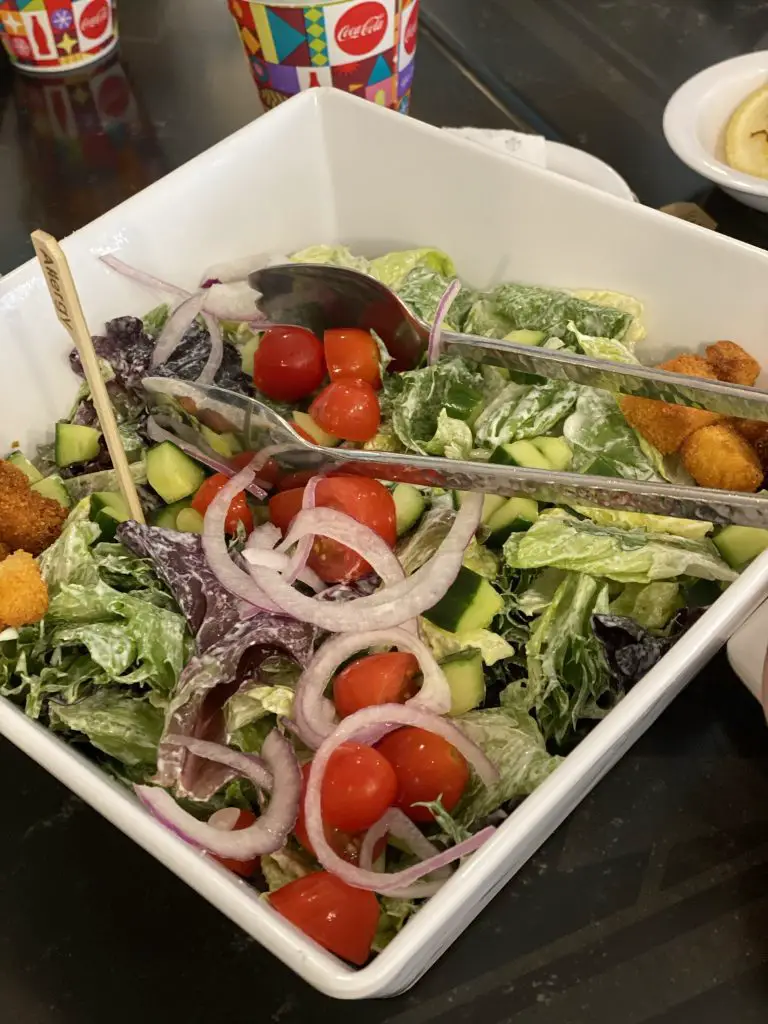 Yay! One of my items on a food bucket list was to try truffle. Those two large flat pieces on the dish in the middle look like tofu, but it is a Black Truffle mushroom stem. Yes, they are that big and delicious. They call it the delicacy of all mushrooms, and now I can say it's true.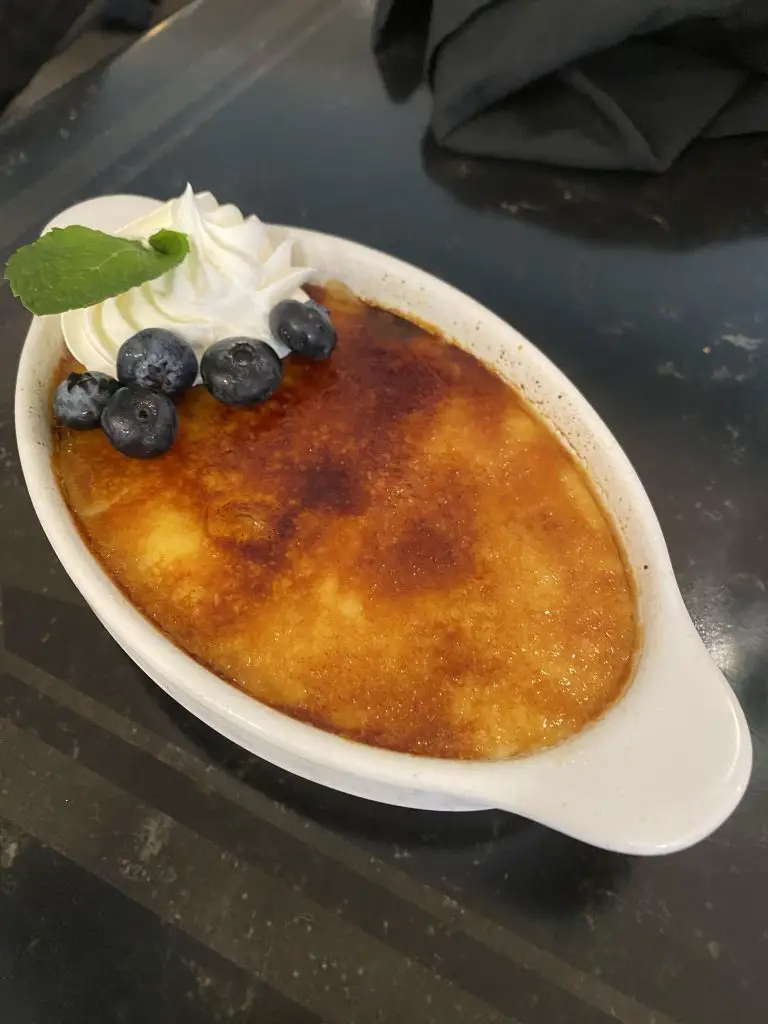 The desserts were exceptionally delicious. My favorite Cream Brulee was gone in a blink of an eye, and I even didn't share! Our kids got cold desserts. Michael ordered a lemon Sorbet, which made me wonder how they made it? It was completely white but didn't feel/look like snow. It had a different texture. Undescribable. You have to try to understand.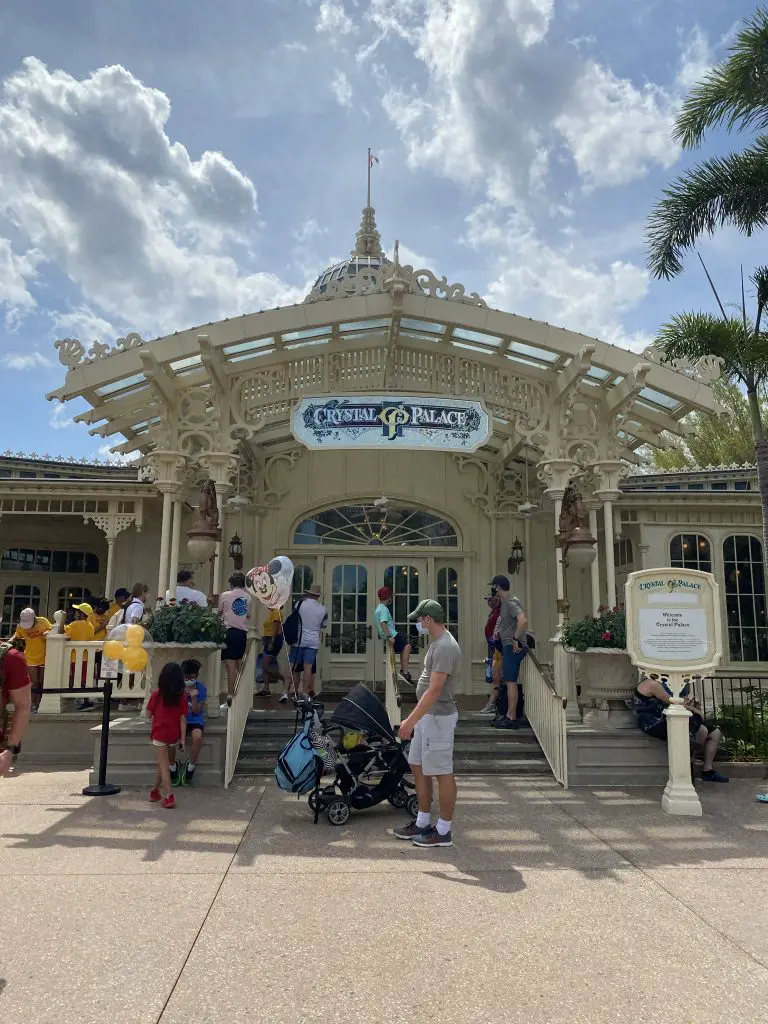 It is a spacious restaurant with a beautiful view from the windows found in the Magic Kingdom Park. I love when I am dining, and sunlight comes through the windows. It makes me feel thrilled and relaxed. And this is how I felt today, having a splendid dining experience here.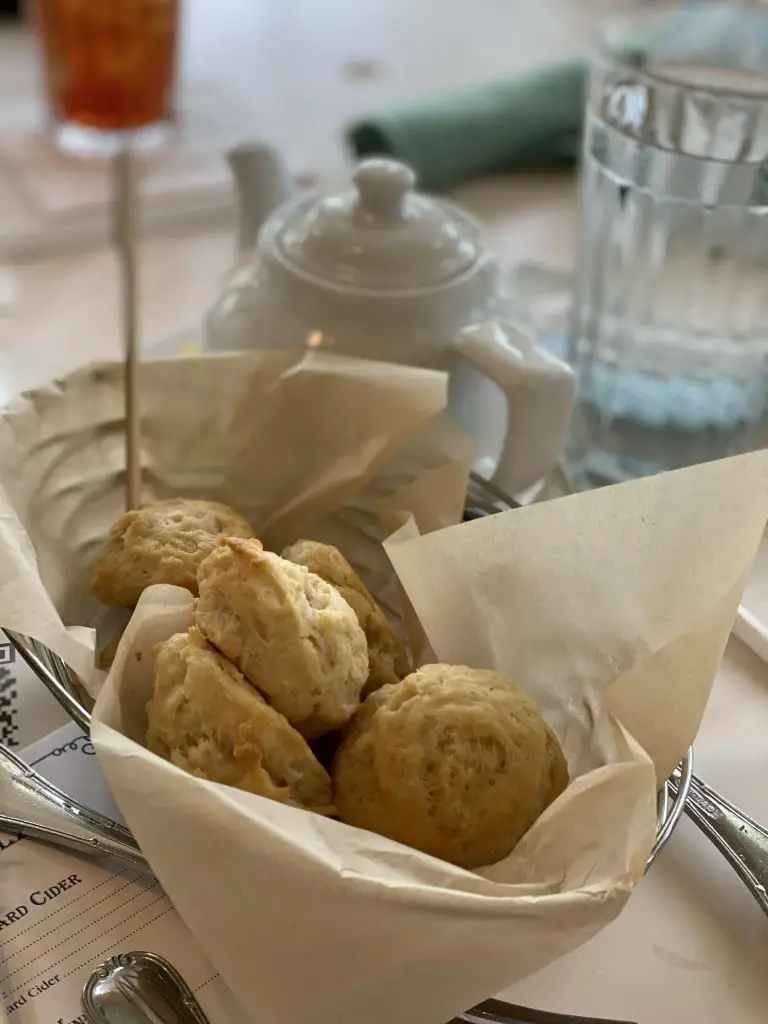 And desserts are just beautiful and in a tremendous amount.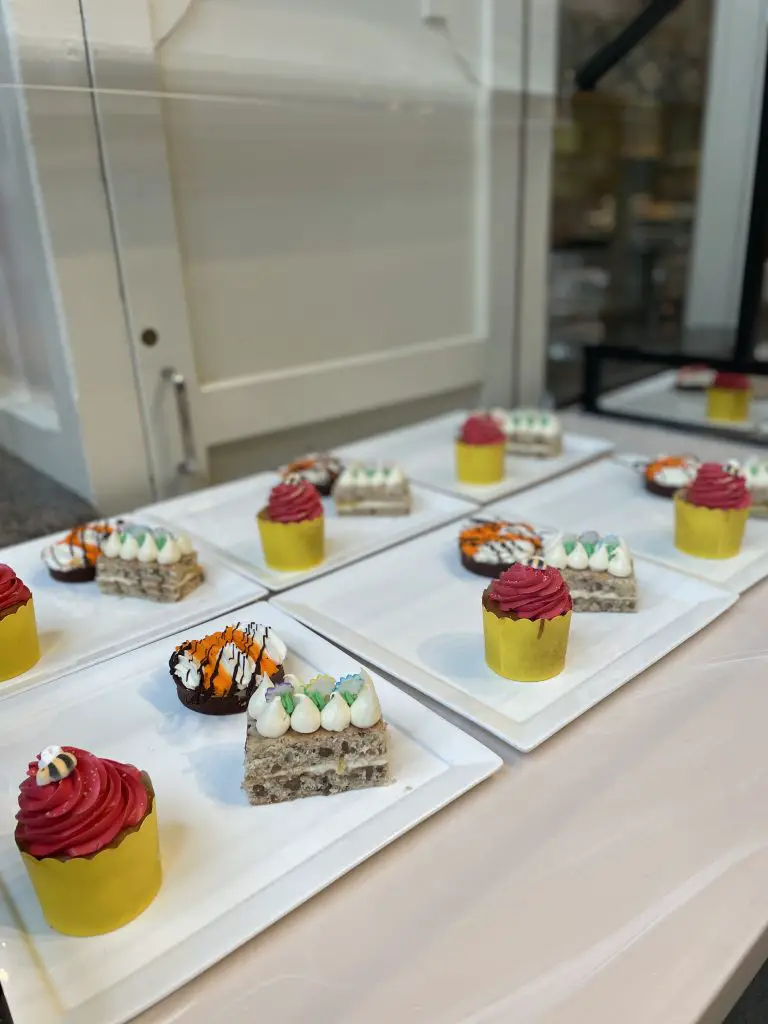 I couldn't eat any of those desserts because they had brown sugar, and I am allergic to it, but I got this raspberry sorbet that was a pure delight on a hot sunny day. Yum! They made it out of strawberry puree, and it even had seeds in it.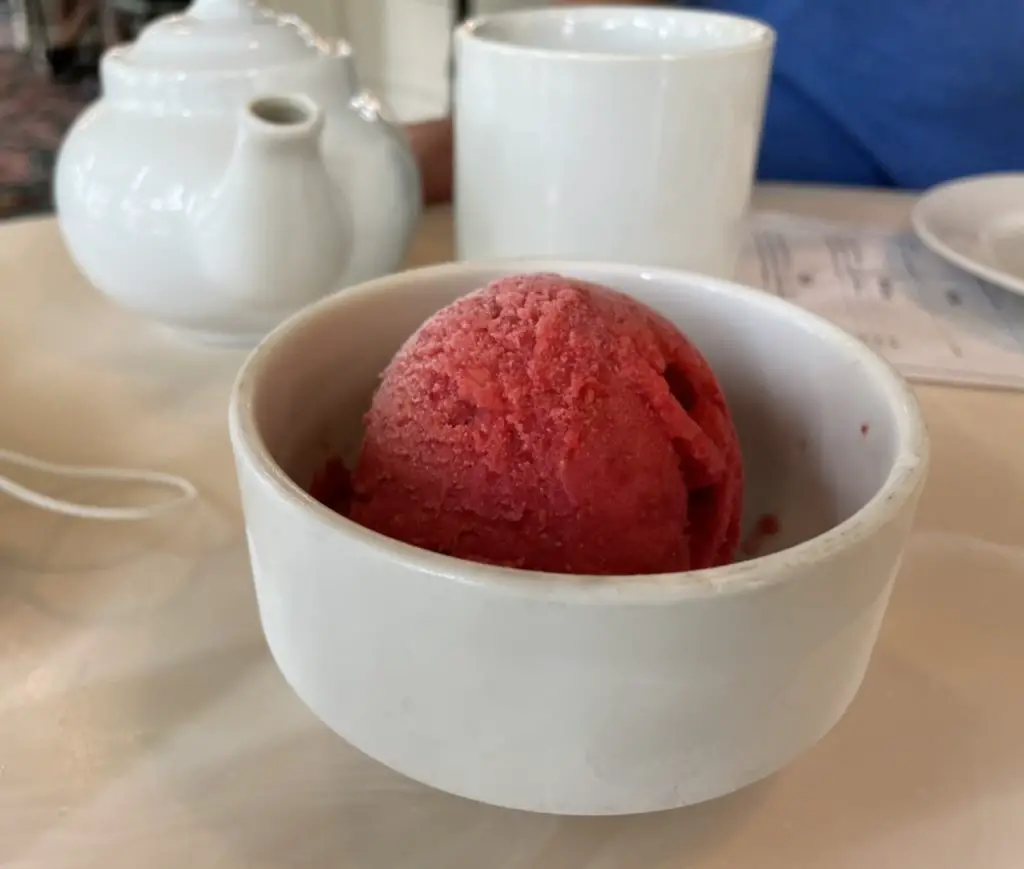 We found this Canadian/French restaurant at Hollywood Studios.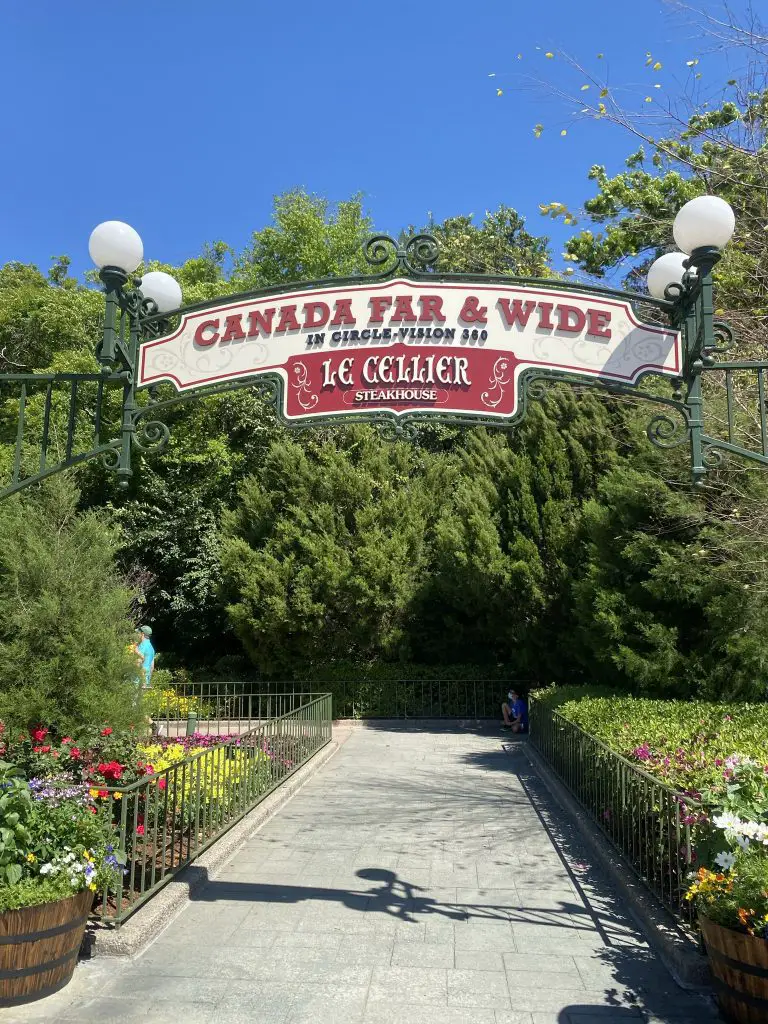 It is a Canadian restaurant with lots of choices that include maple syrup. Unfortunately, I am allergic to this substance, but one option worked for me, so we all had a fabulous lunch.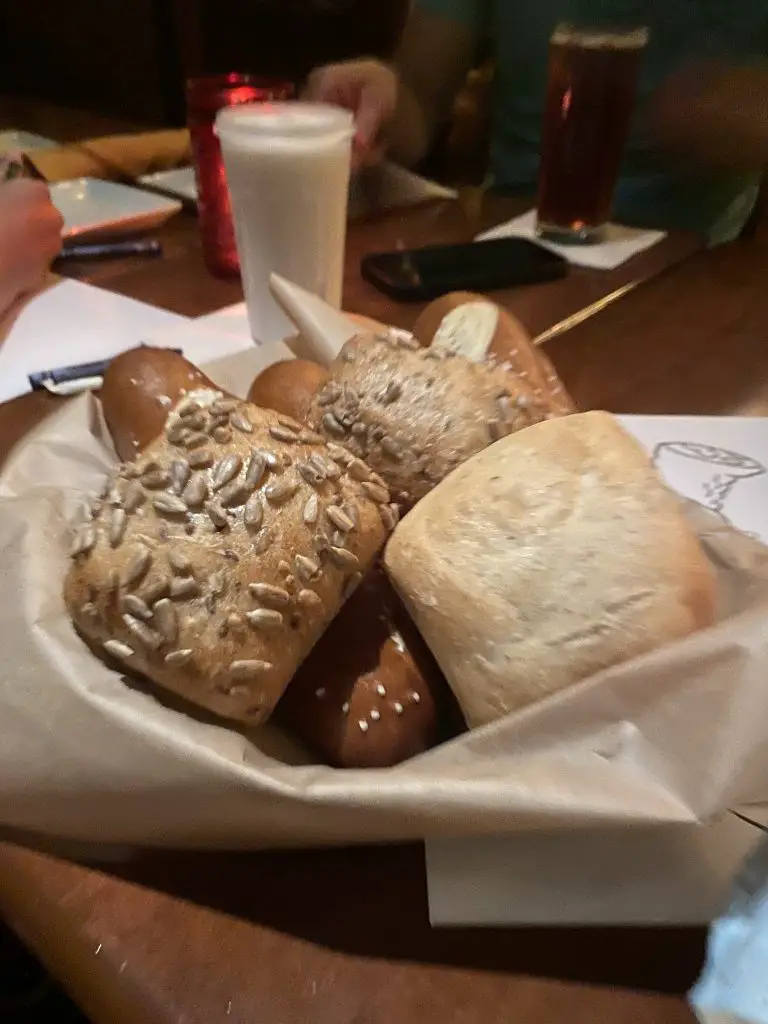 Just look at this chocolate ice cream moose! So cute!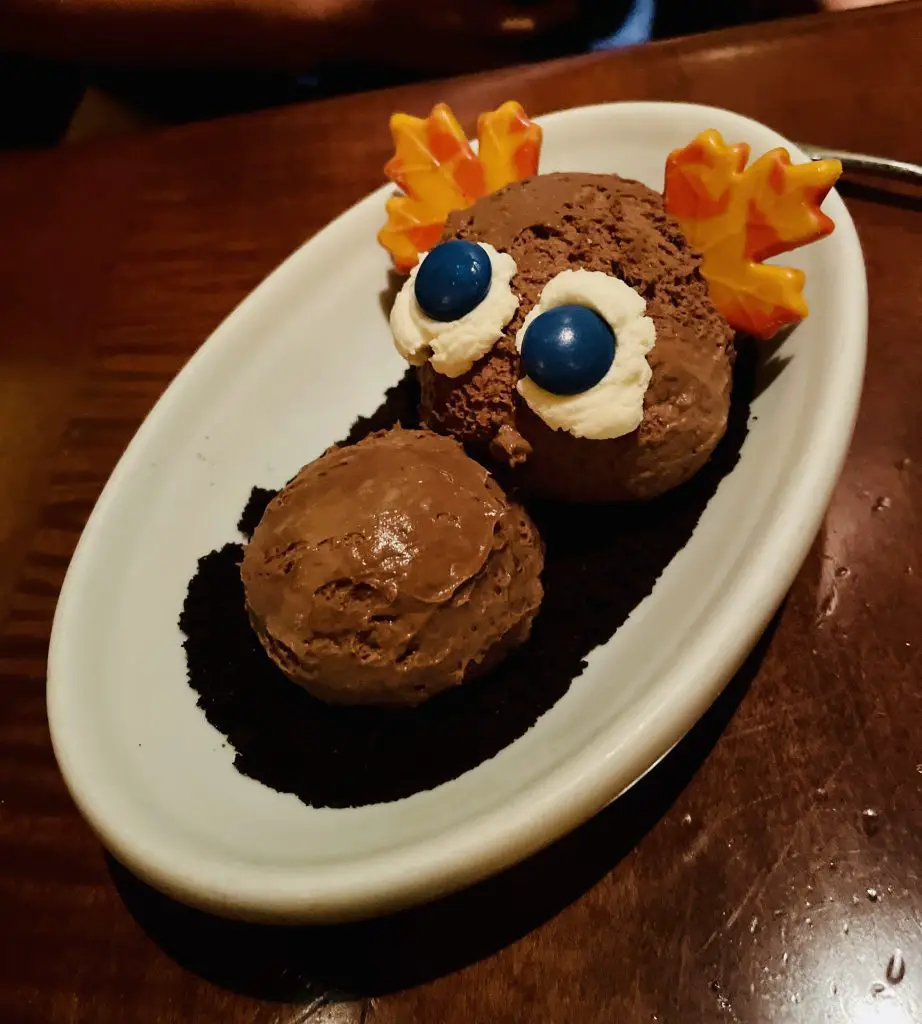 So that was my list of fantastic family restaurants. Share in the comments below which one did you like the most.
Also, feel free to share this list with friends. They will be thankful for tasty reference:).