We may earn money or products from the companies mentioned in this post. And as an Amazon Associate I earn from qualifying purchases.
Hi Friends, we just got back from an adventurous and educational trip to Kentucky Horse Park, in Lexington Kentucky, and I put together all you need to know before you go.
Table of Contents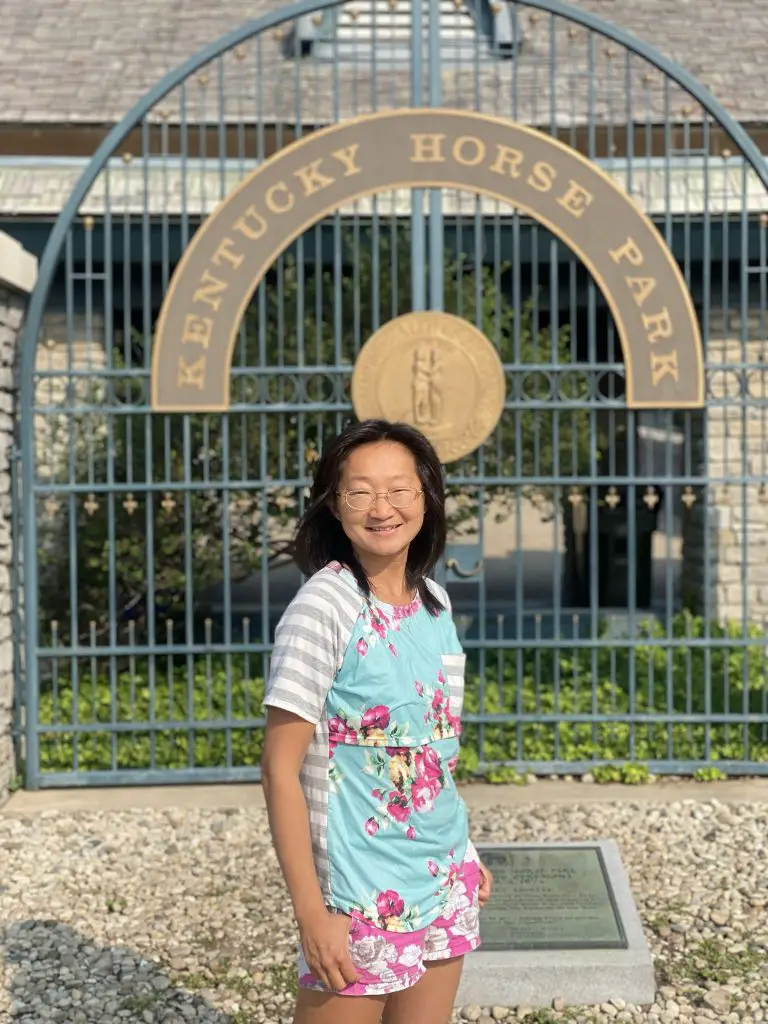 First of all, I would like to express a deep appreciation to the Kentucky Horse Park administration for sponsoring our visit. They sponsored the trip, but all opinions are my own.
A little about the park.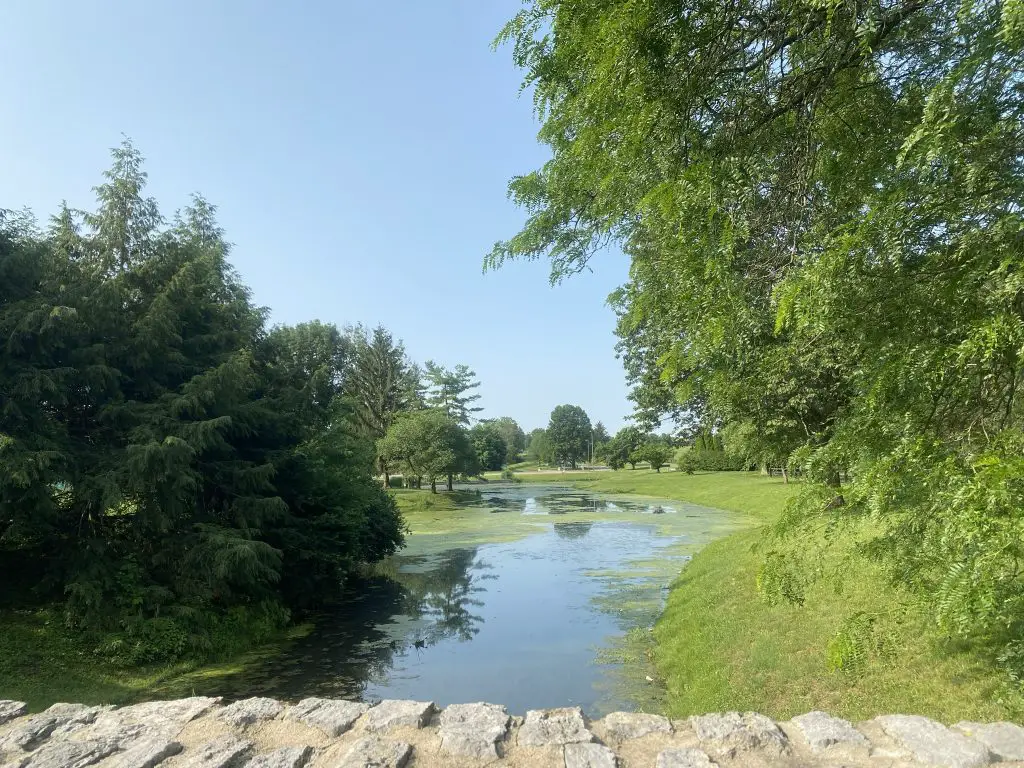 It's an enormous property of 1200 acres of pastures and premises created for educational purposes and to help develop friendship between people and horses. I really liked the way they designed it. Despite its huge size, you don't have to walk for hundreds of acres. All activities are concentrated in the heart of the Park, and the rest is green pastures.
The place, by the way, is very well maintained, clean and not smelly. Horsies do smell like horses, though:). The park is a home for over 300 horses, and some of them are the best and fastest horses in the United States. I will tell you more about it later but if you would like to know about the park itself, click here.
Where to stay when visiting the Kentucky Horse Park.
If you are a camper, I have some great news for you. Kentucky Horse Park has a campground with many amenities such as swimming pool, tennis, basketball, volleyball courts, a grocery store, and two bathhouses. Ah! It sounds like a paradise!
If your paradise looks different, there are plenty of hotels nearby. Just google:).
What to do in Kentucky Horse Park?
A lot to do! We took a full day trip, and the whole time there, we were busy. Here is our itinerary.
Once we arrived, we went straight to the Visitor's Center and got our admission tickets, and if you plan to do horse and pony rides, get tickets right away, so you don't have to come back. When I asked a girl at the front desk what would be the best time to ride horses if we want to see all the shows? She suggested 12:15 p.m, and we took that time.
Park opens at 9 am. and the first activity is
The Grooming at the Barns.
We caught a moment when a worker was "vacuuming" a horse. At least it looked like that:). Just a usual morning routine to keep a horse clean and healthy.
Right after this activity, we ran to catch the Horse Drawn Trolley.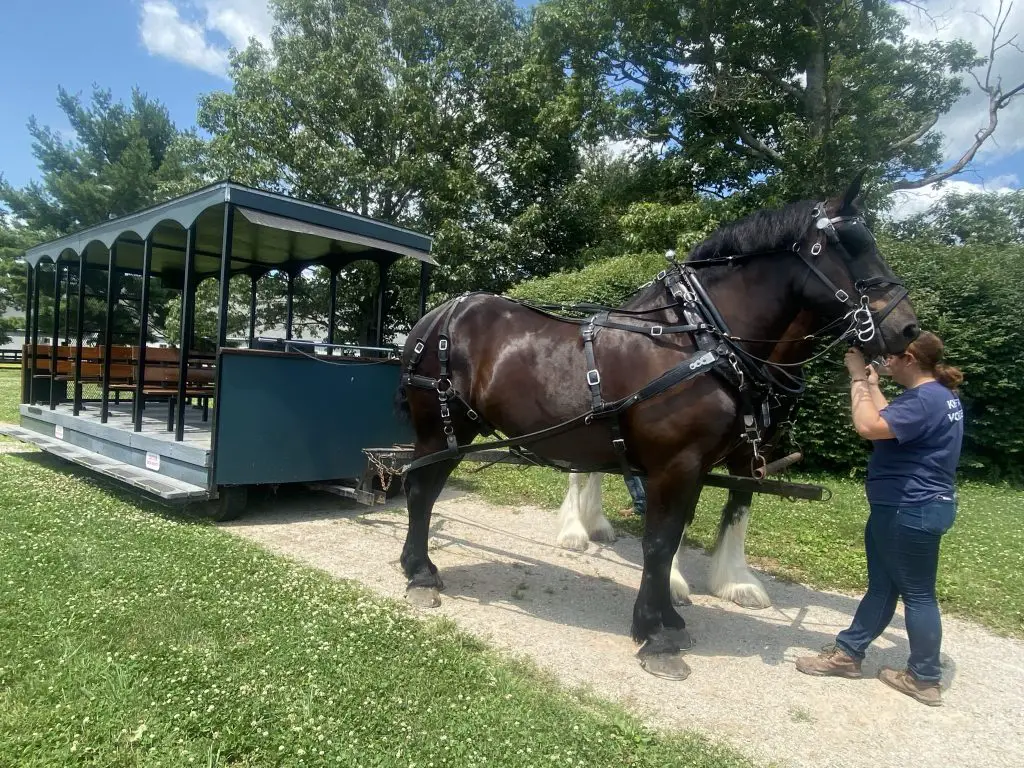 It starts at 10 a.m. and goes till there are people in line. It's about 10 minutes ride. Try to get to the first load, and then you have enough time to get to the next show that starts at 10:30 am. Two big, massive horses pull the trolley. They are so tall that you can see under their bellies when they pass by. In my estimate, their backline height is over 6 feet. I've never seen animals that tall. My kids were in awe!
It was both entertaining and useful to take the trolley first. It took us around the place and showed us where everything was located, so it was easy to find places. In addition, the tour guide was sharing lots of facts about the place. For example, the Big Barn was the biggest in North America at the time it was built. It's about a size of a football field.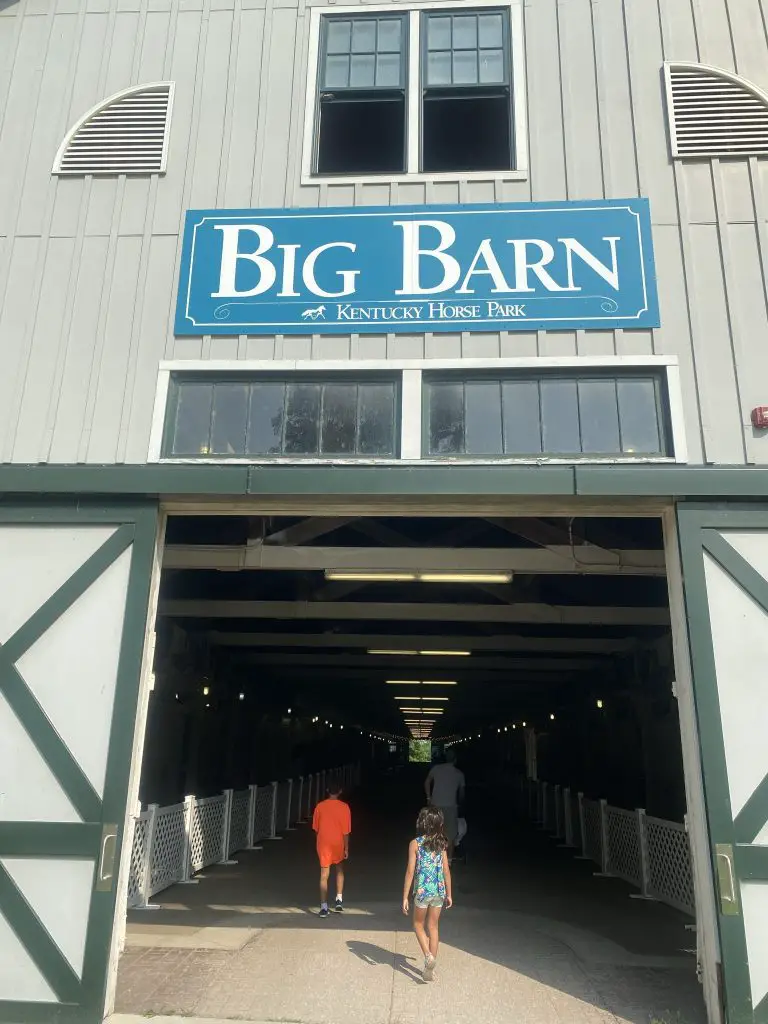 Once we hopped off the trolley, we ran straight to the Hall of Champions Show. The first horse that greeted us was Go for Gin. He peeked out the window and was sticking out his tongue. He wanted some treats:). My son immediately ran to him.
At the show, we were loaded with a stream of information about famous Horses in history. This is where I heard the first time that Secretariat (also known as a Big Red) had not only a "perfect" exterior, including body length, chest width, angle of the hind legs that allowed him to reach far under himself, increasing his drive but also his heart was almost 3 times larger (22 pounds) than a heart of an average horse (8 pounds), which altogether gave him an ultimate advantage to outperform any living horse.
In addition, they say that he was so fast that he could beat any horse at any distance.
We were listening, our ears open. Even my 7 years old daughter was impressed with the facts. Then they brought out the actual Champions. We saw three of them.
The first one was, Go for Gin. It is the world's oldest living Kentucky Derby Winner. He is 30 years old and still looking great. Very sweet and interactive. He didn't want to live on the stage because he loves attention. Before he left, he made a few childish skips to make us all smiling. Later, one of the workers pointed to a picture of his very first victory. He said that the trace was sloppy that day, but the horse on the picture looks clean, and then he asked: "What does that mean?"
We didn't know…
The worker said: "It means Go for Gin was leading the whole time. All other horses got dirty."
This fact makes me emotional. So touchable… Did you know that victory is in the heart of the horse? They don't just run; they run to win.
The second one was Western Dreamer. He is the only gelding of any breed ever to win a Triple Crown. Yeah. Nothing is an obstacle! You would think since he is fixed, he would have a meek character. Nop. He loves people but absolutely hates horses. They say he was winning because he didn't want any other horses around him.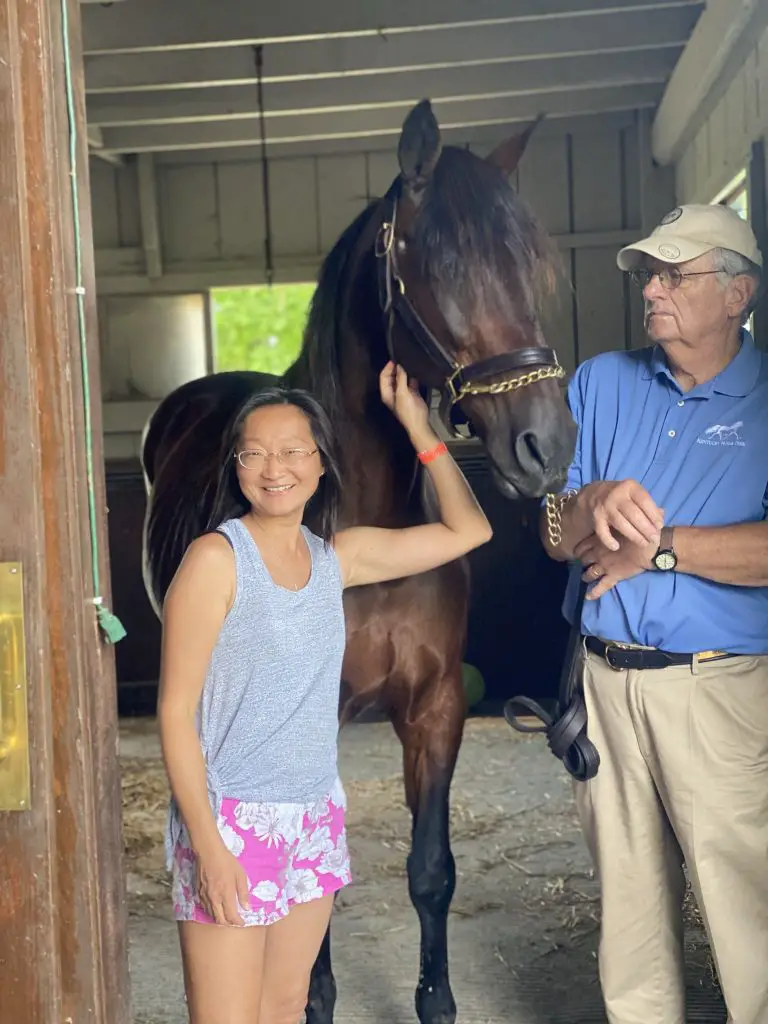 The third Champion was Funny Cide. Yes, yes, his name starts with the letter C. He got his name as a combination of his parents' names. His sire was Distorted Humor, and dam is Belle's Good Cide, so he came out as a Funny Cide. He was very popular and still is and earned over 3,5 million dollars during his 7 years career. Pretty impressive!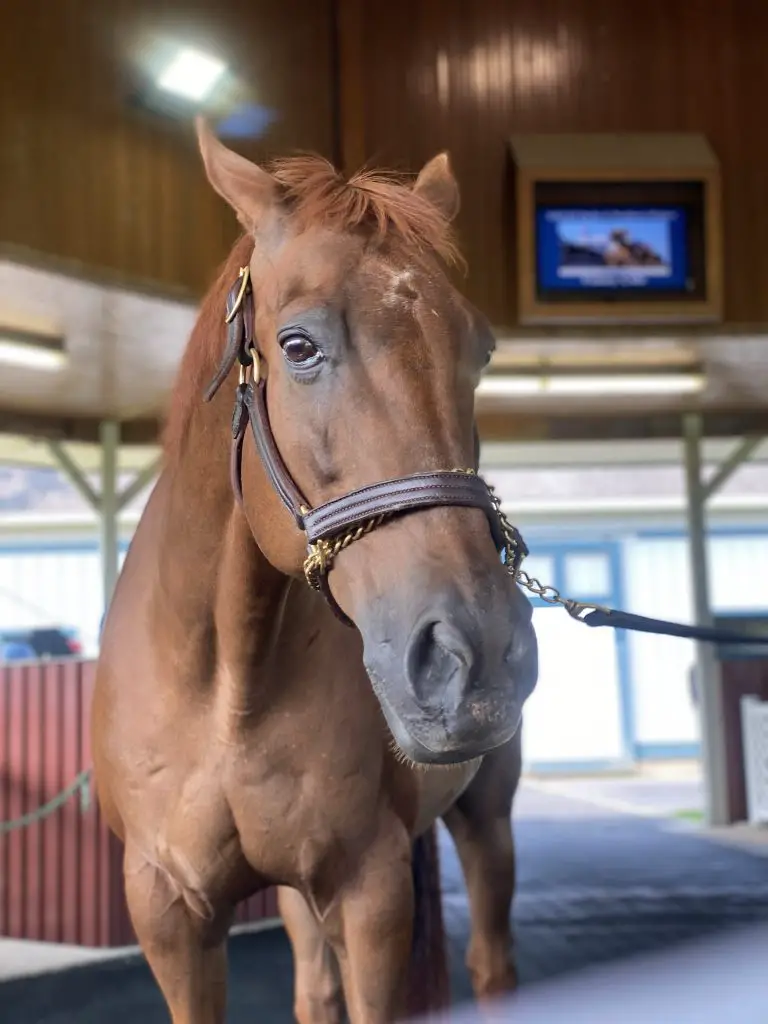 We heard so many fun and interesting facts about these amazing horses, but I will leave something for you to come and enjoy in person.
So the next show that was super educational and entertaining is Parade of Breeds Show.
We saw several breeds with distinctive differences. Before I saw this show, all horses looked the same to me. Well, maybe they have different colors:). But at the performance, they demonstrated Arabian, Turk, Belgian, Spanish, Friesian, and more. Some horses were created for speed, others to pull heavy loads, thirds to tolerate low temperatures…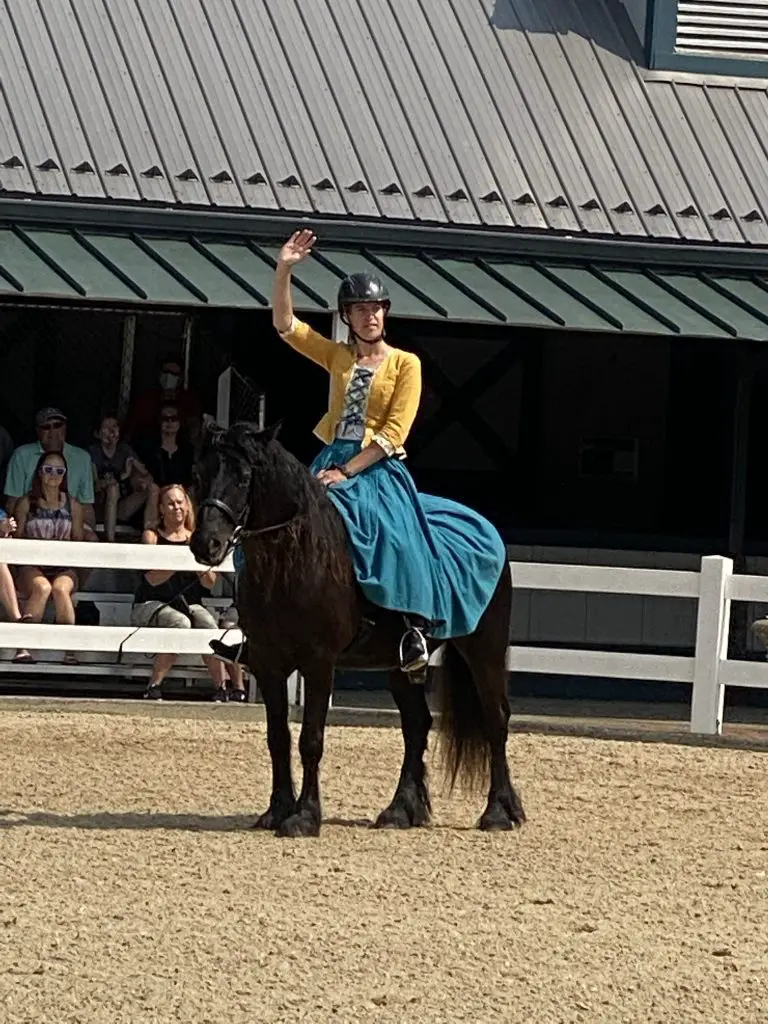 My favorite is Arabian (the photo with me next to the horse). What a beautiful creature! Light, long legs, short torso… They are also very intelligent. Napoleon and Alexander the Great loved this breed too.
The Spanish horse made us all smile. The way it walks looks like a speed-up video or a cartoon, but it is totally natural. The horse was not trained to walk like that; it's one of the breed's characteristics.
So if you would like to learn more about horse breeds, definitely watch this show. It starts right after the Hall of Champions Show and takes place in a next-door barn.
If you would like to get the best view, choose a sector opposite from the entrance. For some reason, it's the only one that is not shady. But if you prefer the shade, choose any seats under a roof.
After this show, go back to the Hall of Champions and ask a worker to tell you more about the Champs. There will be just a few spectators so you will get lots of opportunities to take pictures, ask questions, pet and even feed them.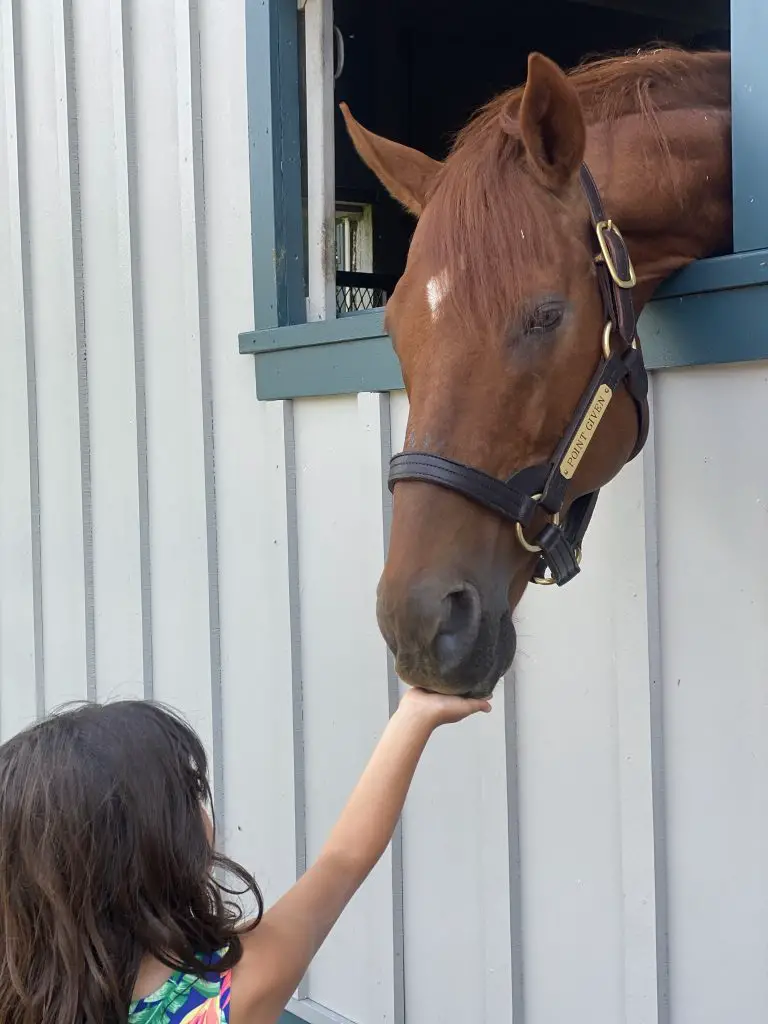 By the way, once a month, they choose a volunteer to ride a Horse named Point Given without a saddle. You get on, and the worker smacks the horse's butt. It gallops through the alley and, in the end, gets on its legs.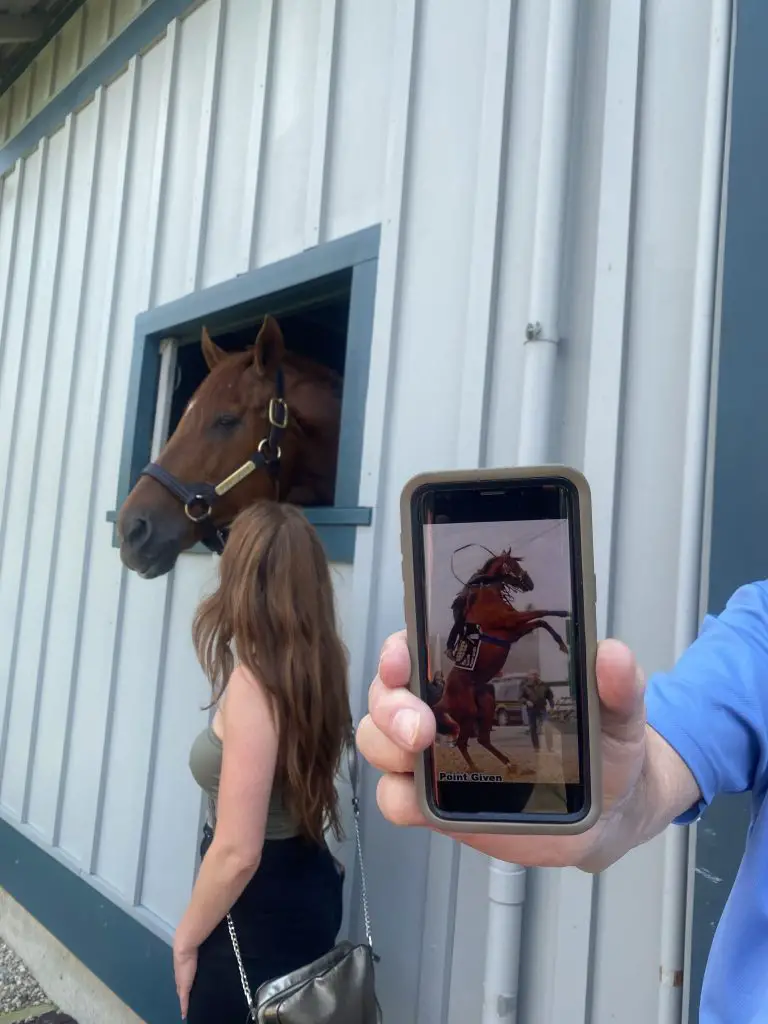 Ha! Ha! Just kidding:).
Horse/Pony Riding at Kentucky Horse Park
The worker from the Visitor's Center was right; 12:15 pm is the best time for horse riding if you want to see all the shows. We just finished taking pictures and went straight to take that ride.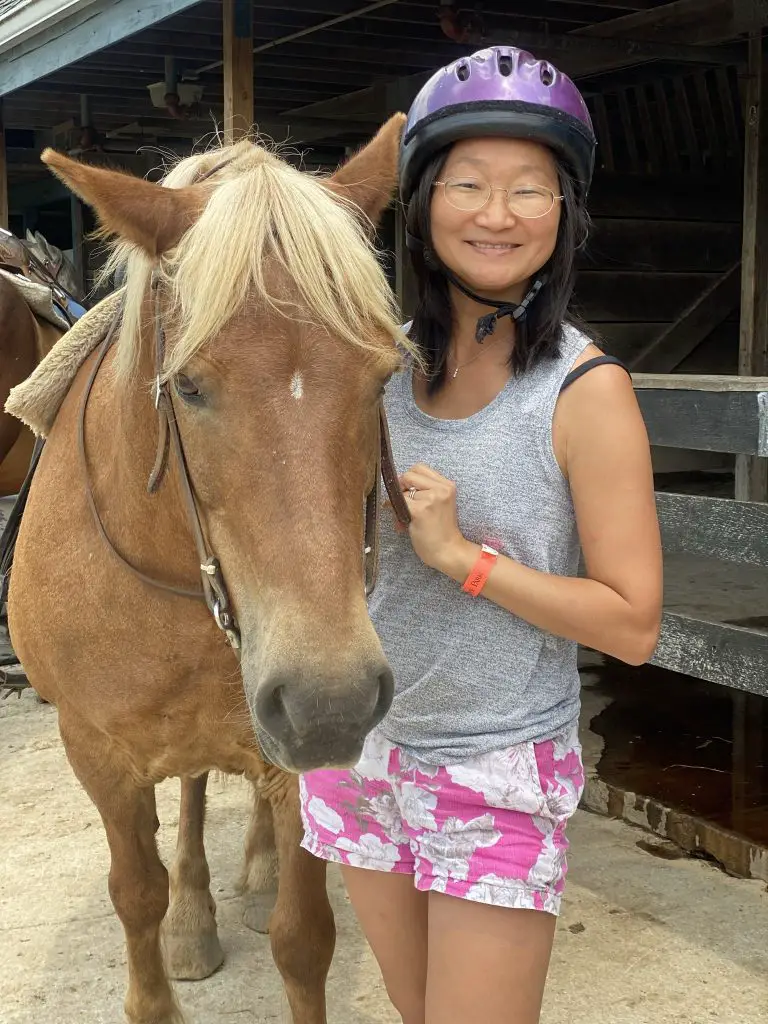 The day was cloudy and pleasantly windy, so we all were fine with open shoulders, but sunscreen is a must if you come on a sunny day. It's a half an hour slow pace ride with a group of 30 other riders. Water bottles are not allowed, so drink your water and use a bathroom before you go because you will not stop anywhere.
At the very beginning, you will be asked to split into two groups, the beginners and the experienced riders. You are experienced if you rode 10 or more hours. Both of my older kids and I were experienced.
I asked why they did that; the worker said beginners get very obedient horses that follow the leader. None of the horses are out of control, but some express more will than others. And I witnessed it myself. My horse named Honey tried to turn away or to slow down. The horse in front of us kept biting another horse's butt, making it messing up the line.
The one behind me was trying to itch its head against my leg. One other horse was weaving the whole time, and the second-last horse was stubborn and refused to go even with the effort of two people. Fun! Eventually, we all moved on and had the most beautiful and relaxing ride surrounded by green pastures and trees. It was fabulous!
Talk to a walker closest to you during the ride; she will tell you many interesting stories and facts about the horses. For instance, her horse was fidgety and loud the whole way. She said it acts this way because usually, they let him go and run around freely, but they have to ride him every day, and he doesn't like it. So he throws back his head and knocked her in the nose several times. Or another horse is great while you are riding it, but it bites you as soon as you get on the ground. Yeah…
The horse ride is for kids 7 years and older, so my two-year-old did a pony ride instead. He was thrilled! Now every time we say the word "horse," he says: "Me ride more!" So I think we have to buy a pony now.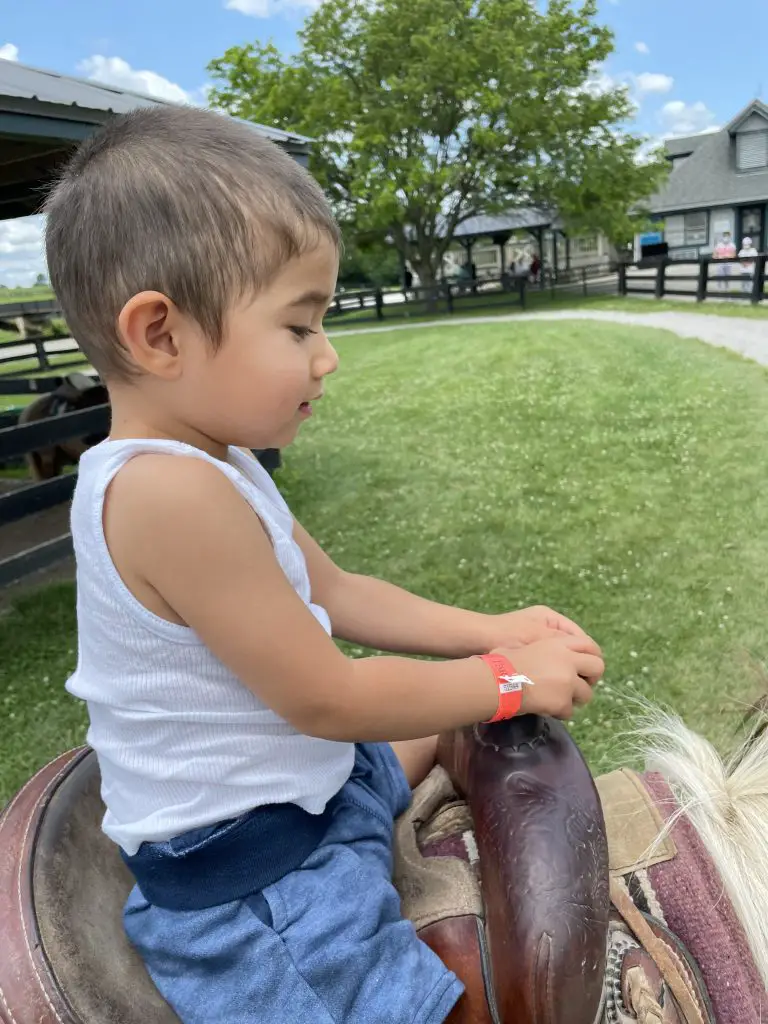 Options for lunch
After the ride, we got all hungry. The park has several stations where we could buy some dry snacks and drinks. They also have a restaurant that was closed due to Covid. So we just got some sandwiches in the nearest fast food and had a picnic next to the enormous playground. Kids quickly ate and spent about half an hour chasing each other and doing slides and swings.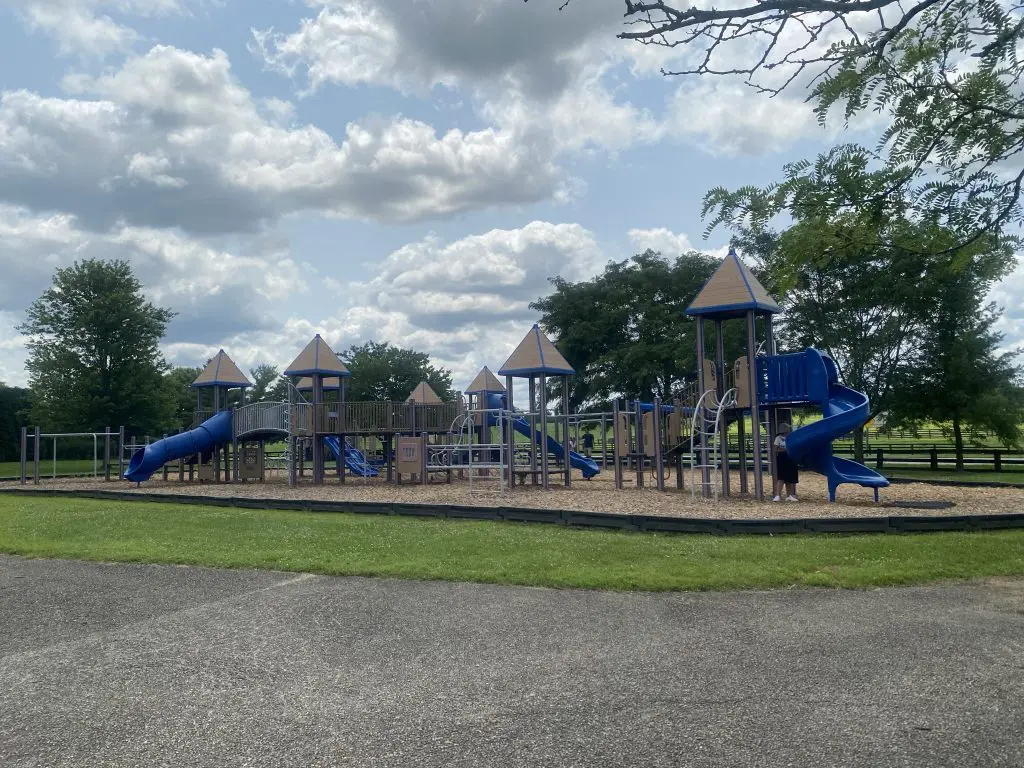 There is a Kid's barn, and our kids had the most fun jumping there over the obstacles.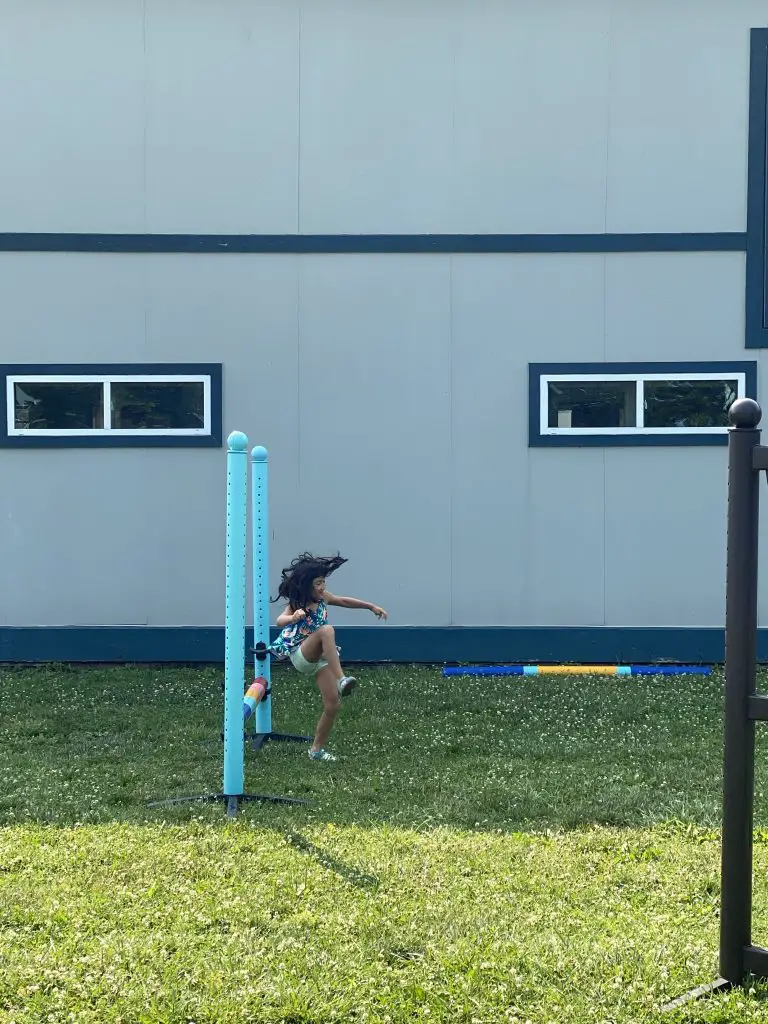 Competitions
In the afternoon, they repeat the Hall of Champions Show and Parade of Breeds Show; it's your chance to recap if you missed it or enjoy it the second time. We were having lunch during those shows, but there was a competition going on, so we checked on it. The racing part was interesting, but the other parts were not so intense. Riders showed movements and walks, and kid's got bored, so we left. One thing I can tell, ALL the participants were stunningly beautiful.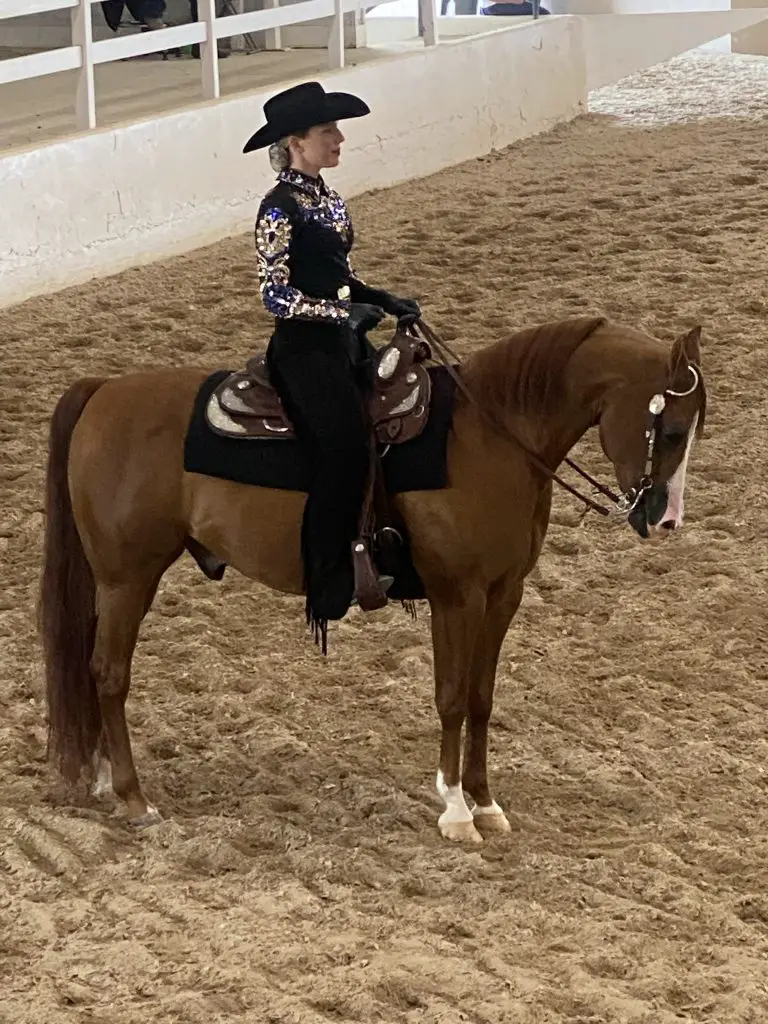 We got to the last show at 3:30 pm, the Derby Winner Nightcap, where a worker lets horses out to a fenced yard and shares facts of their lives. It's your chance to ask any questions about the horse you see. It was interesting to know that some horses can eat and do not gain weight, others eat and get fat, so they have to put horses on a slow-feeding diet. It's when they put some bag with a hole on a nuzzle, and the horse still can eat, but the amount of food is smaller, so it eats less.
International Museum of the Horse.
After this show, we had about an hour, and we spent it in the International Museum of the Horse. One hour is not enough to explore, read, play, touch, and hear everything that offers the largest museum in the world dedicated to the history of all horses. Learn here how relationships developed between people and horses from ancient times up to nowadays.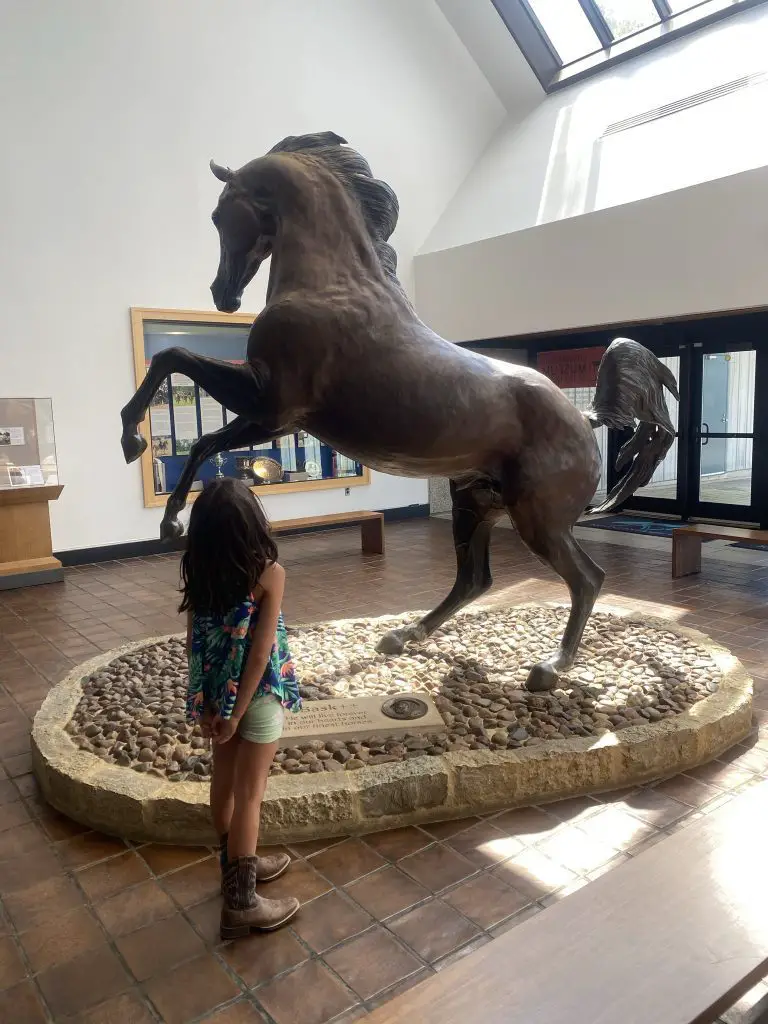 Throughout the museum, our kids would find interactive stands with toys of flips to read. This is where they would spend most of the time. They didn't want to leave, and we, of course, couldn't read and search everything in the 60 000 square feet museum.
Museums are fun! But my kid's favorite part was, of course, horse riding. My oldest son wished they let us do some tricks and somersaults while riding horses. Well, maybe next time;).
I enjoyed the trip to Kentucky Horse Park all over, the time in the park, and working on this article.
If you like it, subscribe to get more posts like this!
Tecumseh Outdoor Drama, Is More Than Just A Play (familyfunforfive.com)